Running a digital business today is a team sport. To deliver a first-class digital experience—one that meets the needs and expectations of today's consumers, partners, and business customers—you need more than just brilliant software developers. You need a cross-functional team with a unified customer experience management strategy, a joint understanding of the customer journey, and a full-stack view of your software's performance.
The New Relic platform can give everyone at the company a single, shared view of the customer across multiple interactions, channels, and products. Through synthetic tests, real user monitoring, and native mobile app monitoring, it enables you to monitor how customers interact with your software, showing which features are being used and whether the performance differs by geography, by browser, or by device. The result? Valuable insights delivered with speed, agility, and precision.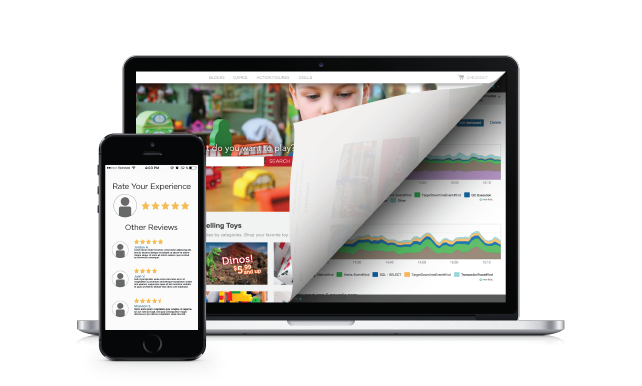 KEY BENEFITS
When your company has a real-time view into what happens as customers use your software, everyone benefits. Your digital customer experience team can:
Improve customer satisfaction and loyalty, help retain more customers, and generate incremental revenue from high-value customers by seeing application performance trends at a glance.
Make better software decisions focusing efforts on the areas that promise the biggest return.
Foster collaboration across the organization as everyone has access to the data they need to contribute to the success of the software—and the business.
Drive positive business outcomes (more conversions, more customers, more brand awareness, better competitive advantage) by better understanding and improving customer experience.
Predict what's next for your customer experience with the most relevant and actionable insights surfaced by our intelligent platform.
A UNIFIED PLATFORM FOR CUSTOMER EXPERIENCE
Extend visibility into frontend and usage metrics
New Relic Browser provides code-level visibility for web applications—including single-page apps—at every point in the delivery chain, with deep integration that helps frontend and backend developers collaborate more effectively. It gives you visibility into the impact of frontend performance on the customer experience. And because New Relic is framework agnostic, you'll have visibility into your software no matter how framework technologies evolve.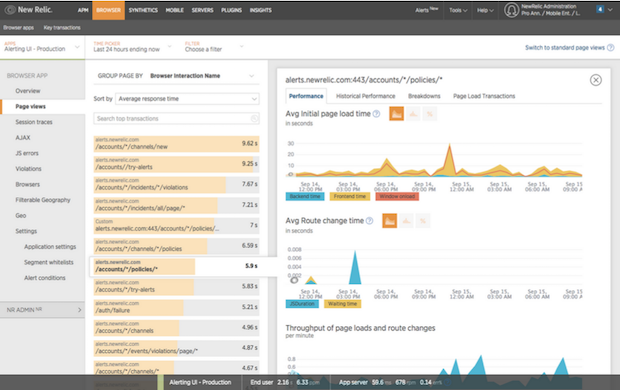 Be proactive with synthetic monitoring
Do your apps have to meet specific service levels? New Relic Synthetics helps ensure your website is up and your critical services and customer-facing transactions are available and working properly across different geographies and platforms. You can proactively simulate user behavior to validate availability, functionality, and performance for continuous, last-mile monitoring of your application.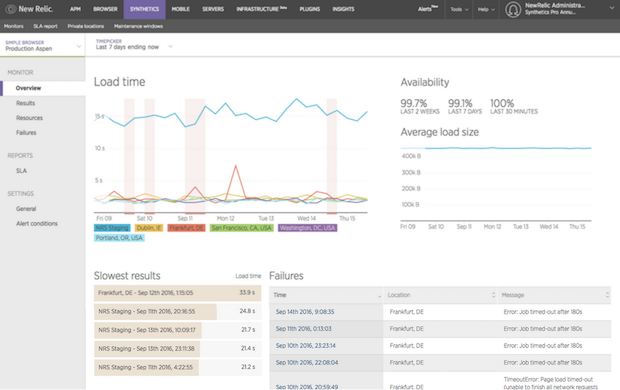 Deliver great mobile apps, win more users
Designed to provide code-level visibility into mobile app behavior, New Relic Mobile supplies the performance data you need to make sure customers are having a great experience, including performance data about networks and third-party services, crash diagnostics such as stack traces and frequency trends, insight into HTTP errors, and much more. You can even track and analyze deployment trends to make sure your app improves with each release.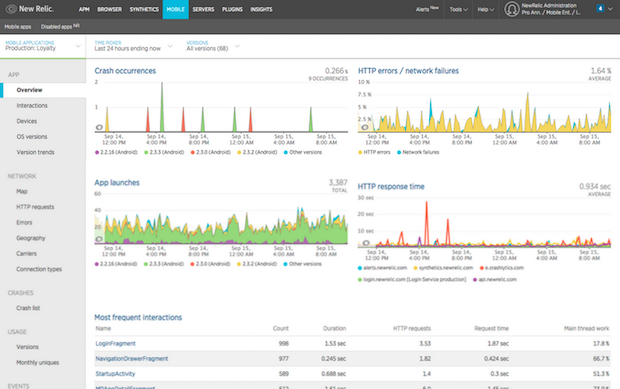 All your data in one place
All the products in the New Relic platform are powered by New Relic Insights. It provides a single pane of glass to view and analyze data you send to New Relic from your full technology stack. That includes application performance data sent to New Relic APM and data from your dynamic infrastructure layers sent to New Relic Infrastructure. To make this combination even more powerful, you can use custom attributes to connect this performance information with data specific to your business, such as customer ID, revenue, or product SKU. Insights enables almost anyone to create queries that answer key questions about application performance and customer experience—all in real time.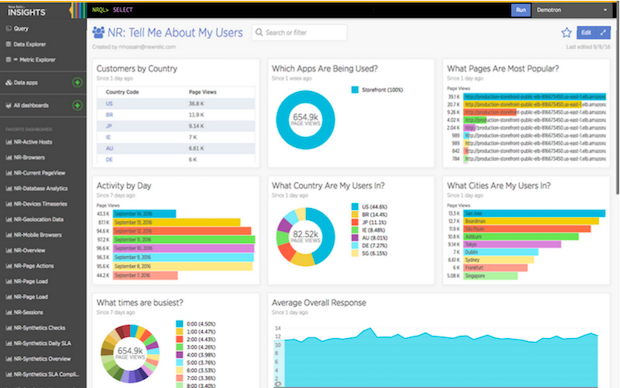 "New Relic has been instrumental in executing our vision for the business. Because we can now quantify the impact our technology is having on our user experience, it has allowed us to be very prescriptive in our efforts to scale."

—John Macilwaine, Chief Technology Officer, Lending Club
Try New Relic and see your digital customer experiences more clearly
Get the visibility you need to deliver optimal performance, so you can delight your customers—and keep them coming back.