Are you new to New Relic? Looking to get a little deeper than the overview graphs? This is an introduction and first in a series of UI walkthroughs for our site.
Our UI exposes a lot of information in a little bit of space and it can be easy to miss available functionality. To get the most from New Relic, we recommend that you get started with our existing site documentation beginning with the Application section. This area goes into the application dashboard screen in great detail. You can get information on each of the following categories:
* Overview
* Application Map (aka App Map)
* Browsers
If you don't have time to read through all that, here are some tips to get you started quickly.
The Application Overview Page
The Application Overview page has details about the overall state of your application and a quick look at the data that's fleshed out in the other tabs. It's a good place to see your performance trends at a glance – from page load times, to error rates, slow transactions, and a list of servers running the app. There's a great deal of data here to be found and you can click through to take a deeper dive into any category.
Here you can experiment with the time picker and zoom in on any of the graphs. And if you're using our Server Monitoring feature, you can see a list of servers at the bottom of the page. Click through and you'll reach the server monitoring section of our UI.
In the Response Time graph, you can see how events like outages, setting changes and deployments are affecting your performance. And the Browser / App Server selector allows you to hide or expose Real User Monitoring (browser) data.

You'll also find a historical comparison button that will let you see how your performance has changed over the past day or week.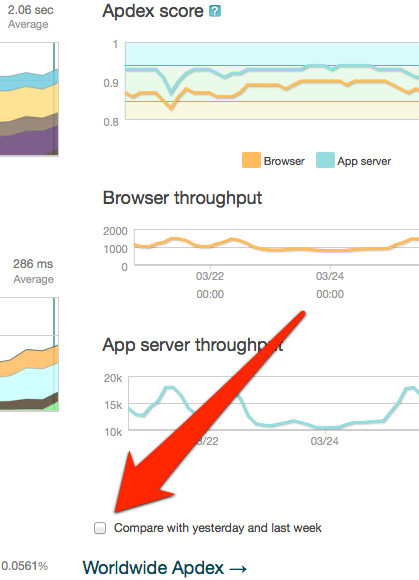 The App Map Page
The App Map page is interesting if your app talks to external services or other apps New Relic knows about. If your app does have multiple tiers, this page provides a good summary dashboard of all your external (HTTP) services, databases, other apps being monitored by New Relic, and browser load times, with response times and throughputs for each of these services.
The Web Transactions Page
The Web Transactions page shows you where the app spends most of its time and effort, and causes the most user dissatisfaction. Its also where you can find overview details about a type of transaction, as well as specific recorded slow transactions including HTTP parameters, an execution waterfall graph and details about slow SQL queries.
On this page, the number one under-used feature is the Sort Order dropdown. There we show you the transactions chewing the most CPU, but you may be more interested in the highest throughput or flat-out slowest transaction, even if it's infrequently called. Also note the Graph vs. Table View selector in the upper right. This will give you a more complete list instead of a top five graph.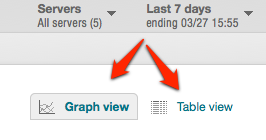 And don't miss the Show more slow transactions link in the bottom right. It will show you a more complete listing for the time window you've picked, sorted in order of slowest execution.
The Database Page
The Database page shows you information about your app's SQL usage – where your app spends most of its database times and effort, and it's where you can find details about your slowest queries. The Sort order dropdown can help you re-filter your results and don't miss the ability to click through a specific trace to the transaction name.

The Externals Page
The Externals page shows you detailed throughput and response graphs about the services you contact via HTTP.
The Background Page
The Background page has information about tasks you've marked as background and/or we know are run from the command-line. We do collect transaction traces for background jobs as long as the run time exceeds your trace threshold. You can click through to any errors we've recorded.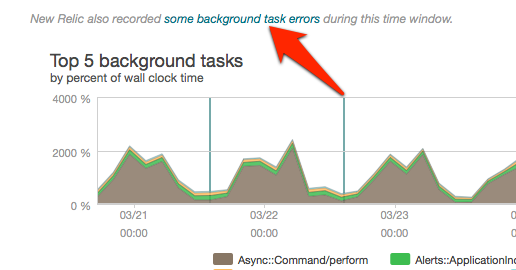 The Geography Page
The Geography page helps you visualize how your RUM timing data varies by geographic location. Go to the Settings (Application) page to break out specific countries or states. Once again, sort order will let you see the list organized in the way that's most important to you.
The Browsers Page
The Browsers page lets you visualize your RUM data per browser statistics. It's a great place to find a focus for browser specific optimization or to see if optimizations are even necessary.
Next Steps
If you're looking for a good follow up to this post, check out our general conventions for using the New Relic dashboard. It includes instructions for setting your view to include a date range or particular server.
We'll be running a follow ups to this post soon, so remember to check back later. And if there's anything you'd like us to cover in the future, let us know in the comments below.
The views expressed on this blog are those of the author and do not necessarily reflect the views of New Relic. Any solutions offered by the author are environment-specific and not part of the commercial solutions or support offered by New Relic. Please join us exclusively at the Explorers Hub (discuss.newrelic.com) for questions and support related to this blog post. This blog may contain links to content on third-party sites. By providing such links, New Relic does not adopt, guarantee, approve or endorse the information, views or products available on such sites.