Perfect performance during peak traffic
Continuously test and improve site performance with real-time analytics that keep your site up and running at all times. Proactively find issues before your customers do. New Relic gives you deep-dive querying into what's impacting the shopping experience from load time to payment errors.
Measure website availability and critical paths to reduce downtime and customer frustration across cloud, hybrid, and on-premise environments.
Identify page load latency, JavaScript errors, and slow-loading images, and know exactly which geographies and customer segments they are impacting.
See how third-party services are affecting performance and take corrective action if any are slowing your site down.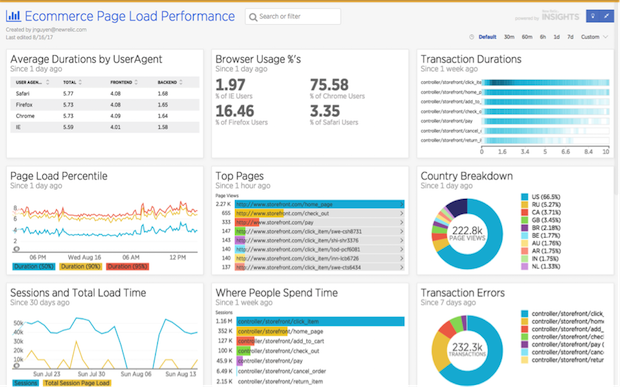 Align DevOps teams in real time to impact the business 
Reach a new level of operational agility with full-stack visibility into customer experience, business, and IT performance across different teams at any point in time. New Relic provides custom dashboards that keep your team working together to convert first-time buyers into lifetime fans. 
See how customers are progressing through the purchase process to identify issues, from revenue at risk to pay errors.
Get a unified source of information to enable cross-team collaboration on problem solving, product iteration, and business metrics.
Understand where revenue is flowing through the backend to measure e-commerce architecture efficiency.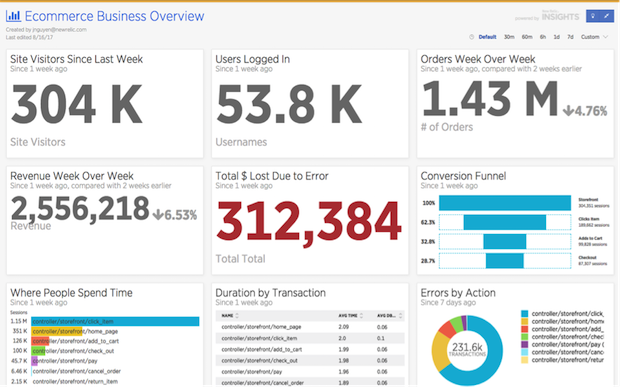 Deliver instantly gratifying omni-channel experiences
Capture business outcomes in-context of customer experience to ensure shoppers get what they want. New Relic helps you move from simply collecting data to gaining a deeper understanding of customers—so you can optimize the only experience that matters: their own. 
Simulate essential shopper interactions like browse-to-buy and account creation to ensure all systems are "go" before a big launch or sale. 
Get insight into the content, SKUs, features, and funnels customers are engaging with—and any associated revenue—to help prioritize site investment. 
Set up alerts to be notified when customer satisfaction benchmarks and performance thresholds are not being met.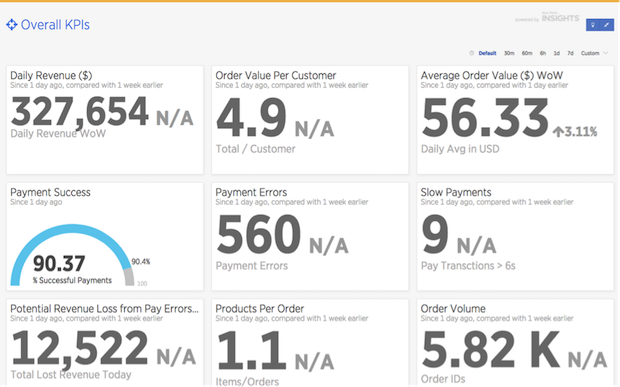 "New Relic has been a key technology through this evolution. And it's making a difference: REI is seeing up to 20% performance improvements on its websites and mobile apps, plus a 50% reduction in production incidents."

 —Todd Wilson, Director of Platform Engineering, REI
Why New Relic?
Full-stack visibility. Monitor and optimize your entire technology stack—from your client browser to your web server to your third-party e-commerce services. 
Real-time analytics. Make better decisions with data-driven insights into site performance, the digital customer experience, and business outcomes. 
Unified troubleshooting. Collaborate more effectively with custom dashboards that help the entire team identify high-priority errors in the shopping experience and fix them fast. 
Don't go in the red on Black Friday
Get real-time performance monitoring for your e-commerce stack.
Get started