When we launched our New Relic Synthetics monitoring product back in 2014, we included locations around the world to simulate real customer journeys. Our goal was to help you catch problems before your end users did by simulating user behavior, user flows, and interactions. And in order to improve the accuracy of these simulations, we continue to grow our number of Synthetics monitoring locations worldwide.
All Synthetics customers now have access to 4 new public locations, adding to the existing 14 public locations, for a total of 18 different locations to run monitors around the world. Customers can now collect synthetic monitoring data from more parts of the world and gain a broader understanding of their global users' application experience.
Synthetic's increased global coverage means you can now better measure and compare your mobile and web channels with one of the world's best testing networks. You can view your software's simulated performance in additional locations worldwide to gain a more detailed view of performance in more places. Just as important, having more locations gives distributed teams more flexibility to share testing resources and information for a higher level of confidence that they're running properly in more places.
The new regions are:
Columbus, Ohio
Montreal, Quebec
Mumbai, India
Seoul, South Korea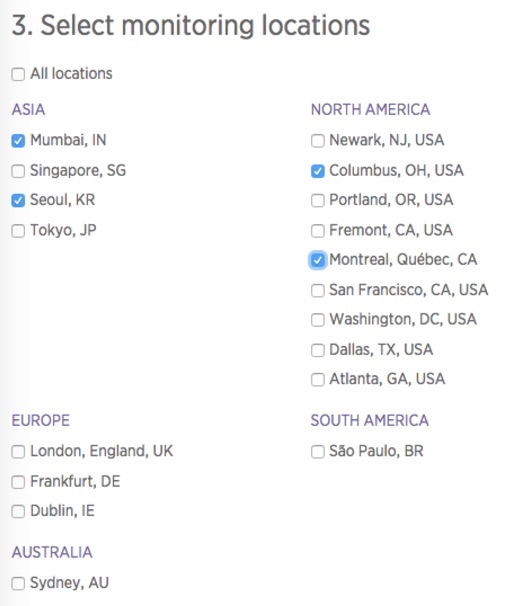 We are confident that these new locations will make New Relic Synthetics even more useful, and additional locations are under consideration for our roadmap going forward. We aim to provide the industry's most comprehensive set of monitoring capabilities along with the most extensive technology coverage by leveraging our expanding global testing and monitoring network.
The views expressed on this blog are those of the author and do not necessarily reflect the views of New Relic. Any solutions offered by the author are environment-specific and not part of the commercial solutions or support offered by New Relic. Please join us exclusively at the Explorers Hub (discuss.newrelic.com) for questions and support related to this blog post. This blog may contain links to content on third-party sites. By providing such links, New Relic does not adopt, guarantee, approve or endorse the information, views or products available on such sites.