If a picture is worth 1,000 words, what is a video worth? About 1.8 million words, according to Forrester Research.
Everyone who's ever watched a viral video knows the impact it can have on engagement, perceived brand value, and content retention. Those of us who have hosted such videos know the stress involved in ensuring a fast, consistent playback experience across a seemingly endless variety of different devices and environments.
This is a really big deal. Cisco predicts that video traffic will make up more than 80% of all consumer Internet traffic by 2018. And Axxon Research reports that 70% of people view brands more positively after watching interesting video content from them. Yet a University of Massachusetts study showed that consumers will watch 5% less content for every 1% of media time spent in a buffer state. Aside from providing a less-than-stellar experience, media delays also increase the risk of viewer abandonment before exposure to post-roll ads or additional content suggestions.
If you are a media provider, you need the right tools in your toolkit to measure the quality of service you're providing your users, and to help you take proactive steps to fix any video performance issues before your users' experience suffers.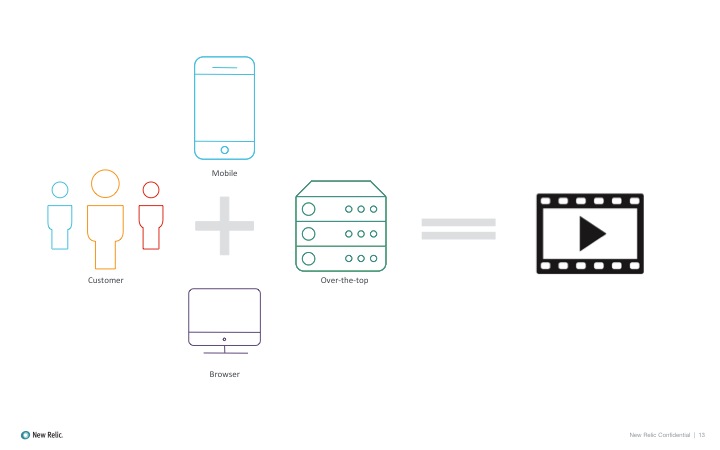 New Relic Media Summit
At the recent New Relic Media Summit in New York City, I discussed how New Relic can help monitor your video player's performance, and give you important Quality of Service (QoS) metrics for every content viewer across desktop, mobile, and over-the-top devices. Using a combination of our New Relic APM, New Relic Browser, and New Relic Mobile tools, you can monitor data from your app servers and asset managers, frontend, and native mobile applications, respectively. You can record a wide variety of variables, including device type, manufacturer, geographic location, and even ISP, and see how those variables impact your ability to provide consistently great media playback experiences.
Measuring these attributes, along with the performance and events across the entire stack, including video libraries, allows you to answer many questions you may have about your QoS. Here are just a few examples:
What videos are my users watching?
How does the experience my website delivers differ between mobile and desktop users?
Are the ads and content streams playing without error?
Do I have adequate HLS coverage for my users today? What about tomorrow?
You'll notice we went from a relatively high-level question all the way down to performance of a specific technology. This is the power of the New Relic Software Analytics Cloud. Our solution is very flexible and customizable to fit your needs and your environment.
Shhh, Welcome to the video library
Some of the most valuable data you are able to track comes right from the video libraries on your users' devices. This isn't synthetic data! The data is sent directly from the devices' media players, and monitored in near real-time by New Relic Insights, our analytics engine. Using our various APIs, you can create an event listener for any environment that tracks attributes from your chosen player's API. This can include data such as current video stream, HLS rendition, video playback location, or any other data point exposed by the player.
You then tie those attributes to an event, again with a single API call, which sends the data up into Insights. That's it. From there, you can splice, facet, and query the data to your heart's content. The mockup below shows how the data might look.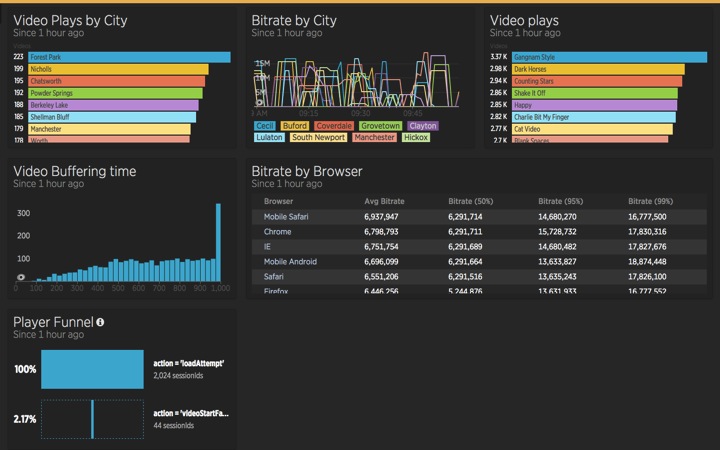 From a development perspective, it's incredibly easy to start monitoring this data, and New Relic users most likely can leverage existing tools they already use.
Boom times for video
This is an incredibly exciting time for media content owners and producers. New technologies are making capturing, editing, and distributing media content easier than ever. Simultaneously, consumer expectations of video quality and viewing experience are rising just as fast. That combination means now is a perfect time to investigate monitoring your video (or audio) environment and using that data to prioritize improvements.
If you're interested in learning more about video monitoring, visit NewRelic.com and ask for a demo. We can dig into what questions are important to you, and show you how to use New Relic to help you answer them.
Vintage TV set image courtesy of Shutterstock.
The views expressed on this blog are those of the author and do not necessarily reflect the views of New Relic. Any solutions offered by the author are environment-specific and not part of the commercial solutions or support offered by New Relic. Please join us exclusively at the Explorers Hub (discuss.newrelic.com) for questions and support related to this blog post. This blog may contain links to content on third-party sites. By providing such links, New Relic does not adopt, guarantee, approve or endorse the information, views or products available on such sites.