The Ocado founders were way ahead of their time when, back in 2000, they started the UK's only 'pure play' online grocery operator. Today Ocado is the world's largest dedicated online grocery supermarket, exceeding £1 billion in annual sales. Developing the innovative software and systems that power the online retail business is Ocado Technology, a division of software developers, engineers, researchers, and scientists spread across five offices: Hatfield (UK), Wroclaw and Krakow (Poland), Sofia (Bulgaria), and Barcelona (Spain).
Ocado delivers happiness when its drivers trudge through the snow delivering Christmas orders; indeed, this going-the-extra-mile attitude is what keeps its 600,000 customers coming back for more. But when you consider the Ocado motto 'shopping made easy', there is nothing easy about delivering on that promise. In a mind-bogglingly complex process, a typical Ocado warehouse packs and ships more than one million items each day, supported through a technology platform built in house. Additionally, the Ocado family now also includes Fetch (a specialist online pet store) and Sizzle (homeware), both firmly based on the technology platform built by Ocado Technology. Recent e-commerce sites such as Morrisons and Fabled, a beauty destination site in partnership with Marie Claire, are more recent success stories for Ocado Technology.
In parallel, Ocado Technology is also developing the Ocado Smart Platform (OSP), an end-to-end e-commerce solution designed to put other brick-and-mortar retailers around the world online. From its user-friendly mobile apps and webshop to highly efficient automated warehouse technology, OSP offers superior customer experience and a highly efficient end-to-end supply chain solution.
Ocado now offers OSP as a managed service capability to partners internationally, enabling them to build sustainable, scalable, and profitable online grocery businesses in their own markets.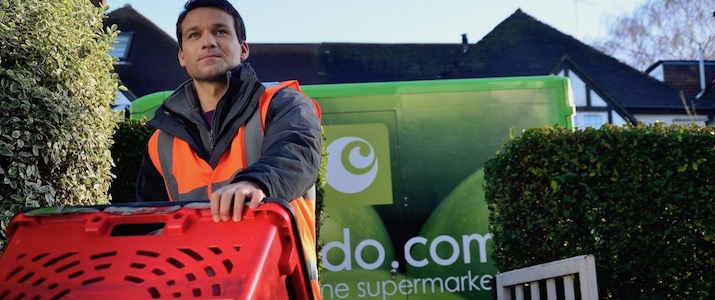 Cloud move demands increased visibility
In 2014 Ocado found itself in a transitional period. Demands on its business were increasing and Ocado felt that a move to a cloud infrastructure would give the company more flexibility and scalability. Amazon Web Services (AWS) was chosen as the target environment.
Peter Thomas, head of E-Commerce OSP at Ocado Technology, shares his insight: 'One of the challenges was that the dashboards we had developed to monitor the various sites and the platform behind it were not compatible with AWS and needed to be replaced. I had used New Relic technology before and wondered if that might be our answer.'
The New Relic platform was introduced to support the cloud migration, including integrating well over 100 microservice applications into the OSP platform. New Relic acted very much as a 'security blanket,' as Thomas termed it: 'New Relic APM provided the extra visibility into our systems and platforms, which we needed. It gave us confidence that our migration was going as expected, and, if not, we were in a very good position to address any issues early. We learned lots about cloud architecture, and it was great having New Relic there to reassure us nothing was quietly going wrong behind the scenes.'
New Relic became more pervasive within Ocado and is now often used to pinpoint the root cause of any performance issues. A notable example was when one of the OSP backend systems showed a gradual performance degradation that was in danger of impacting customer orders. Customer satisfaction is vitally important for Ocado, and a lot of effort was spent on finding out what was wrong. Confusingly, different systems that were seemingly unconnected were affected. It wasn't until an engineer used New Relic Insights to represent the problem that it became clear that although the database systems were all different, they were hosted on the same physical machine, which was the root cause of the problem.
'New Relic made it easy for us to visualise and track this issue in real time', says Thomas. 'It helped resolve this particular problem a lot faster than we could otherwise have done.'

Better collaboration for a better customer experience
Ocado Technology works with a globally distributed team of 1,000 developers, all working on different parts of the estate simultaneously. New Relic is used to provide a central overview and a common communication tool. Thomas loves that the features to enable this effective team collaboration come straight out of the box with New Relic: 'We've tried other products which needed a lot of configuration. As soon as you start customising the solution with so many teams, it becomes very difficult to manage and maintain. New Relic did an excellent job at giving us some very sensible defaults which we could easily build on.'
It wasn't just the internal collaboration that made New Relic a success within Ocado; the New Relic team itself took an active interest in how Ocado used the toolset. A centre of excellence was introduced, consisting of New Relic and Ocado experts. As a team, they discuss the New Relic road map and what other features could prove useful. Having that deep insight into how OSP operates has enabled this team to really add value to Ocado.
New Relic visualisation supports development effort
When Ocado rebuilt the frontend of some of its non-food sites to become more customer-responsive, New Relic Browser proved invaluable to the experience. 'The general trend we're seeing is that code is moving from the backend to the frontend', says Thomas. 'Most other solutions don't seem to take this into account, but New Relic Browser enables us to see what's actually happening within our customers' browsers. It gives us confidence that we are building solutions which work for our customers in the real world, and that if they don't, we'll know about it straightaway. You can't get this kind of insight just from looking at your server logs.'