"It all starts with the product."
With these words, Chief Product Officer Jim Gochee kicked off the New Relic 2019 Product Offsite in scenic Sunriver, Ore. Each year, New Relic brings together our product and engineering teams—along with colleagues from across the company—for three days of intensive meetings, presentations, workshops, networking, volunteer opportunities … and fun (think epic Karaoke sessions, alternate-reality games, and even late-night tours of the local observatory)!
For 2019, the Product Offsite was all about New Relic One, the industry's first entity-centric observability platform, which New Relic founder and CEO Lew Cirne publicly debuted from the event's main stage. The introduction of New Relic One, Jim noted, heralds a transformational year of modernizing the New Relic platform with new observability capacities, full stack monitoring, and more-open data sources.
See Introducing New Relic One: Our Platform for the Next Decade by Lew Cirne.
According to Gochee, New Relic One is part of the company's mission to help our customers create better software in order to build a more perfect internet. That's a simple concept, Jim noted, yet it's super hard to achieve. Still, the more than 700 attendees representing more than 50 product teams from New Relic offices around the world—San Francisco, Portland, Barcelona, Tel Aviv, and others—seemed up to the challenge. Since the 2018 product offsite, for example, New Relic has delivered more than a thousand incremental improvements to our services.
Understanding our customers
Just as important, however, is a renewed focus on the needs of our customers. "Our customers' success is our success," said New Relic Chief Revenue Officer Erica Schultz. "Companies that play offense with software are depending on their technology teams to deliver business value."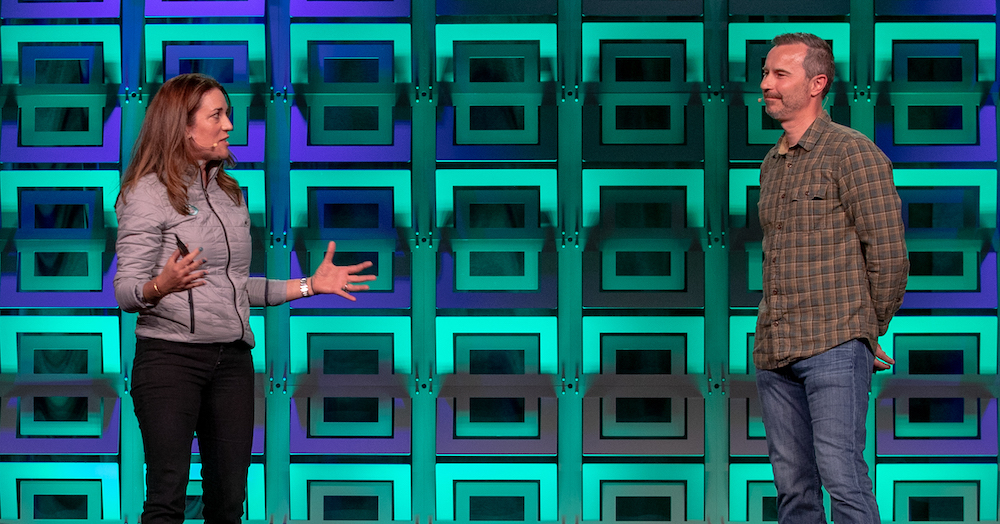 Specifically, understanding our customers' business problems helps us write better code, create better solutions, and optimize the way customers use our platform, added Senior Vice President of Product Management Ken Gavranovic. Practical advice on how to incorporate that wisdom played out in sessions like Your Opinion Is Not Your Customer, Breaking Down the Glass Walls Between Product and Go To Market, and When Customers and Innovation Drive the Product.
Those ideas also played out in many more of the dozens of mainstage and breakout sessions, many of which featured top New Relic execs and hands-on practitioners. Topics included everything from I Am NRQL and So Can You to Open Tracing and the Quest for Lightweight, Modular Agents. (Stay tuned to the New Relic blog and upcoming FutureStack events—we plan to adapt many of the best sessions for other venues.)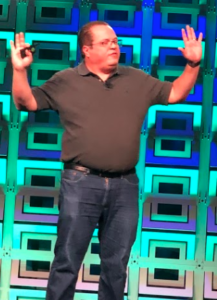 Jim Ruppert, Senior Director of Engineering, Product Research, in San Francisco, was especially impressed with the focus on customer empathy. "Figuring out how to really get in the heads of [our customers] and understand what it is they are really trying to do by actually sitting with them, and seeing them solving problems," is super important, he said. "People talking about stuff they saw directly from customers in their offices makes a huge difference" in New Relic's product decisions.
Best event of the year
As New Relic continues its fast growth, many of the attendees enjoyed their first visit to the annual affair. Veterans and newbies alike share an incredible enthusiasm for what most regard as not only the best New Relic event of the year, but also the best tech conference of any sort that they will attend. As Lew reminded the crowd, "It's the human connection that makes New Relic such a special experience."
Chris Hansen, Director, Product Management, APM, recalled attending his first product offsite more than seven years ago, even before he officially started at the company. "It was such a great opportunity to connect with people, he said, "even when 'connecting with people' was 40 people." And it's only grown and gotten better and more important since then, he added. "When it's just some people in San Francisco, some people in Portland, it's good to connect, but it's not as crucial as when you've got a lot of people coming from Barcelona and Tel Aviv," and other offices around the world.
Ironically, Hansen brought Erik Lucus to this year's event, and Erik hadn't yet officially started his new role as a Product Manager in our Portland engineering headquarters. "Obviously, being new, I don't have a lot of context for the things that are going on, but that makes it exciting for me … meeting lots of great people, lots of good energy. It's been a fantastic time," Erik said.
Another first-timer, Neethu Prathap Kamala, a Senior Growth Engineer in Oregon, said the event exceed her expectations: "I never expected it to be so phenomenal. There was such a huge crowd, and meeting new people was my main agenda coming here."
But Software Engineer Alexandru Pascariu, from our European Development Center in Barcelona, may have described it best: "I found here the most beautiful people in the world!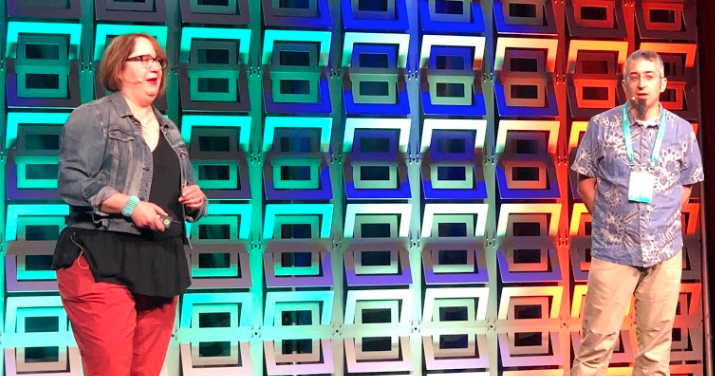 Year-long payoff
Of course, a lot of work goes into creating an event like this. Ron Crocker, Senior Principal Software Engineer and Architect, worked with seven other people to shape the event's content. "We broke the offsite into a three-part event," Crocker said, "each with its own goal: We used the Wednesday afternoon session to align everyone with the overall product strategy. Thursday was breakouts day—28 talks in 5 concurrent tracks—allowing every attendee to make their own path. We wrapped up on Friday with five talks focused on how each person has the ability to contribute to our success. Making high-quality content takes a month of work from the 50 or so people involved, but that effort pays off tenfold in aligning the team for the entire year."
That's perhaps the most significant part of the Product Offsite: It's not just about a few special days in a beautiful setting, it's also a testament to our overall engineering culture. As Jim Gochee put it: "What we do here is what we should be doing the entire year … building software your developer friends get to use!"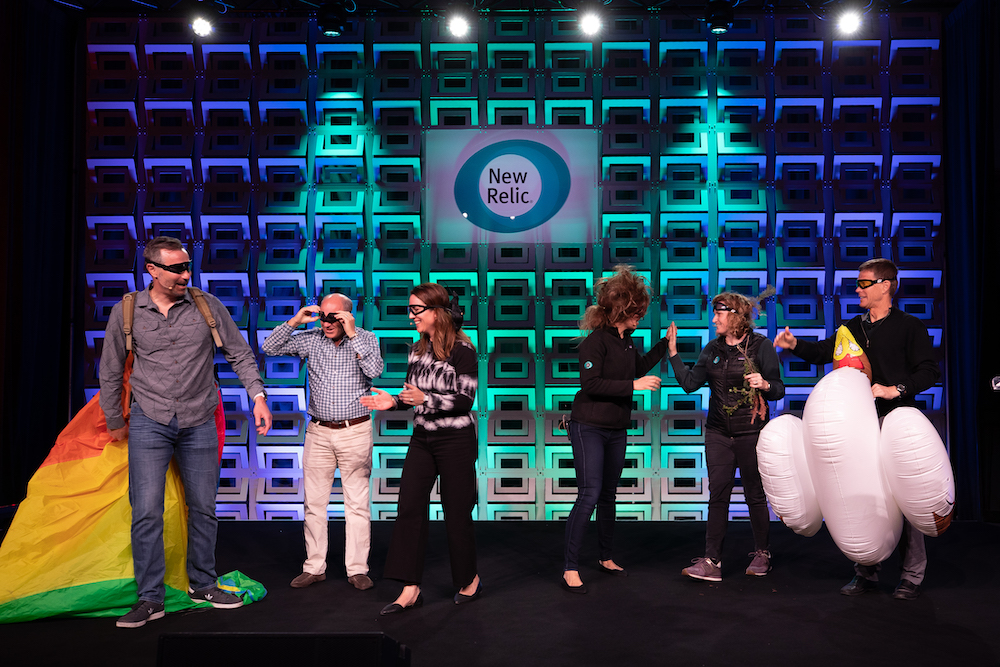 The views expressed on this blog are those of the author and do not necessarily reflect the views of New Relic. Any solutions offered by the author are environment-specific and not part of the commercial solutions or support offered by New Relic. Please join us exclusively at the Explorers Hub (discuss.newrelic.com) for questions and support related to this blog post. This blog may contain links to content on third-party sites. By providing such links, New Relic does not adopt, guarantee, approve or endorse the information, views or products available on such sites.