This is a guest post from Danny Olinsky, Co-Founder of our partner StatusPage.io.
StatusPage.io is extremely excited to be joining the New Relic Connect program, allowing New Relic customers to easily integrate data like API response time and web throughput directly onto a beautiful status page. Couple these public metrics with the ability to communicate with your customers during system downtime or performance issues, and you're looking at an awesome sales and support tool.
StatusPage.io offers hosted status pages as a service. We're building this product so that you can focus on what you do best -- working on your core competency and making your customers happy. In just a few minutes and a couple of clicks, even the office dog can set up an amazing looking status page for your company.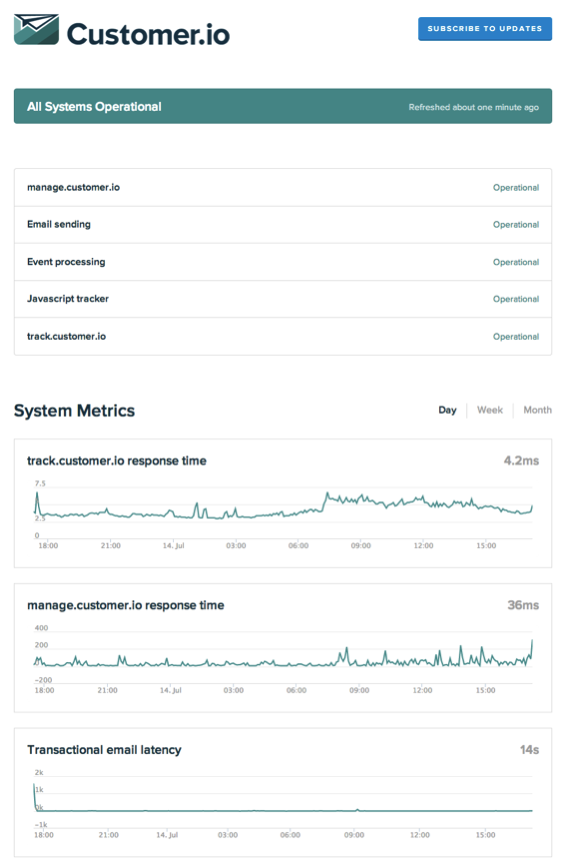 Why Do We Need a Public Status Page?
A public status page provides a number of benefits to all levels of your organization. While it may seem daunting at first, a number of companies like Heroku, GitHub and most recently (our customer) New Relic, have led the way in enforcing transparency inside their organization and have realized the following advantages:
* Sales: Are you trying to sell up into larger organizations? Public status pages help you appear legitimate in the face of uncertainty, and communicates competency in your ops and customer service processes.
* Marketing: Public status pages are a great way to gain user trust and spread by word of mouth. It shows that you care and users will love the proactive approach.
* Customer Support: The best customer support interaction are the ones that cost you nothing. Letting customers subscribe to updates however they wish (i.e. Twitter, RSS, email, SMA, webhooks) meets them where they're at. You'll avoid hundreds or thousands of the same support tickets wondering what's going on and when the issue will be fixed.
* DevOps: Incident response and postmortems are both fine arts. Having a central tool to manage communication internally and externally goes a long way to standardizing the frequency and types of communication, and gets you better at being precise and frequent with your updates.
Getting Started
Thanks to our partnership, all StatusPage.io customers get New Relic Standard free of charge! To get started, create your StatusPage.io account and then sign up for New Relic. Finally, link your New Relic account to StatusPage.io using your New Relic API key and start adding metrics to your status page. For a full walkthrough, head over to our New Relic StatusPage.io documentation.
Feel free to give us a shout at hi@statuspage.io if you have any questions about getting setup!
The views expressed on this blog are those of the author and do not necessarily reflect the views of New Relic. Any solutions offered by the author are environment-specific and not part of the commercial solutions or support offered by New Relic. Please join us exclusively at the Explorers Hub (discuss.newrelic.com) for questions and support related to this blog post. This blog may contain links to content on third-party sites. By providing such links, New Relic does not adopt, guarantee, approve or endorse the information, views or products available on such sites.