For successful DevOps and engineering teams, easy access to information and alerts even when you're away from your computer is vital. You can't possibly watch every application or service for every second of every day, but it's important to have your finger on the pulse of your system and to respond quickly if things go haywire.
This is why New Relic built the New Relic and Insights mobile apps. We know from experience how important it is for modern developers to track down performance issues quickly, diagnose their causes, and share the results with their team. You need access to essential information, whether you're on the bus, at a party, or any place where you may only have your phone on hand.
To help you get started, we created a list of suggestions based on best practices from the field, to help you get the most out of our free iOS and Android applications.
New Relic app: favorite your most important applications
This tip is key if you have a lot of essential apps that you need to keep track of and want to avoid having to navigate to different products within the New Relic app to find them during an emergency. So how do you favorite an app from your phone? 
If you have any current favorites in New Relic One, you will be able to view them instantly. You're also able to see the health of your apps and any applicable alerts. 
No favorites yet? Simply search using the search bar on the top of the home screen to find the app. Then favorite the app by pressing the star icon to the right of the app title. These will also show up in New Relic One so you can easily transition between both your phone and your desktop.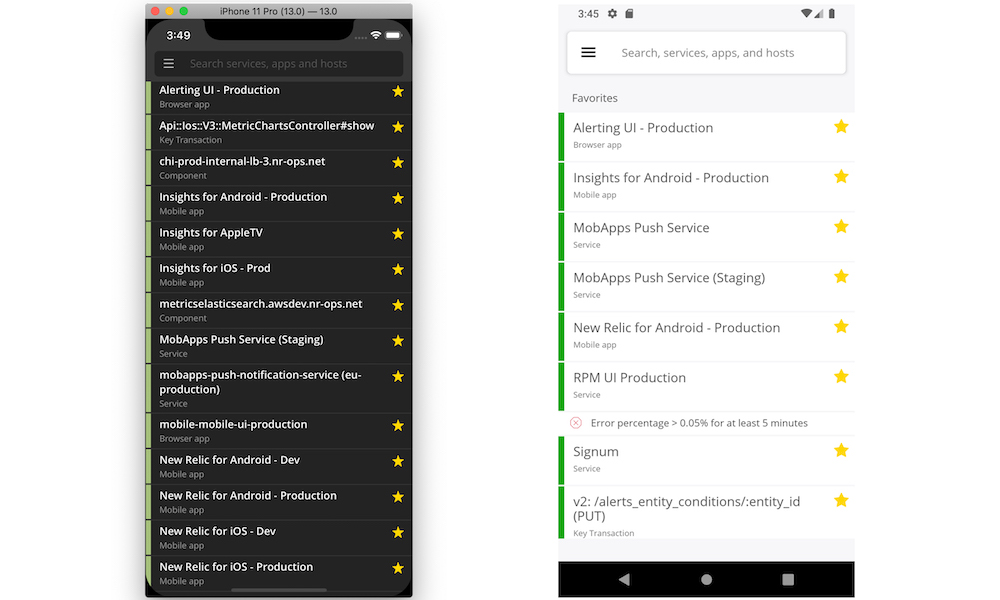 New Relic and Insights apps: diagnose an issue away from your laptop
Being able to diagnose an alert while away from your laptop is one of the biggest benefits of the New Relic and Insights apps. But what's a good workflow for an app user when that alert comes in? 
If you have push notifications enabled, you'll be able to see and engage with incidents right on your home screen. The notifications are stacked by incident, not app, so you can look through the most critical alerts for relevant information, and ignore less significant ones. And when you select an incident to investigate, you'll be able to immediately see a thumbnail chart on the right-hand side, if relevant. You can then tap on the incident and see a larger chart with specific information on the incident.
Now it's time to dig into the app. First, open the New Relic app and see which of your favorited apps are in red. If you're not finding the app on your home screen, then a simple search is in order. After identifying the problem app, click in and look into any chart that is of most interest to you.
Often, people begin with our errors charts if using APM, JS errors if using Browser, and our crash chart if using Mobile APM. From there, you can get a better sense of root cause and hop into Slack to communicate with the rest of your team, or get to your laptop to begin implementing the fix.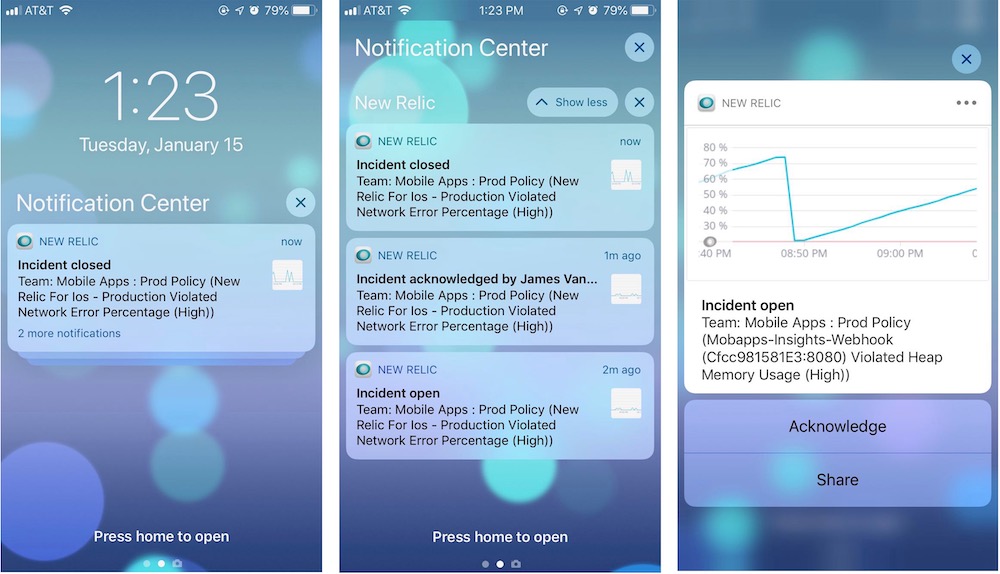 Insights app: query and share dashboards from your phone
Ever step away from your laptop, only to receive a New Relic Insights request from a teammate or manager? With the Insights app, you can share dashboards right from your phone, without ever having to open your laptop.
Begin by opening your New Relic Insights app. Then, use the history and favorites features to tweak specific queries and generate the appropriate histogram. From there, it's easy to communicate the results to your team or stakeholders using the share feature. The best part? You can do this all in under a minute, right from the phone sitting in your pocket.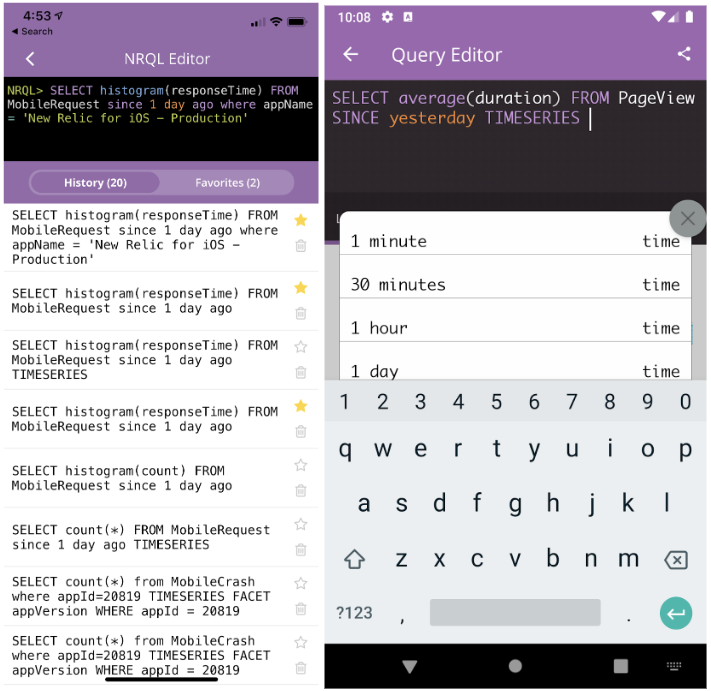 With the free New Relic and Insights mobile apps for iOS and Android, you can track real-time and historical app performance, view key transaction data and app errors, and stay on top of any incoming issues with push notifications. Plus, you can access all of your custom instrumented dashboards right from your phone.
Go ahead, break free from your computer and download the free mobile apps: New Relic for iOS and New Relic Insights for iOS or the New Relic Android app and New Relic Insights for Android today.
The views expressed on this blog are those of the author and do not necessarily reflect the views of New Relic. Any solutions offered by the author are environment-specific and not part of the commercial solutions or support offered by New Relic. Please join us exclusively at the Explorers Hub (discuss.newrelic.com) for questions and support related to this blog post. This blog may contain links to content on third-party sites. By providing such links, New Relic does not adopt, guarantee, approve or endorse the information, views or products available on such sites.