The software engineering industry moves fast. And developers do too. That's why we've rounded up bite-sized resources to help you keep up with current trends, learn new skills, and connect with the developer community. Whether you want to listen to a quick podcast during your morning jog or catch up on industry news over breakfast, we have you covered.
Top 5 podcast picks: What to listen to when you're walking the dog or picking up groceries
CodeNewbie
New to this whole developer thing? Here's a good place to start. CodeNewbie covers stories from people on various coding journeys, from being a frontend developer for 20 years to transitioning from a police recruit to a developer. Prepare to be relaxed and inspired at once.
DevDiscuss
DevDiscuss is the DEV community's first original podcast. It's conversational and covers topics that affect software developers' lives, from productivity tips to the pros and cons of different programming languages, every Tuesday.
Serverless Chats
Serverless Chats is all about—you guessed it—everything serverless. Jeremy Daly, serverless advocate and startup veteran, uses this platform to explain how serverless architecture helps your applications run more smoothly and efficiently.
The Changelog
These weekly podcasts cover software development, open source, artificial intelligence, and developer culture. Tune in for interesting questions and answers about everything tech. Some recent episodes have discussed observability platforms, highlighted authors in the product space, and explored internet security.
Developer Tea
What's the tea? These episodes are short and sweet. Enjoy a 10-minute talk about software engineering strategies while sipping your drink of choice—it's the perfect break.
Top 5 YouTube picks: What to watch when you've already binged all your favorite shows
Coding Addict
Are you addicted to coding? It's OK, we're here for you. And we won't tell. Check out this channel for some practical guidance on your projects.
Program with Erik
Erik, a web developer for 10 years, films clear and helpful programming tutorials on different frameworks, including trendy new ones: Vue 3, Express JS, and Svelte. He's incredibly active too, posting at least three videos a week.
Dev Ed
Dev Ed has everything—from website design tips to JavaScript animation tips—in an easily digestible, relatable form. Dev Ed works to inspire developers' creativity and also offer them general career and life advice. Ed, the developer host, is here for your mid-code crisis.
freeCodeCamp
freeCodeCamp is an open source community that posts clear coding tutorials with no advertisements. On top of that, the channel's projects support nonprofits. We couldn't NOT give them a shoutout.
Andy Sterkowitz
Andy's your new best friend. As a self-taught software developer, he knows exactly how to motivate you and help you grow. He reviews programming books, discusses his career path as a developer without a formal degree, and explains how to build a developer portfolio.
Top 5 Twitter picks: Who to follow when you need some good news
Ada Nduka Oyom
Ada is a software developer based in Lagos, Nigeria. In her free time, she contributes to the Open Source Community Africa and She Code Africa. Follow her for a daily dose of motivation and career guidance.
DEV Community
The DEV Community helps developers from around the world collaborate and network. It launched dev.to, the blogging platform, and offers practical tips on creating great software.
The New Stack
The New Stack is your go-to for building and managing software at scale. They communicate with developers at all levels and they're an awesome resource whether you've been in the field for 10 years or 10 months. If you want to keep up with the latest developer news and learn about new technologies, add them to your feed.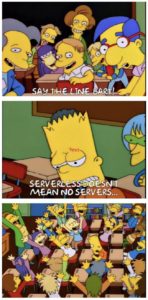 Write/Speak/Code
Write/Speak/Code is a nonprofit that helps make the tech world more accessible to people of marginalized genders. It has chapters in major United States tech hubs and hosts virtual workshops that can help you share your technology expertise through effective writing and speaking.
Simpsons Against DevOps
You're probably familiar with The Simpsons. If you've scrolled past the last few suggestions, make sure you check out this brand-new account for some midday laughs.
Bonus TikTok picks: What to scroll through when you need a break
Ada Nduka Oyom
Remember Ada? You can also catch her on TikTok for some developer humor.
Maya Bello
Maya is one of the most positive creators on the TikTok app. And she's a talented software engineer with a talent for teaching. Code with her!
We're in this together
New Relic is deeply committed to and invested in the developer community. We're on a mission to make creating software more accessible—and fun. Let's build together. Check out New Relic Developers for pro-tips, videos, podcasts, and more.
The views expressed on this blog are those of the author and do not necessarily reflect the views of New Relic. Any solutions offered by the author are environment-specific and not part of the commercial solutions or support offered by New Relic. Please join us exclusively at the Explorers Hub (discuss.newrelic.com) for questions and support related to this blog post. This blog may contain links to content on third-party sites. By providing such links, New Relic does not adopt, guarantee, approve or endorse the information, views or products available on such sites.