T-shirts here!  Get your free t-shirts here!
TL;DR:
What's with all the t-shirt giveaways lately? 
First and foremost, we love developers and we want you to have one of our shirts when you deploy New Relic. So go deploy us now and get your free shirt here.
Secondly, New Relic is on a mission. We are creating app management that ANY organization with a business-critical web app can use. We think EVERY developer will benefit from a New Relic account, hooked up to WHATEVER app they are working on.  Big apps.  Small apps.  We've worked VERY hard to make our product an experience that people fall in love with the moment they start using it.
The other reality at play here is that New Relic is a high-volume, high-transaction online business. We are interested in acquiring new customers and are doing what we can to achieve our business objectives. The thing is -- New Relic is a new concept; sure, we have over 15,000 active accounts and many times more users than that, but the idea of a SaaS app performance tool is still pretty new to a lot of people. To get people over the hump of "hey, neat idea - maybe I'll try it someday", and move 'em to "Rockin', now's the time!" We offer incentives.  We've tried RC helicopters, but t-shirts are much more cost effective.  So far, we've given a few hundred of these incentives away, and we're not going to stop.
At the end of the day though, we are providing a service that we know will help you deliver and maintain high performance web apps. We are invested in your success. 
Here's our formula for YOUR success:
1) Try it.
2) You'll love it.
3) But you have to do step 1 before step 2
This model works at this company because we believe we have a truly useful, unique, magical, wonderful product. If we didn't, this type of marketing would be wasteful.
Where we'd prefer our money to go, anyway!
Even more important, we look at our marketing budget this way:  We'd prefer to spend a little money outfitting our users in cool shirts rather than giving it to google for expensive adwords. We end up doing both, but we love the idea of you wearing our shirts to your next local meetup.  We're a global company, but hey...we act locally.
Only new people who come to New Relic?  What about existing customers!?
We haven't forgotten about you and are taking steps to ensure that you have the chance to participate in our online promotions going forward. Case in point: we've been overwhelmed with the interest in our t-shirts from our existing customers.  As mentioned above, we use the Ts to help us acquire new customers.
We can't buy 60,000+ t-shirts for all New Relic users around the world, but here's what we can do, it's simple:
1.  Share New Relic with friends, developers, etc.
2.  When one of your friends signs up AND deploys our agent into their app, we'll notify you and send you a T-shirt!
3.  Your friend who followed your link and deployed will get a free RC helicopter! (or T-shirt if we run out)
4.  Bam!  That's it.
Seriously! NO Purchase Necessary (But please don't rip us off; we're good people )
We know there will be a few bad apples who will inevitably try to beat the system for a $20 t-shirt (it's a nice american apparel shirt!). They will install our agent in their app, claim victory, demand a tshirt, then rip us out of the app.  Please don't do this.  We have a free version - we think you'll like it!  Our model works like many freemium models (like, say... Dropbox).  You try us.  80% of you will never buy from us. But 20% will, and we make money on that math.
Proof that this isn't a scam?  
It isn't.  Here's two customers who have tweeted about receiving their tshirts.  How much did they pay?  Zip.  But now they see the power of New Relic!
So go ahead, please consider telling all your friends about this initiative.  Share this post on Twitter.  Let's double this customer base of active accounts together!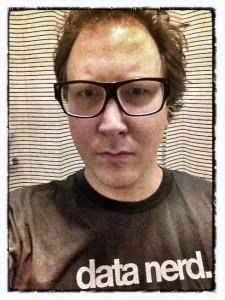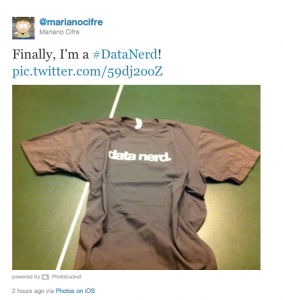 In case you missed it, here's our holiday video.  We LOVE developers.  And we want them all wearing our schwag!
The views expressed on this blog are those of the author and do not necessarily reflect the views of New Relic. Any solutions offered by the author are environment-specific and not part of the commercial solutions or support offered by New Relic. Please join us exclusively at the Explorers Hub (discuss.newrelic.com) for questions and support related to this blog post. This blog may contain links to content on third-party sites. By providing such links, New Relic does not adopt, guarantee, approve or endorse the information, views or products available on such sites.