When you're trying to solve a web application performance issue, you don't really care what product the data comes from. You just need insight about what's working on your site and what went wrong.
Introducing comparative charting between Browser and Synthetics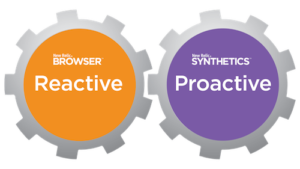 New Relic understands this, which is why we are working to break down the silos that separate our products and how they display data. Step one is comparative charting, a new way to view real user information along with synthetic monitoring information between New Relic Browser and New Relic Synthetics.
This new comparative charting feature is a big step toward making this silo-less vision a reality. Comparative charting makes Browser and Synthetics data available in both contexts in a single chart. That means you can now see real user activity from New Relic Browser and proactive baseline data from New Relic Synthetics, together at the same time.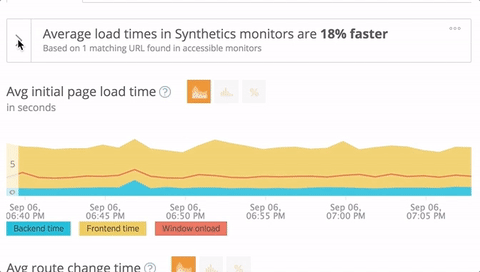 Comparative charting reduces the need to jump between products when you want to view Browser or Synthetics data, and it supports a more intuitive understanding of where performance issues may lie. Think of it as a differential diagnosis for your application.
In an effort to ship fast and learn from our customers, we kept the first iteration of comparative charting lean, focusing on leveraging currently available data. In the future we may consider additional tools for filtering and faceting in useful ways as well as expanding this sort of comparative visualization across other parts of the New Relic Digital Intelligence Platform.
When to use comparative charting
There are many possible use cases for comparative charting. Operations managers might use comparative charting to compare trends revealed in Synthetics to Browser data during a period of performance degradation. This could make it easier to see if the issue is more likely to come from its origin, the content delivery network (CDN), or the "last mile" to the browser. Figuring out where to look first can help reduce the time it takes to diagnose the issue and therefore shorten the mean time to resolution (MTTR).
Using New Relic Browser and New Relic Synthetics together like this can help provide a more complete understanding of frontend performance than real user monitoring (RUM) or synthetic monitoring can provide alone. Bringing both views together into a single chart was a no-brainer in our mission to help our customers enjoy the most complete customer experience monitoring possible.
Comparative charting will be available soon in-product for all current New Relic Synthetics and New Relic Browser users. Learn more about out comparative charting feature by reading our documentation and by visiting the New Relic Online Technical Community.
Forward-Looking Statements
This post contains "forward-looking" statements, as that term is defined under the federal securities laws, including but not limited to claims regarding the future availability of Comparative Charting between New Relic Browser and New Relic Synthetics and any features or benefits related thereto. The achievement or success of the matters covered by such forward-looking statements are based on New Relic's current assumptions, expectations, and beliefs and are subject to substantial risks, uncertainties, assumptions, and changes in circumstances that may cause New Relic's actual results, performance, or achievements to differ materially from those expressed or implied in any forward-looking statement. Further information on factors that could affect New Relic's financial and other results and the forward-looking statements in this post is included in the filings we make with the SEC from time to time, including in New Relic's most recent Form 10-Q, particularly under the captions "Risk Factors" and "Management's Discussion and Analysis of Financial Condition and Results of Operations." Copies of these documents may be obtained by visiting New Relic's Investor Relations website at http://ir.newrelic.com or the SEC's website at www.sec.gov. New Relic assumes no obligation and does not intend to update these forward-looking statements, except as required by law.
The views expressed on this blog are those of the author and do not necessarily reflect the views of New Relic. Any solutions offered by the author are environment-specific and not part of the commercial solutions or support offered by New Relic. Please join us exclusively at the Explorers Hub (discuss.newrelic.com) for questions and support related to this blog post. This blog may contain links to content on third-party sites. By providing such links, New Relic does not adopt, guarantee, approve or endorse the information, views or products available on such sites.