When it comes to building and operating software at enterprise scale, the complexity and breadth of what you need to know is greater than ever. Big problems take many teams to solve them. And working across organizational boundaries introduces even more complexity and new kinds of obstacles.
For engineering teams with complex environments, New Relic One empowers you to find, visualize, and understand everything you need to deliver more perfect software. New Relic One is the next evolution of the New Relic platform, and it connects all your data in a single place, so you can focus on building more perfect software for your customers, not building your monitoring solution.
What's an entity?
An entity is any thing you monitor—applications, services, hosts, instances, containers, Kubernetes clusters, Lambda functions, databases, VMs, and so on. Unlike any other platform in the industry, New Relic One lets you search across all your entities, see all their relationships and dependencies, and understand the context of what matters to your business.
See across organizational boundaries
For enterprises with complex technical and team environments, there are many obstacles to seeing clearly across a critical business process. Enterprises have dozens, sometimes hundreds of teams. Many have data restrictions for different groups of employees, meant to protect sensitive information. New Relic One automatically discovers relationships between entities, allowing you to visualize dependencies across your entire enterprise while still respecting organizational permissions and access control. 
Global search. Search across all accounts in your enterprise and across domains—from mobile to applications to infrastructure—to get clear views into the organizational structure of your system.
Entity explorer. Get an organized navigation layer and a unified view of every entity from every account, so you can see everything you monitor in one place and quickly zoom into what you care about most.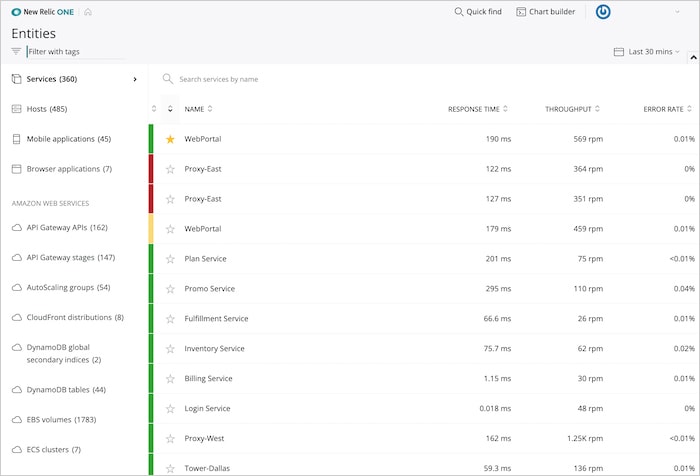 Tag API. Use New Relic's GraphQL API to add tags to what you monitor, so you can quickly search for the systems that are relevant to the job you're doing.
Quickly understand the context
Ship software faster and more frequently using the context New Relic One delivers. It provides a unified view across all entities so you can understand all the components of your applications, from single event traces to end-to-end workflows. New Relic One's navigation allows you to quickly correlate and identify anomalies across all the systems in your enterprise and jump into root cause analysis faster than ever before.
Entity summary. Start with a broad view to identify entities of interest, including their upstream and downstream dependencies; then, using the diagnostic tooling New Relic provides today, find the source of problems and locate root causes.
Service map. View entities, and their dependencies and health, across all the accounts you can see to quickly identify root causes when collaborating and troubleshooting.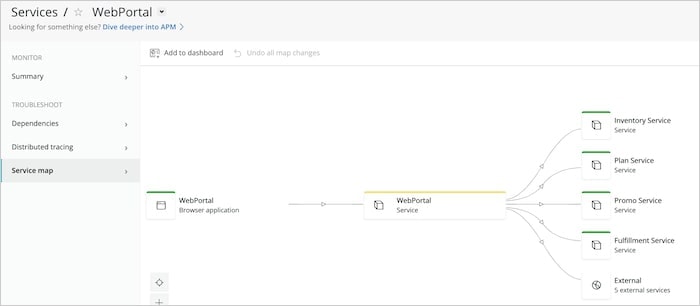 Relationship API. Use the GraphQL API to retrieve entities and their relationships to speed up troubleshooting, plan integrations with confidence, and pinpoint where to optimize performance for the biggest impact.
Distributed tracing global search. Find any trace with an attribute—even if only one service within the trace carries the attribute you care about—or search for specific distributed traces using advanced search.
Customize for your unique needs
Extend your visibility and customize your views to fit your specific needs. A new guided chart builder makes it easy to create powerful custom dashboards combining connected data. Augment your data with tags through a flexible API to quickly create views focused on only what you care about for understanding your digital business.
Dashboards. Create custom-views into the data that matters most to you, with a rich set of built-in features to make the charts within easy to understand and use. Already have dashboards in New Relic Insights? Not a problem—your existing dashboards will automatically appear in New Relic One for viewing and editing.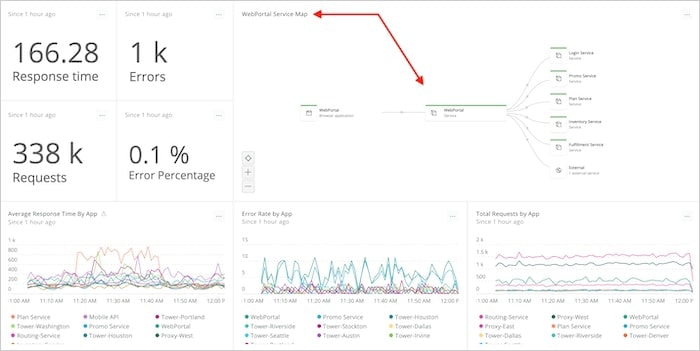 Chart builder. Use the new point-and-click query creation tool to easily query your data. It's a great entry point into the New Relic Query Language (NRQL).
"Other tools give me data, New Relic One gives me context." 

—Matthew B. Vaughan, Lead Software Engineer, Cox Automotive
Why New Relic One
Cut through the complexity of your enterprise. See across organizational boundaries while maintaining secure data access.
Troubleshoot with confidence. Get a unified view of errors and dependency issues using distributed traces and enterprise-wide maps.
Quickly find the answers you need. Build custom views and dashboards and apply tags for custom filtering.
See the difference
Find out how entity-centric monitoring can help you and your teams move faster.
Request a demo