At New Relic, we help our customers transform digital customer experiences, and data is so crucial to what we do that we call ourselves "Data Nerds." As a people leader in the early days of a Diversity and Inclusion journey, I believe data is central to our approach here, too. Although there is much richness beyond simply the numbers in Diversity, Equity, and Inclusion, we also have a responsibility to review, publish, and hold ourselves accountable to the data.
When I joined New Relic a little more than a year ago as Chief People Officer, I made a commitment to help our team members thrive. To me, thriving at New Relic includes experiencing a workplace and culture that is welcoming and supportive to all different types of people, one that actively seeks out diverse perspectives to make our teams stronger, one that creates ample programs to help ensure employees have the resources they need to be successful, and one that holds people accountable for maintaining and improving this culture. My team and I began working to uphold this commitment.
Those efforts are beginning to bear fruit, with impressive levels of engagement from employees toward the goals that we've set for diversity and inclusion. While we haven't yet achieved numbers that I'm proud of, I am confident that continuing to hold ourselves accountable will lead to innovations that will move the needle—not just for us, but for our industry and the broader landscape. Our hope is that by sharing our successes and challenges, we can help others to drive positive change in their companies.
Overall, though, we still need to improve, and we're determined to make more progress in the year to come.
What do the numbers tell us?
When it comes to gender diversity, the representation of various groups improved only marginally from a year ago. The proportion of women at New Relic increased from 28% to 30%, with women in technical roles increasing from 20% to 22%. Our new hires are slightly more diverse, as women accounted for 39% of new hires in the last 12 months.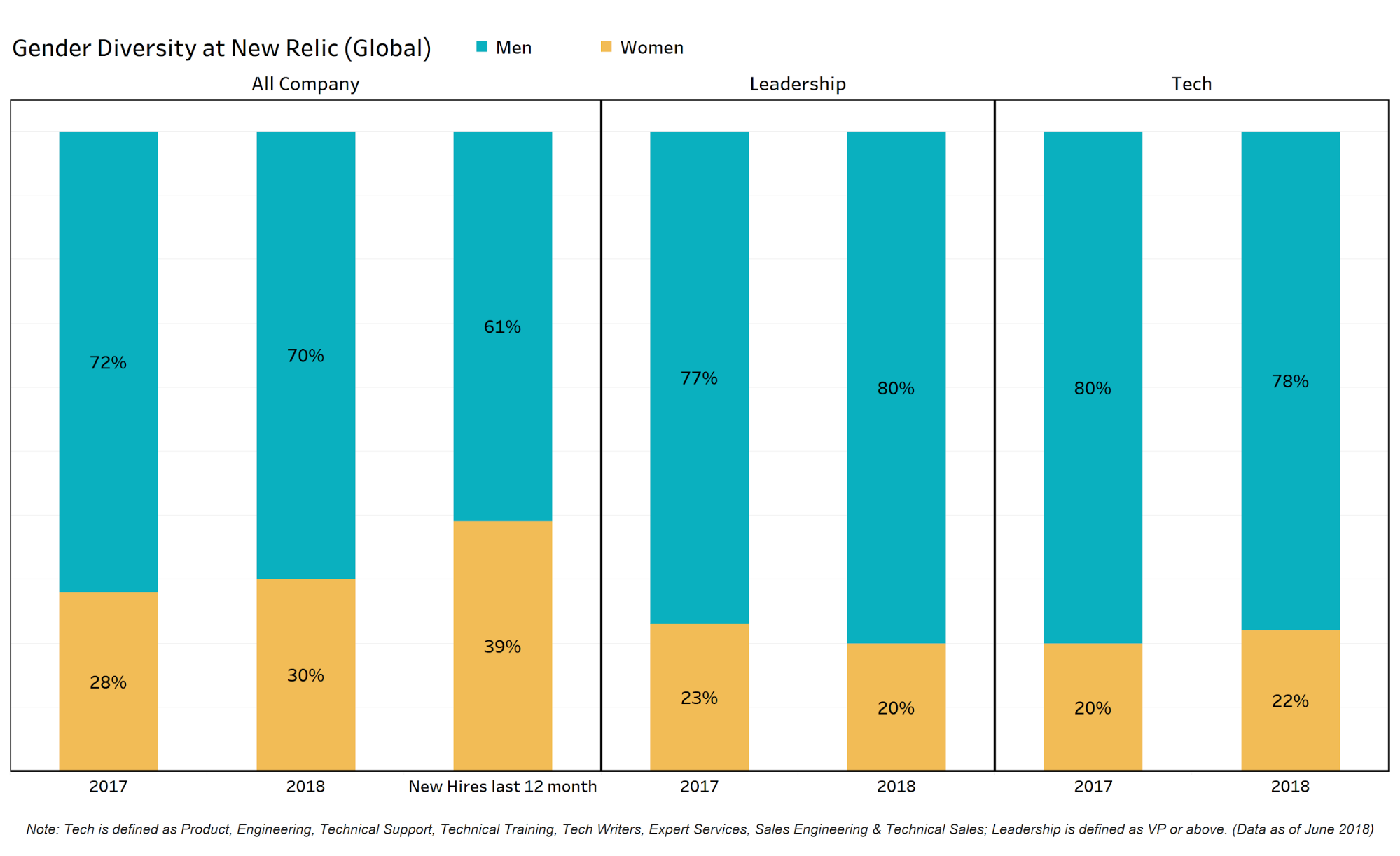 Our racial diversity data (U.S. employees only) also shows a lot of room for improvement: representation has either stayed the same or marginally decreased as we have grown. Again, our hiring numbers are slightly better, with people of color representing 32% of new hires. We're not satisfied, but we know we have a big opportunity to drive change in the year to come.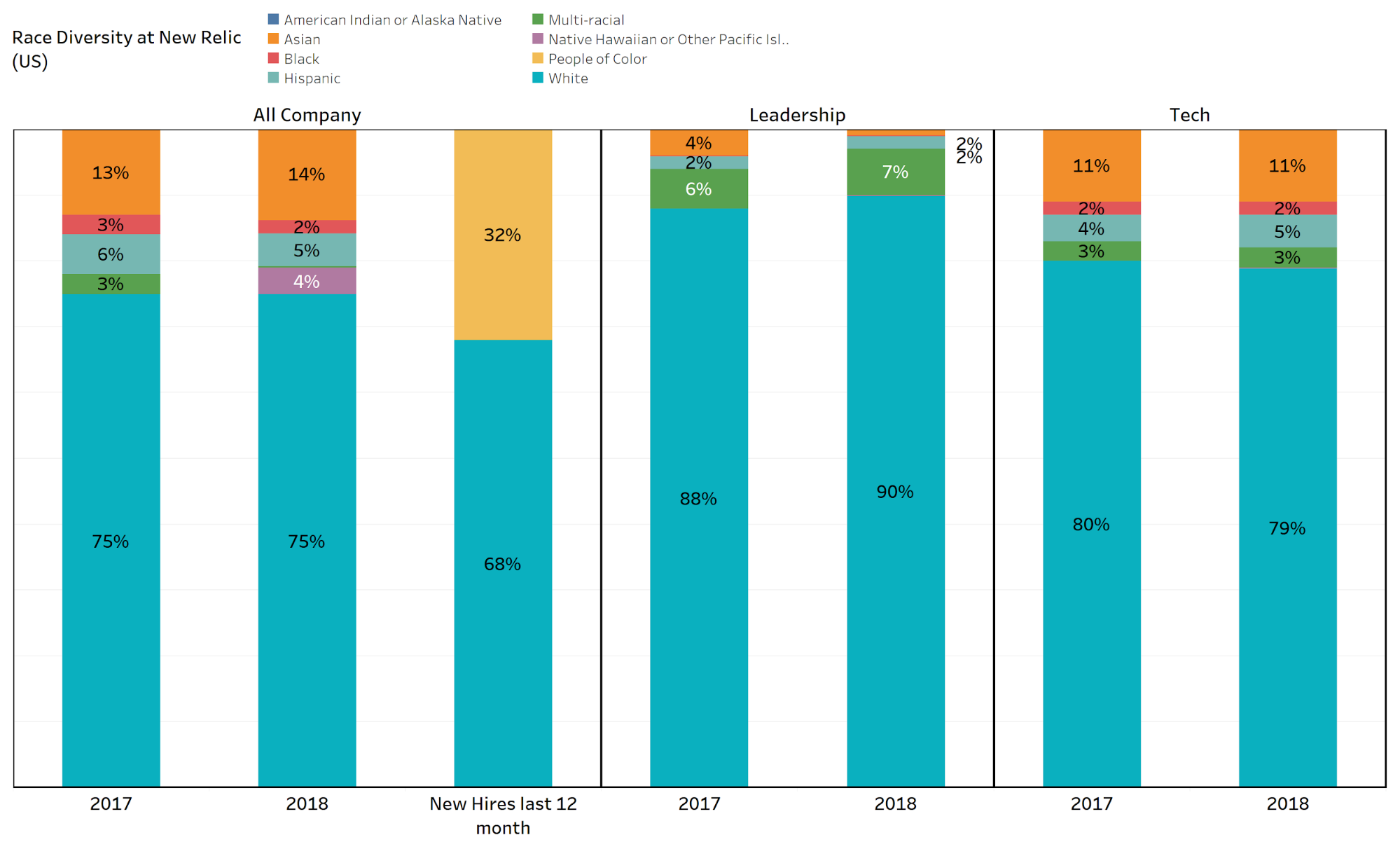 In addition to the above representation and hiring numbers, we also look at talent flows: Who are we promoting and retaining? These numbers are early indicators of what our representation numbers will be in the future; they also do a better job of measuring inclusion than the overall population numbers because they reflect the investment we're making in our employees and their willingness to stay at New Relic.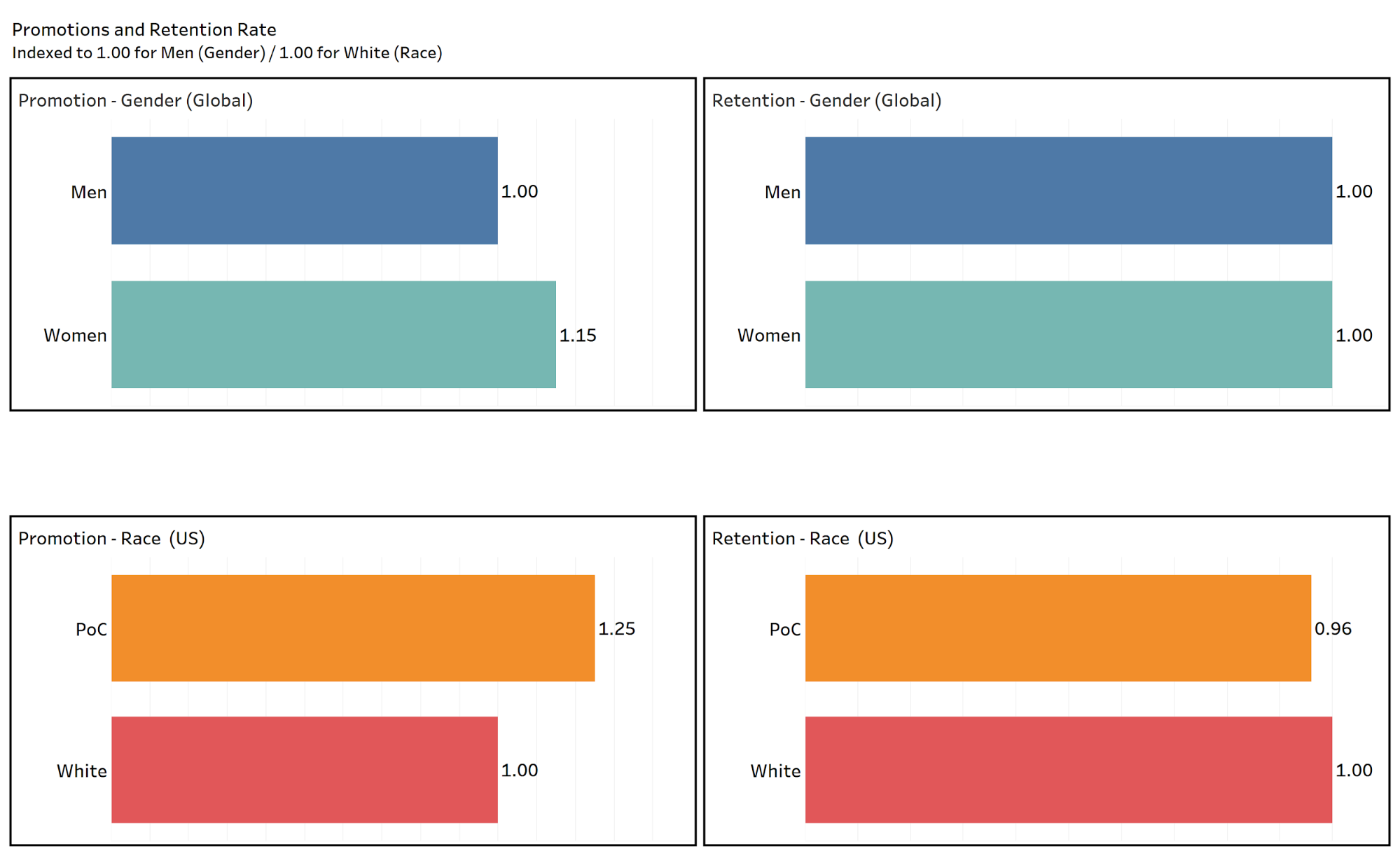 Our promotion rates are encouraging: in the last 12 months, women received 1.15x the internal promotions of their male counterparts and people of color were promoted at 25% higher rates than white employees.
We can do a better job retaining our diverse talent. While women and men left the company at similar rates, people of color had a 4% lower retention rate.
What we've learned from the data
I knew that in my first year at New Relic, we would be working to set foundations for the kind of change that I and our employees want to see. We've made some progress, but it has been incremental. We can't stop here; we have more work to do to move the needle. Our team is focused on making the year ahead full of noticeable change that is reflected by real progress, supported by the data.
Belonging matters, but belonging is complex. At New Relic, we want to build a culture where people feel comfortable, valued, and heard, but that's not always straightforward. We just launched our first ever Inclusion Survey to measure employee perspectives on New Relic's practices around fostering an inclusive environment where people of all backgrounds can thrive. Our goal is to better hear and understand the voices of people who might otherwise be marginalized—whether due to their gender identity, physical ability, sexual orientation, age, or anything else—in the programs that we build.
In order to change the status quo, you have to be comfortable with being uncomfortable. In this last year, a formal Allyship group was formed at New Relic. This group was completely employee founded and is employee led. We also formalized our Allyship training program, which encourages privileged folks to notice injustices and speak up to support their marginalized colleagues. Our employees care deeply about driving change, and working with them to accomplish our goals is reflective of what we stand for as a company. I'm so proud of our employees' eagerness to support one another, both in the workplace and in our communities.
Sponsorship works. At New Relic, we've seen success through our first formal sponsorship program, which launched in July of 2017. In an effort to enhance diverse populations' opportunity for career growth, visibility, recognition, retention, engagement, and promotion, 25 pairs of sponsors and protégés were formalized across our Product and Technical Sales and Support groups. This group saw promotion rates 19% higher than the rest of the company, and attrition rates 3% lower.
Our focus for the year ahead
Setting targets for our leaders to ensure that they're held accountable for diversity, equity, and inclusion. Our Relics care deeply about these initiatives and have driven a lot of the change we've seen so far, but engagement needs to come from the top down as well. This means holding our most senior executives accountable for their efforts to hire and retain a diverse population and reinforce a culture of inclusion. I'll be working to push initiatives with managers and executives and setting department-level objectives to which employees can also help contribute.
Do more to balance the bottom-up efforts of our employees. From a process standpoint, we plan to implement programs that take the burden off of junior- and mid-level Relics and marginalized individuals.
One such example is "Thrive Time," which encourages and recognizes employees for their efforts—beyond their day-to-day jobs—to take part in and improve our culture. In our bi-annual performance and feedback reviews, employees and managers have the chance to highlight the ways they've been "culture adds" to the company. One example is our LGBT Pride Month speaker series.
We'll be offering more support to our Employee Resource Groups to make the planning and execution of their programs and initiatives less burdensome. In some cases, this may mean placing a larger emphasis on our Allyship group: offering more Allyship Skills Training sessions and encouraging partnerships between our employee resource groups and ally groups to achieve more together.
Diversity, equity, and inclusion need to be embedded into the business. In May, we held our annual Product Offsite and I received amazing feedback about the many talks from employees addressing diversity, inclusion, and belonging! I want to see more of this, at all levels, from all departments. We've extended our Inclusion training to New Relic's executives, making it mandatory that they all attend, and have even had our Board of Directors take part.
We're just getting started!
Since day one at New Relic, I've been impressed by the way our employees live out our five core values. As Relics, we pride ourselves on being bold, authentic, accountable, passionate, and connected. I see so many ways in which those values already have an impact on our diversity, equity, and inclusion journey—and I see big opportunities for more improvement.
I'm exceptionally proud to work for a company where the employees that I'm supporting are a key source of encouragement for the work we're focused on. And I feel lucky to be a part of an executive team that knows how vital diversity and inclusion is to the overall success of our company.
We've set a solid foundation at New Relic, but now it's time to build on that. I'm looking forward to what this coming year will bring.
Interested in joining our journey? We're hiring! https://newrelic.com/about/careers
The views expressed on this blog are those of the author and do not necessarily reflect the views of New Relic. Any solutions offered by the author are environment-specific and not part of the commercial solutions or support offered by New Relic. Please join us exclusively at the Explorers Hub (discuss.newrelic.com) for questions and support related to this blog post. This blog may contain links to content on third-party sites. By providing such links, New Relic does not adopt, guarantee, approve or endorse the information, views or products available on such sites.