Guest author Duncan Rutherford, head of e-commerce at BT Shop, shares his team's journey of becoming a more collaborative, data-driven organization through observability.
Anyone responsible for an e-commerce shop knows that conversion rate is a key performance indicator of your business. However, solely looking at conversions, or average order value (AOV), or other purely monetary metrics can cause you to miss the underlying nuances of what might be happening in your customer journey and the kind of experience you're delivering on your site.
As my team and I at BT Shop, the consumer-facing retail division of BT (British Telecom), realized, it's equally important for everyone involved to have insight into the experience of customers on your site if you truly want to improve your bottom line—and we have New Relic to thank for helping to show us the way.
Here's how we're using New Relic One to foster collaboration across teams, gain visibility into the pinch points in the customer journey, and improve the customer experience on our e-commerce site.
Breaking down barriers to cross-departmental collaboration
BT is known in the UK and throughout Europe as a leading communications services company providing fixed-line, broadband, mobile, and TV services to customers in roughly 180 countries. We also sell equipment to complement the services we provide (e.g., routers, TVs, laptops, and other consumer technology products), which is the business unit that I run as head of e-commerce at BT Shop.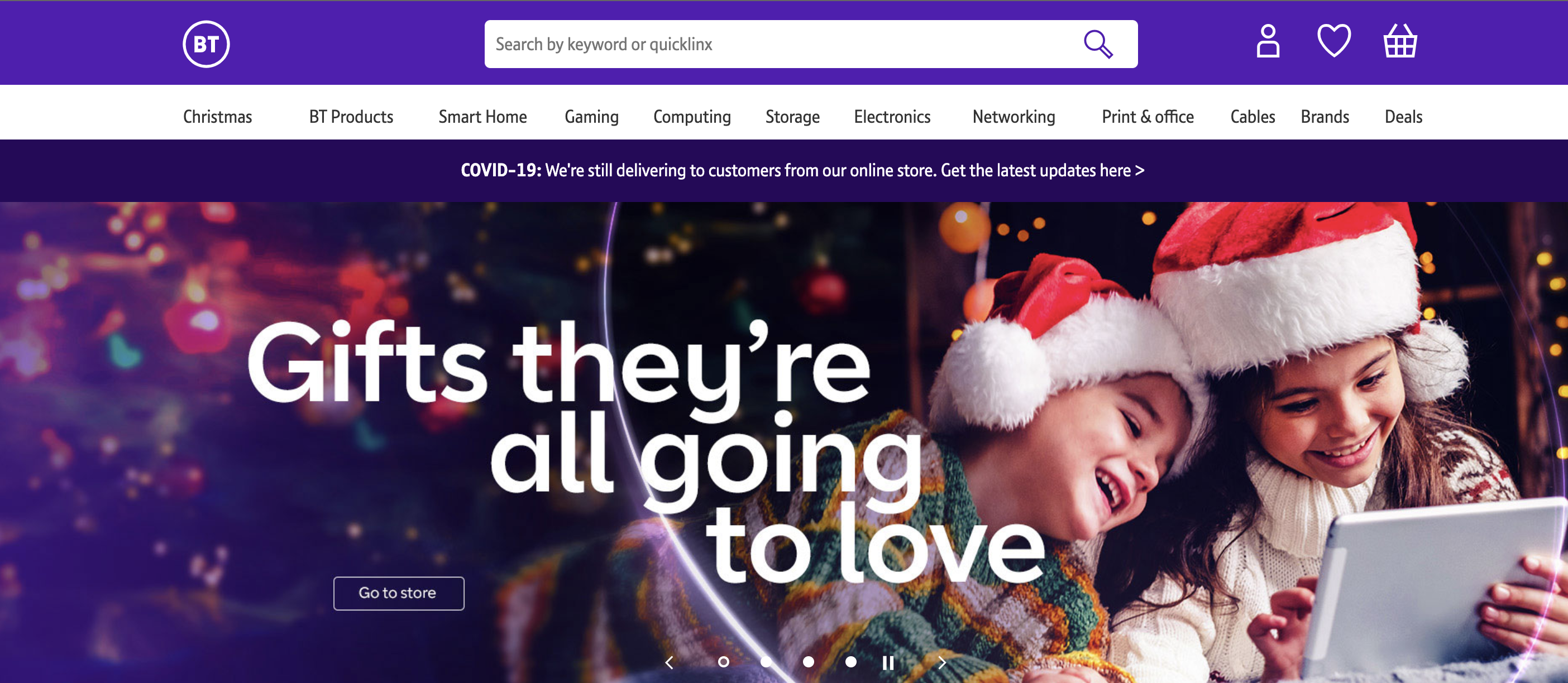 Like many companies of our size and complexity, we have silos that exist across the business. From technology and e-commerce to finance and customer service, different teams care about different aspects of the business. Yet it's absolutely critical for all of us to work together to deliver on our joint business goals—which, a few years ago, we were finding pretty difficult to do.
The teams that we needed to work with looked at the business through a different lens than we did, creating inefficiencies and difficulties in getting everyone on the same page. Despite everyone having the best intentions, without the right tools and processes in place, we knew that it would continue to be a challenge to communicate and work effectively across teams.
Discovering that New Relic One is for developers and business users
At the time, our development team was using New Relic One for its comprehensive visibility across the software stack that runs our BT Shop site, while those of us on the e-commerce side were using Google Analytics. We thought of New Relic One as a platform for developers, but when we learned that it could help multiple functions within our business see the same customer experience—across all touchpoints—we knew it could help us have a shared understanding of what happens during the customer journey.
If our customer service team, for example, is on a call trying to help someone with an issue on our site, we—over time—want to allow them to collaborate across the same tools, to better articulate what the issue might be for faster resolution. And not just for that one customer, but the countless other customers who were likely experiencing the same issue.
We partnered with New Relic to create dashboards in New Relic One that would allow the e-commerce and marketing teams to track customer experience metrics such as time on site or average response time, or even see how a campaign is performing with insight into traffic sources and revenue.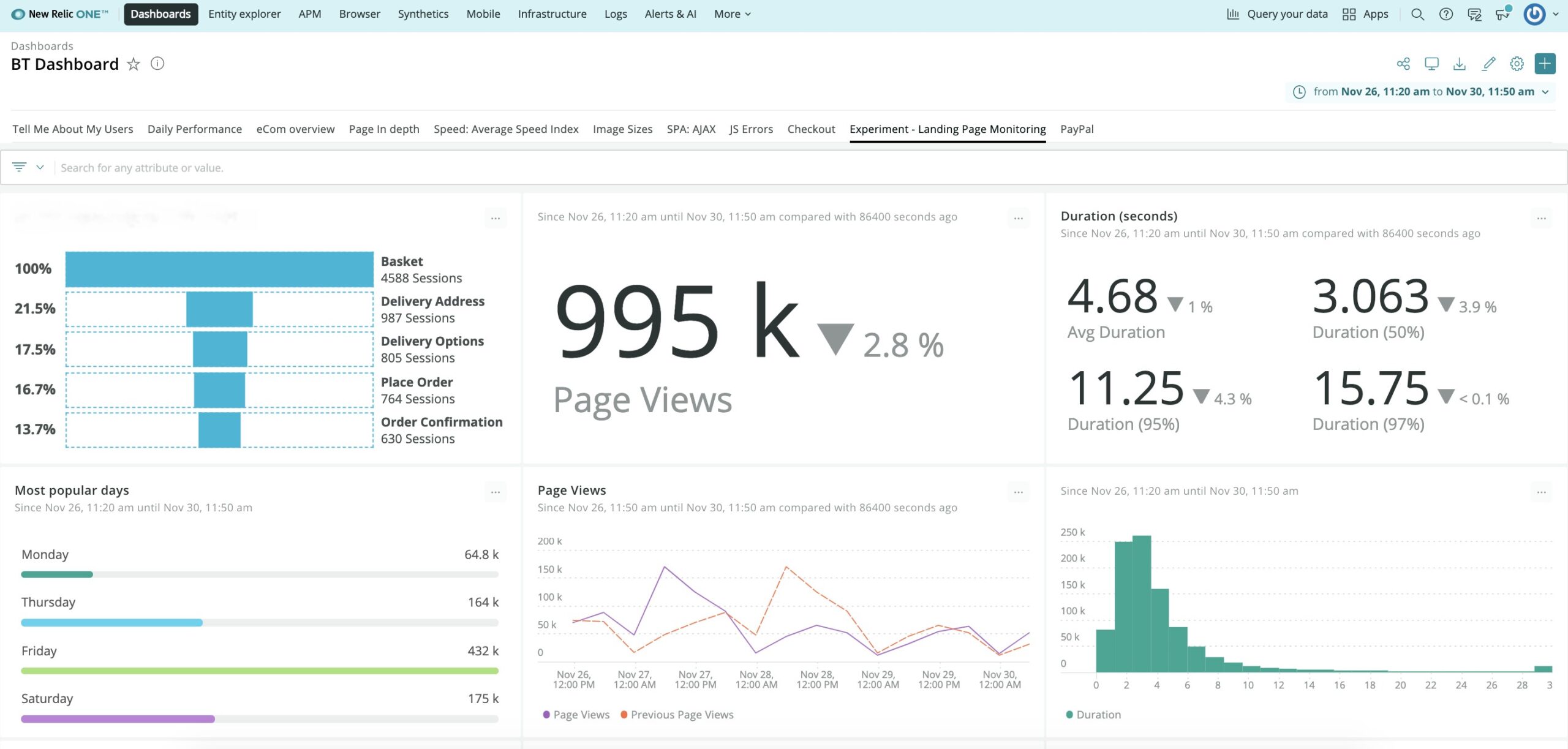 With New Relic One, we now have a way to understand how technology changes and improvements to our software impact our customers and our business metrics. We can use New Relic One as a common language to better connect the dots between performance and conversions happening on the site. We're enabling a team of marketers, campaign managers, commercial folks, performance marketers, and designers to think about the data first and apply that insight to improve decisions.
Building repeat customers throughout the pandemic
When the COVID-19 pandemic hit in late March, cross-functional teams were particularly grateful we had New Relic One in place to help tackle some of the unanticipated challenges. Once we entered a nationwide lockdown, our site started seeing dramatic increases in traffic, with more than five times the normal volume in sales, making it much harder and more complex to support our customers.
For example, we had to quickly shift from being a reseller that relied on back-ordering items for customers that were out of stock to understanding that people could not wait for items that became a necessity during the lockdown. We removed 5,000 items from the website overnight as a result of making the rapid decision to only show items in stock. Despite or because of decisions like this, we could see the customer metrics continuing to improve in New Relic.
Whether it was guiding our decisions on how to scale our infrastructure, helping us make decisions about how to do the right things for our customers, or identifying malicious attacks on the site, New Relic helped our team keep up with the demands that came with the new pandemic reality.
With the online experience we delivered, we could help people get the equipment they needed during such a critical time. We were honest and upfront about our available inventory and ability to deliver based on our customers' needs—and tailor the online experiences we build using New Relic data. These capabilities have helped us more than double repeat spend from newly acquired customers. We found that many more customers were coming back to buy from us three months later than we've ever experienced before.
Moving from data-aware to data-driven
When I look back at where we were prior to using New Relic One, it's amazing to think how far we've come as a much more data-driven team. We used to think, "Great, we've converted this many people. Our job here is done." But we had no idea why people were leaving our site or whether a new feature we launched was making a positive impact on the business. We could be pleased about a new feature we launched when, in reality, no one was interacting with it.
Incorporating observability data into the business metrics our marketing and e-commerce teams collect helps us plan and strategize what we do on-site. For example, we're currently building a map of all the different customer journeys we expect will occur on our site during our next peak period. And the plan is to properly stress test them before traffic spikes occur to understand how upticks in volume can impact the site and how they might cause our conversion funnels to narrow.
In this way, both our technical and non-technical teams agree that New Relic One is helping us improve the performance and customer experience of our site. And just as importantly, it's given us a shared understanding of the business, helping us communicate more effectively across silos, and in turn, move much faster.
When applied in the right way, with the right dashboards surfacing the right information at the right time, New Relic One can be hugely powerful—no matter where you sit in the business.
Check out more New Relic customer stories.
The views expressed on this blog are those of the author and do not necessarily reflect the views of New Relic. Any solutions offered by the author are environment-specific and not part of the commercial solutions or support offered by New Relic. Please join us exclusively at the Explorers Hub (discuss.newrelic.com) for questions and support related to this blog post. This blog may contain links to content on third-party sites. By providing such links, New Relic does not adopt, guarantee, approve or endorse the information, views or products available on such sites.