Today is one of the biggest days in New Relic's history. On behalf of everyone at the company, I'm immensely proud to deliver a completely reimagined New Relic One and usher in a new era in observability.
We've spent a lot of time listening to you, our customers, to better understand what's preventing you from having holistic visibility across your applications and infrastructure. Here's what we learned:
You use dozens of disconnected tools to monitor different parts of your stack, forcing your engineers to scramble and switch between tools to investigate issues.
Even if your teams can cobble together a set of dashboards, the data is scattered across various data silos, leaving you without a "single source of truth" for your operational data.
Expensive and complicated host-based pricing keeps you from instrumenting everything and prevents the collection of all application and infrastructure data, leaving blind spots in your observability.
You're investing in various open source technologies like Grafana and Prometheus to support Kubernetes monitoring, and you want to maintain those tools going forward.
These factors leave many of you with costly tool sprawl and data silos that look something like this: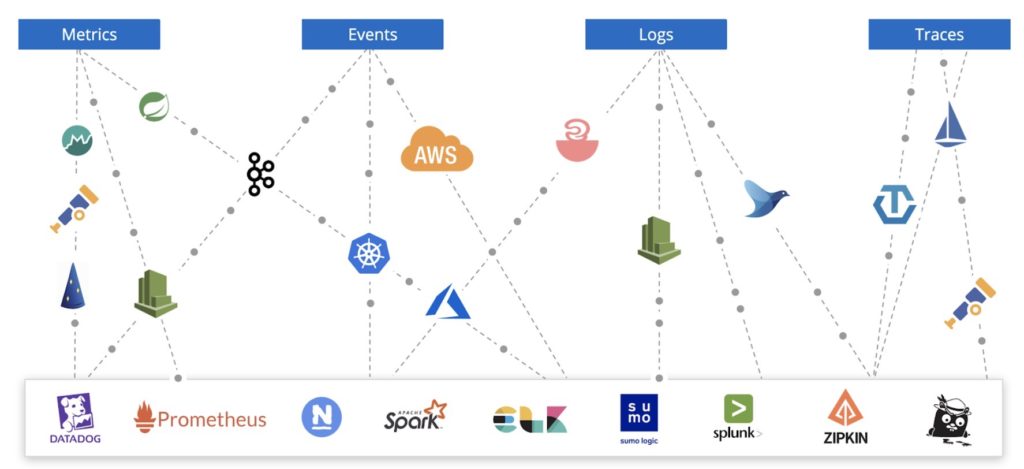 With this in mind, we've reimagined New Relic One and our entire product suite with a clear, intuitive user experience, powerful new capabilities, and simple pricing and packaging (including a perpetual free tier).
A bold New Relic One experience
We've vastly simplified New Relic One into just three products that comprise one complete observability platform. With our platform, you can realize significant cost savings, increased engineering productivity, and a simplified approach to managing the demands of modern business.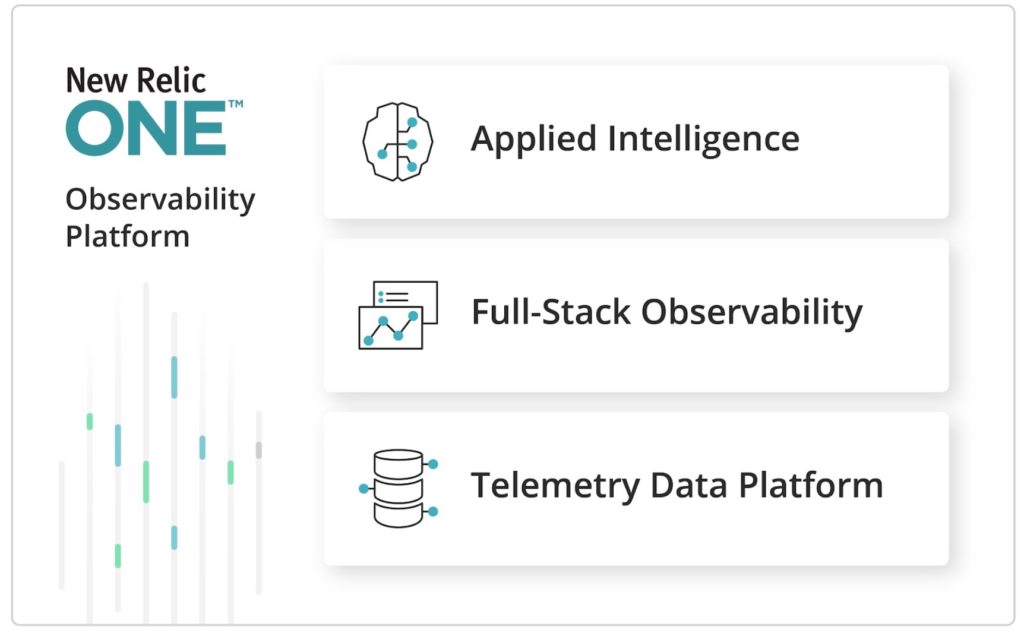 In our reimagining of New Relic One, we were guided by one design principle: dramatically simplify and reduce the total cost of instrumenting and measuring "all the things." No more complicated pricing or surprise charges. No more data silos. No more selective instrumenting of apps or instances because of expensive host-based pricing. And no more chaotic, disconnected tool sprawl.
We designed the Telemetry Data Platform in New Relic One to make it easy and affordable to collect gigabytes of operational data, whether that data comes in the form of metrics, events, logs, or traces or whether you collect it with our agents or open source alternatives. At just $0.30 per gigabyte of data ingestion, with the first 100GB free, we don't expect cost to be a barrier to collecting all your data in a single source of truth.
We then consolidated our existing products and capabilities into a single integrated product within New Relic One called Full-Stack Observability, which we now license per user. No more juggling a bunch of disparate tools to troubleshoot an incident or understand an application's current state. Coupled with AIOps and machine learning-driven capabilities with Applied Intelligence, Full-Stack Observability offers you the troubleshooting tools you need regardless of where problems occur in your systems. Learn more about the reimagined New Relic One.
Finally, we've converged 100% of our user interface into a gorgeous, modern UI platform, New Relic One. No more switching between our classic APM and other historical product UIs and the New Relic One UI. You'll get the capabilities that you have today but now with a clean, streamlined UI.
For those of you who rely on New Relic everyday and are wondering what you need to do to take advantage of the reimagined New Relic One, or what type of training is required, worry not! There's nothing new for you to do or learn. Check out our blog post for existing users to learn more about how things have gotten easier and more uniform.
One more thing—since we believe that every company needs observability, and that individual developers and small teams should have access to the same powerful tools and platforms that larger companies use, we're offering a perpetual free tier. Sign up today for 100GB of ingest per month and 1 Full-Stack Observability user license—free forever.
New Relic's mission is to help our customers create more perfect software, experiences, and businesses. We are confident that today's announcement is a major step forward in empowering you to do just that. Experience the simplicity of New Relic One—sign up now for a forever free account.
I hope you like this fun video we made to announce our new vision and strategy:
For the love of software!
This post contains "forward-looking" statements, as that term is defined under the federal securities laws, including but not limited to statements regarding the value proposition of updates to New Relic One, including any anticipated benefits from the new unified user experience and simplified packaging and pricing, the impact of these changes on the observability market, the potential value provided by these updates, including significant cost savings and increased engineering productivity, any expected elimination of cost barriers, and the potential increase in customer usage or adoption as a result of these changes. The achievement or success of the matters covered by such forward-looking statements are based on New Relic's current assumptions, expectations, and beliefs and are subject to substantial risks, uncertainties, assumptions, and changes in circumstances that may cause New Relic's actual results, performance, or achievements to differ materially from those expressed or implied in any forward-looking statement. Further information on factors that could affect New Relic's financial and other results and the forward-looking statements in this press release is included in the filings New Relic makes with the SEC from time to time, including in New Relic's most recent Form 10-K, particularly under the captions "Risk Factors" and "Management's Discussion and Analysis of Financial Condition and Results of Operations." Copies of these documents may be obtained by visiting New Relic's Investor Relations website at http://ir.newrelic.com or the SEC's website at www.sec.gov. New Relic assumes no obligation and does not intend to update these forward-looking statements, except as required by law.
The views expressed on this blog are those of the author and do not necessarily reflect the views of New Relic. Any solutions offered by the author are environment-specific and not part of the commercial solutions or support offered by New Relic. Please join us exclusively at the Explorers Hub (discuss.newrelic.com) for questions and support related to this blog post. This blog may contain links to content on third-party sites. By providing such links, New Relic does not adopt, guarantee, approve or endorse the information, views or products available on such sites.