My fellow data nerds, I can't believe Nerd Days 1.0 is a wrap. When I logged onto my laptop that morning, I felt a rush of emotions. All the planning, promotion, and content finally came together for you—the engineer, the developer, the person keeping systems running. This event was for you and would not have existed without you.
When I originally pitched the idea of Nerd Days to my team, I had one goal in mind: make an interactive event where engineers could learn how to build efficient software solutions, automation techniques, and general best practices together. In a year where we can't meet in person, I missed getting on a plane and visiting all of you to conduct workshops, hackathons, and just being in the same room together. That's how Nerd Days was born.
For those who attended the event live, thank you. For those who were unable to make it, enjoy the recap and recordings we've assembled below. And, if you missed the version for North America or you're somewhere else in the world, don't forget to join the Asia Pacific event on October 22, 2020 and EMEA event on November 10, 2020. Each of these events will feature new speakers, so definitely check them out.
Keynote Announcements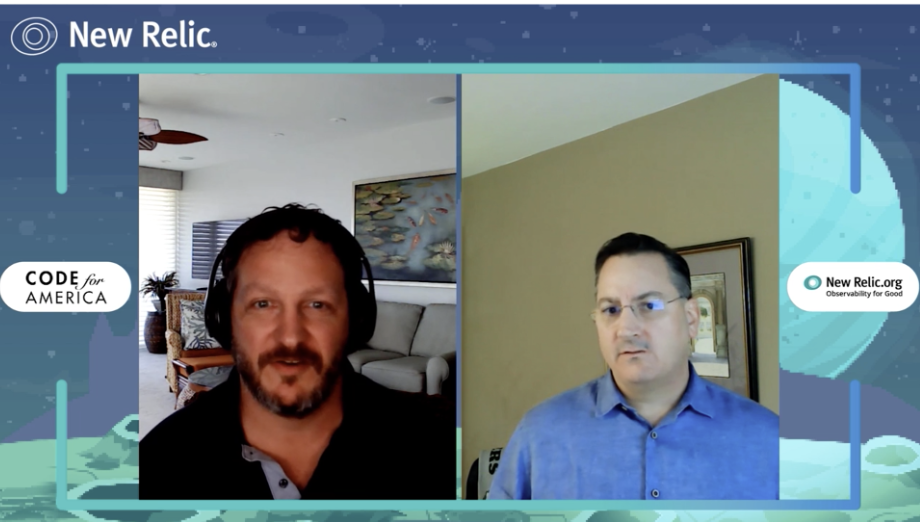 Observability for Good
During the keynote, New Relic's founder and CEO, Lew Cirne, announced Observability for Good, a NewRelic.org product donation program designed to help NGOs, nonprofits, and charities around the world leverage the benefits of observability in order to advance their missions. Learn more and sign up for the program here.
Code for America Partnership
As part of the announcement, we also introduced a new partnership with Code for America—a non-partisan, non-political nonprofit dedicated to improving how government serves the American public, and how the public improves government. New Relic will provide Code for America's volunteer brigades around the country with free access to New Relic One to support the creation of new apps and services.
Watch the recording of both announcements.
Observability Experts Panel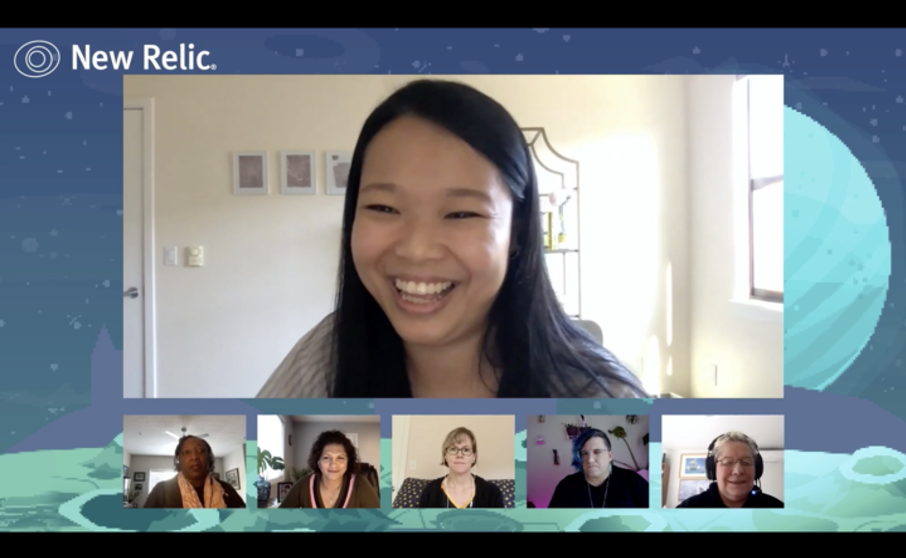 We had a diverse panel of experts from New Relic share their thoughts on observability and the future of DevOps, serverless, and New Relic One capabilities. Thank you to our speakers for joining:
Watch the entire panel recording here.
Lunch with Lew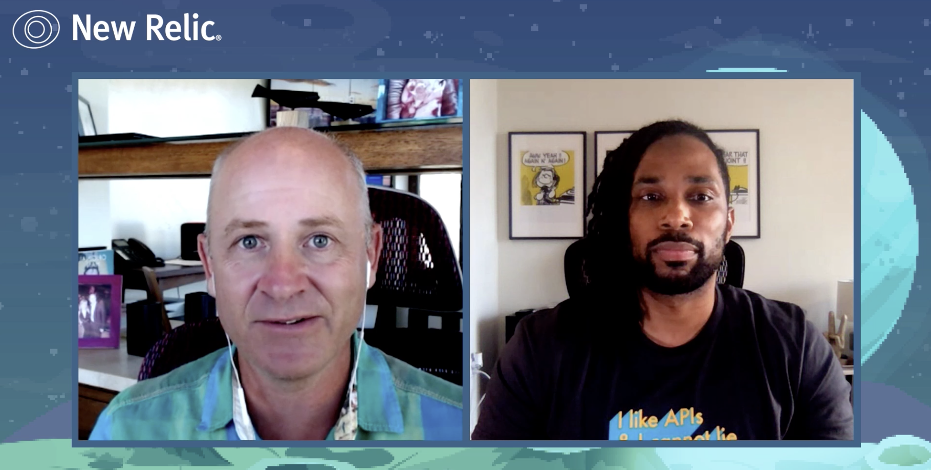 Lew is a developer at heart and I had the honor of sitting down with him (virtually) to chat through some of the latest innovations, areas of opportunity, and growth in our product roadmap. He also demoed some New Relic One capabilities. Watch the recording.
Breakout sessions

There were 25 sessions across different topics that you—the community—told us you wanted to learn more about. You'll find brief descriptions of each breakout session below, and you can check out all the sessions here (make sure to scroll down!)
Cloud Migration: Whether you're early in the cloud modernization efforts, or you're looking to streamline monitoring of your environment, our speakers from AWS and New Relic have something to offer.
Open Source: We've aligned to open standards and best practices, so now we're sharing with you what we've learned, and how we're integrating popular tools like Prometheus and Grafana.
DevOps Journey: No longer a back-of-the-house function, DevOps is truly front and center to keep organizations running; learn from Relics building our automation capabilities and customers like 27Global who have adopted an SRE -as-a-service model.
New Relic Fundamentals: If you've just signed up for the free tier or are still early in your New Relic journey, check out these sessions to get started.
Tl;dr 

I always prefer being at in-person events, but I'm so thankful for the opportunity to engage with everyone during Nerd Days 1.0. Again, don't forget to join the Asia Pacific event on October 22, 2020 and EMEA event on November 10, 2020. We look forward to seeing you at the next Nerd Days event!
The views expressed on this blog are those of the author and do not necessarily reflect the views of New Relic. Any solutions offered by the author are environment-specific and not part of the commercial solutions or support offered by New Relic. Please join us exclusively at the Explorers Hub (discuss.newrelic.com) for questions and support related to this blog post. This blog may contain links to content on third-party sites. By providing such links, New Relic does not adopt, guarantee, approve or endorse the information, views or products available on such sites.