The New Relic team is excited to announce that we have been recognized as a 2018 Gartner Peer Insights Customers' Choice for Application Performance Monitoring Suites. New Relic received 277 reviews and the highest score for this distinction, a 4.6 out of 5 rating as well as the highest recommendation rate at 83% as of July 25, 2018.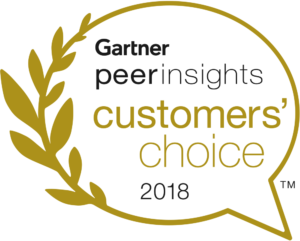 We take great pride in this distinction, as customer feedback continues to shape our products and services.
In its announcement, Gartner explains, "The Gartner Peer Insights Customers' Choice is a recognition of vendors in this market by verified end-user professionals, taking into account both the number of reviews and the overall user ratings." To ensure a fair evaluation, Gartner maintains rigorous criteria for recognizing vendors with a high rate of customer satisfaction. To earn this distinction, a vendor must have a minimum of 50 published reviews with an average overall rating of 4.2 stars or higher.
The customers speak
Here are some excerpts from customers that contributed to the distinction:
Read more reviews of New Relic here: https://www.gartner.com/reviews/market/apm/vendor/newrelic/ratings.
Everyone at New Relic is extremely proud to be honored as a 2018 Gartner Peer Insights Customers' Choice for Applications Performance Monitoring Suites. To learn more about this distinction, or to read the reviews written about our products by the IT professionals who use them, please visit Gartner Peer Insights' Customers' Choice announcement.
Big thanks to our customers
To all of our customers who submitted reviews, a sincere thank you! We take customer feedback very seriously, as we work to help our customers solve their toughest IT challenges, from cloud migration to adopting DevOps to ensuring a flawless digital experience to their customers. As our founder and CEO Lew Cirne likes to say, "Your digital experience is your brand." We are extremely grateful that our customers continue to recommend us to keep their businesses running smoothly.
If you have a New Relic story to share, we encourage you to join the Gartner Peer Insights crowd and weigh in at https://gtnr.it/2JYh1pS
The Gartner Peer Insights Customers' Choice logo is a trademark and service mark of Gartner, Inc., and/or its affiliates, and is used herein with permission. All rights reserved. Gartner Peer Insights Customers' Choice distinctions are determined by the subjective opinions of individual end-user customers based on their own experiences, the number of published reviews on Gartner Peer Insights, and overall ratings for a given vendor in the market, as further described here, and are not intended in any way to represent the views of Gartner or its affiliates.
The views expressed on this blog are those of the author and do not necessarily reflect the views of New Relic. Any solutions offered by the author are environment-specific and not part of the commercial solutions or support offered by New Relic. Please join us exclusively at the Explorers Hub (discuss.newrelic.com) for questions and support related to this blog post. This blog may contain links to content on third-party sites. By providing such links, New Relic does not adopt, guarantee, approve or endorse the information, views or products available on such sites.