Here at New Relic, being connected is one of our most important core values. And while current events have forced our team members to remain physically apart from one another, we are working hard to stay connected—whether it's across the globe or just across town. 
And this doesn't only mean online meetings. Different teams across New Relic are coming up with creative ways to make sure nobody feels alone or isolated during these challenging times, whether it's with virtual coffee chats and happy hours, group guided meditation sessions, or even one-on-one calls to check in. 
Getting a glimpse into the living spaces of our colleagues (including occasional cameos from kids, pets, and spouses) has helped us to feel even more connected, not just as workmates but as real human beings and friends. Here's a little glimpse at how, no matter how anxious or uncertain we might be feeling right now, we are working hard to stay one connected company.
Oh, snap!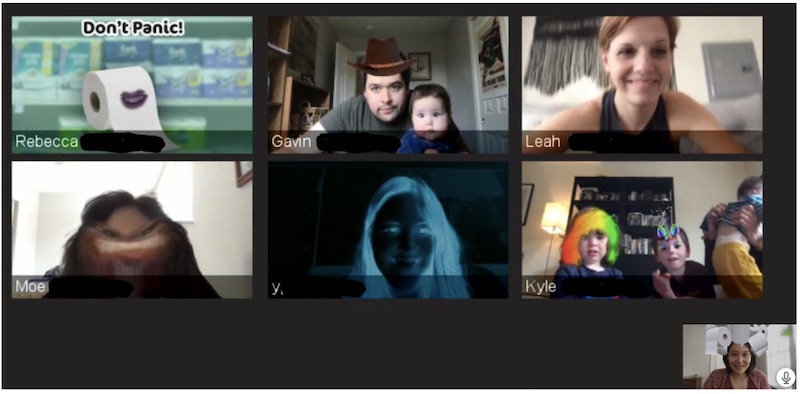 Our Brand and Creative team fittingly got creative by having some fun with Snap Camera, a free app that adds funny filters to video chats, including one very relevant filter to turn yourself into a highly sought-after item at the grocery store.
Raise a glass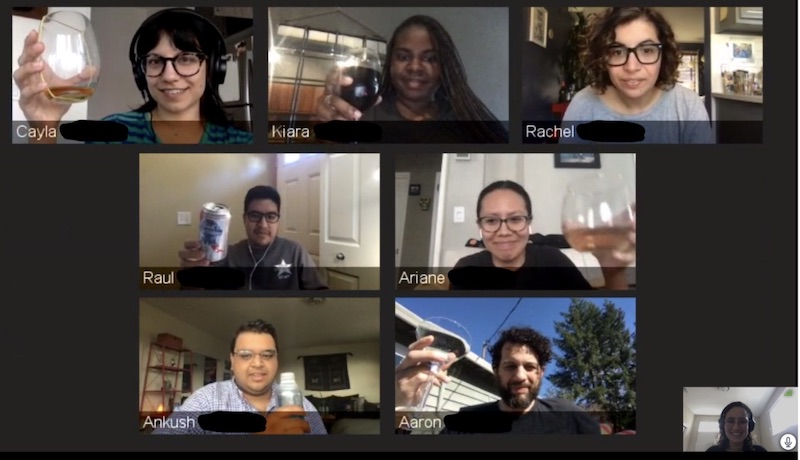 The restaurants may be closed, but our Relics of Color Affinity Group gathered to have a virtual happy hour nonetheless. 
Pizza time
When Sydney-based employees were no longer able to go into the office, Dmitri Chen, our leader in APJ, used the Domino's Pizza mobile app to order pizzas to every Relic's home. Who says you can't have a virtual pizza party?
In the company of furry friends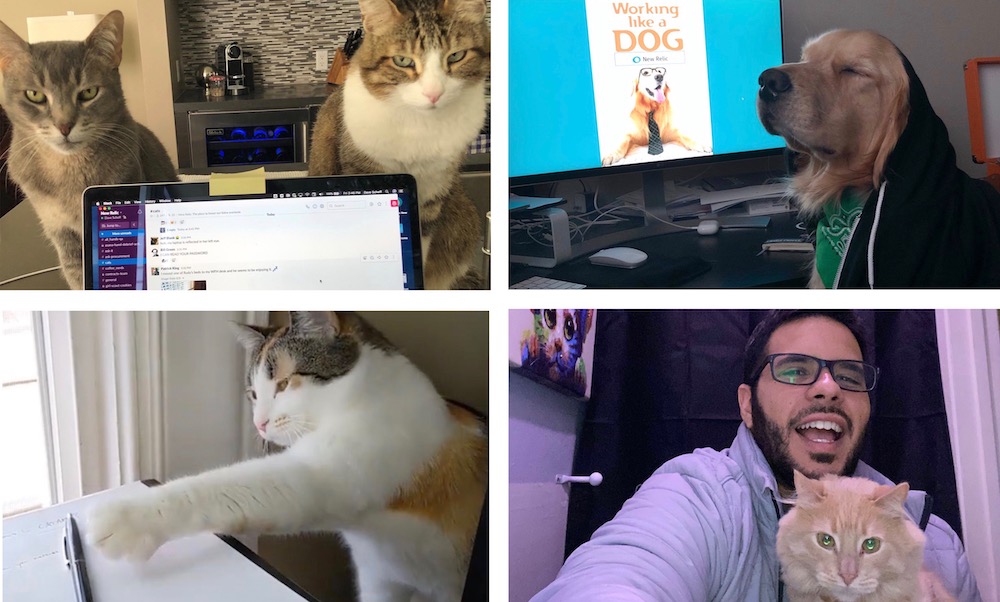 Clockwise from top left: Dave Scheff's cats, Lily Coit and Emperor Norton, are impatient for dinner and are unabashed in letting their dad know; In a bid for more attention, Kyle Wakefield's golden retriever, Oakley, has taken over his work station completely; Solutions Engineer Michael Sustaita remains in very close quarters with his work mate, Gideon (his work station is quite literally in a closet); Josh Rhinehart's cat Luna volunteered to take notes for him, but didn't get far without an opposable thumb.
Family time—and lots of it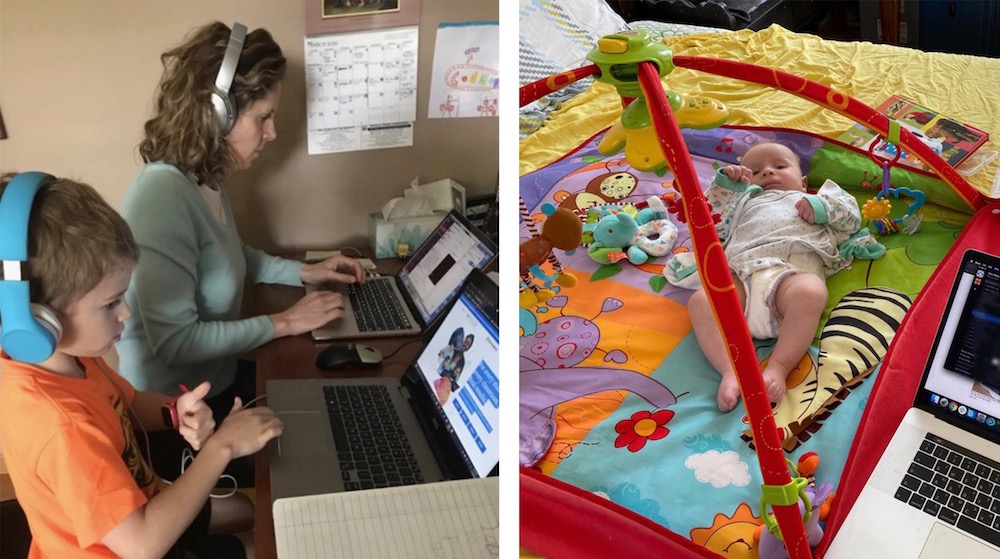 This is an especially trying time for parents, but our Relics have seen the silver lining in spending more time with their families while still being productive. From left to right: Debbie O'Brien, our interim CMO, gets down to work right alongside her son, Connor; Three-month-old Eyal watches closely to make sure his father Barak Reif stays on task.
Super setups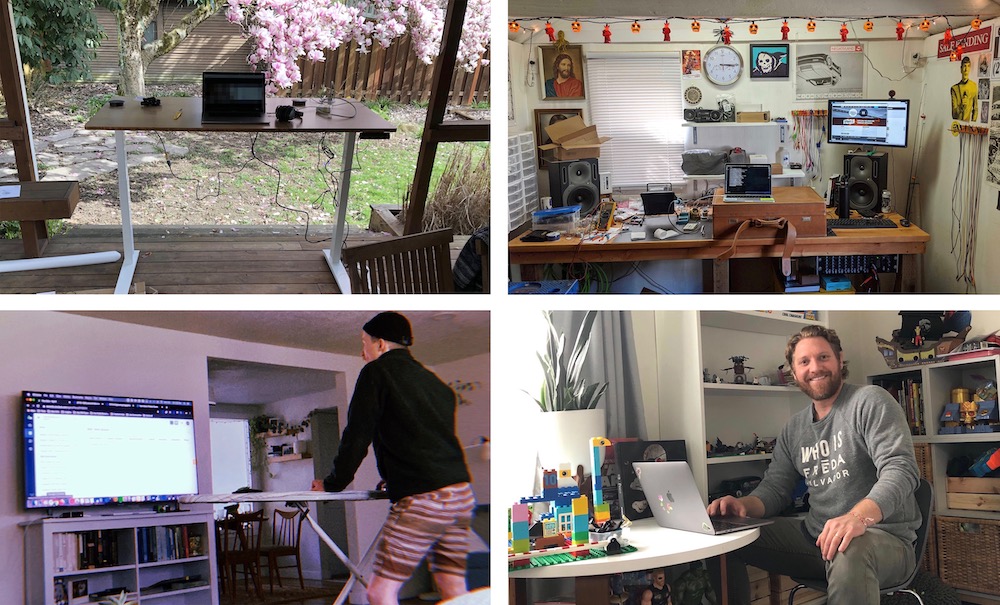 Clockwise from top left: One engineer's enviable setup shows that being in lockdown doesn't mean you can't enjoy the great outdoors; Jason Plumb's workstation also doubles as a workbench; Greg Nelson had to set up shop in his son Luca's playroom, where the kiddie chair is fine for 30-minute meetings, but not so great on the back for anything longer than that; Hunter Beezley stays ergonomic while ironing out his to-do list and using his TV screen as a monitor.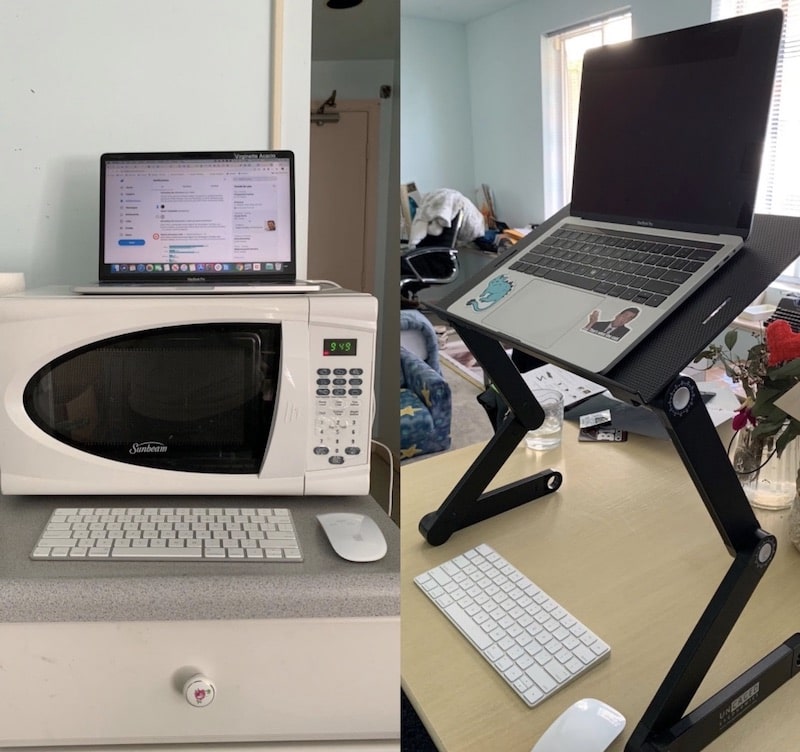 Finally, here's my workstation in my tiny San Francisco studio apartment. Amazon took a few days to deliver my adjustable lap desk, so in the meantime I had to improvise.
Even though this is a very challenging time for everyone, our Relics are trying hard to make the best of a bad situation and keep their chins up. If you're also working from home these days, how have you acclimated to your new WFH lifestyle? Share your stories, pet pics, and workstations with us @newrelic!
The views expressed on this blog are those of the author and do not necessarily reflect the views of New Relic. Any solutions offered by the author are environment-specific and not part of the commercial solutions or support offered by New Relic. Please join us exclusively at the Explorers Hub (discuss.newrelic.com) for questions and support related to this blog post. This blog may contain links to content on third-party sites. By providing such links, New Relic does not adopt, guarantee, approve or endorse the information, views or products available on such sites.