This post was originally published on October 29, 2018. The infographic was added on December 6, 2018.
A Fortune 100 U.S. financial institution installs New Relic and documents a total economic impact more than twice as large as its initial investment—and a payback period measured in months, not years.
Those are some impressive claims. Fortunately, you don't have to take our word for them. They're among the key takeaways from a new Forrester report: Total Economic Impact of the New Relic Platform.
The study validates the idea that top performers are reaping great benefits from leveraging New Relic in concert with modern software practices such as DevOps—a combination that leads to more code deploys, faster troubleshooting, and better collaboration, among other advantages. Check out the infographic for the highlights, and read on for more details: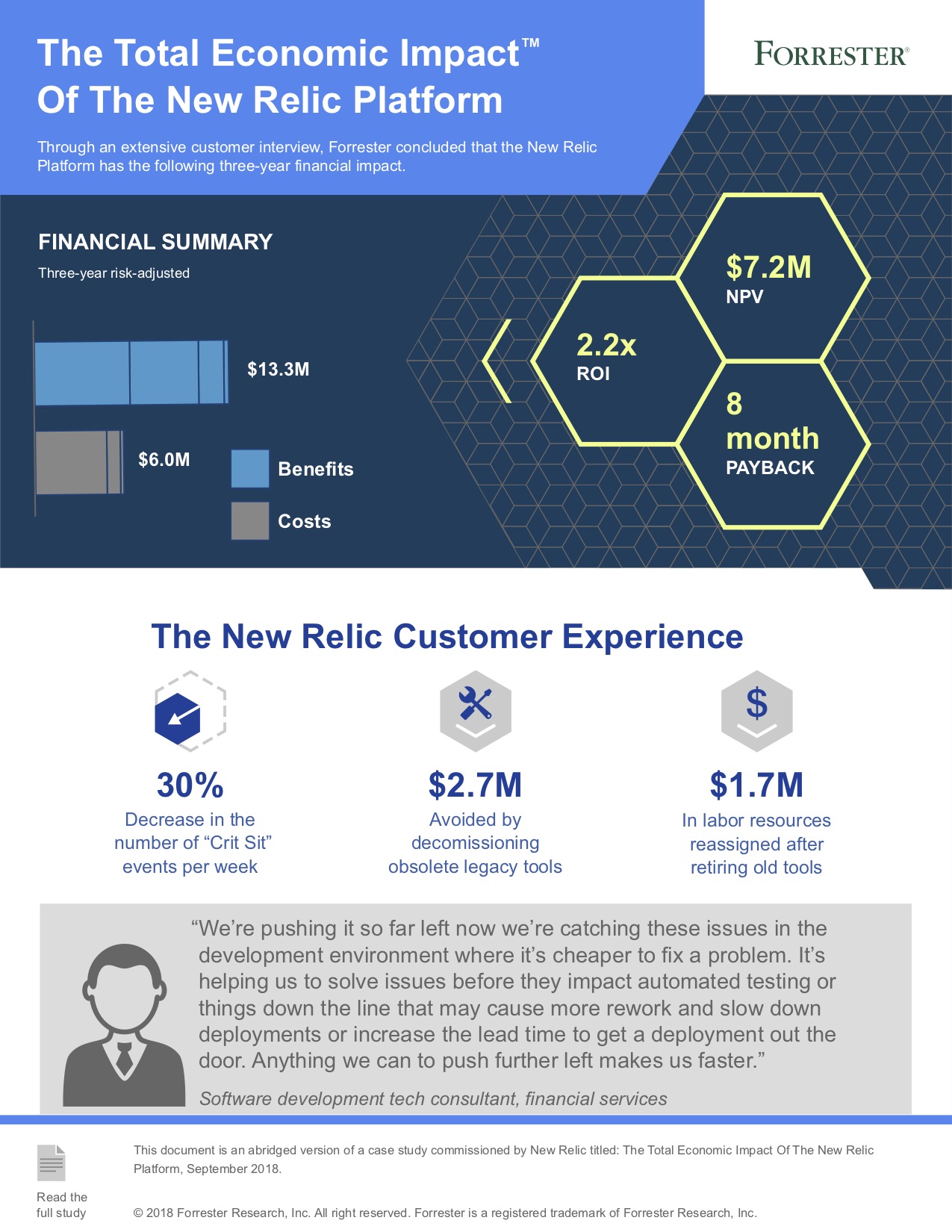 What is a TEI study?
Business-case justifications are an increasingly important factor in technology investment decisions. That's why we asked Forrester to work with one of our outstanding customers in the financial services industry to quantify the Total Economic Impact of the New Relic platform, which the customer is implementing in the course of its own DevOps transformation.
Of course, you can't manage what you can't measure, which is why New Relic's real-time metrics and analytical capabilities are critical components of so many successful DevOps journeys. But the process of actually quantifying the benefits of using New Relic isn't always obvious.
That's where the concept of Total Economic Impact comes in. TEI is intended to help companies demonstrate, justify, and realize the tangible value of leveraging tools like the New Relic platform; and to communicate this value to senior management and other key business stakeholders.
This particular TEI report tracks the experiences of a single, pre-selected New Relic customer in the financial services industry, and examines the business case for that customer. The study considers what the customer did and what benefits it received in three key ways: benefits, costs, and flexibility. And while the results reported in the Forrester study are stunning, as anyone who speaks regularly with New Relic customers can attest, they are not uncommon.
Lessons from success
The Forrester TEI study takes an in-depth look at a major financial services firm whose exceptional IT team—more than 4,000 IT roles strong—has a passion for innovation, deep technical expertise, and an intense focus on business acumen and agility to drive competitive advantage. This IT group possesses a clear vision that helped it clearly articulate the stages and milestones along its DevOps journey.
Before the New Relic platform, the organization relied on obsolete, legacy DevOps tools that offered limited coverage of only 30 applications. With the New Relic platform, the organization now has continuous coverage of 1,700 applications, moving to 4,000 in the next year, and was able to shorten its MTTR and eliminate the need to scale its on-premise infrastructure.
That approach has led to extraordinary success, evidenced by the firm's growth, as well as customer satisfaction. And according to the Forrester TEI report, New Relic was essential in enabling this success.
Big numbers
What, exactly, does that success look like? First and foremost, Forrester's TEI analysis revealed impressive quantitative results: This multi-billion-dollar financial institution enjoyed a 120% return on the cost of installing New Relic (that's a whopping 2.2 times the initial investment!). And the investment paid for itself in just eight months.
Based on an analysis of the New Relic Platform customer feedback and quantified benefit, cost, risk, and flexibility factors, Forrester determined an equally significant set of three-year impacts:
There were a number of factors driving those savings, most of which centered on efficiency gains and the resulting productivity benefits. These included reduced mean time to resolution (MTTR) for software incidents, savings from decommissioning legacy tools that the business no longer needed, and eliminating infrastructure costs associated with on-premise tools. The study also identified avoiding the need for expensive infrastructure expansion as a significant source of savings.
Here's a look at how these financial benefits spread across four key categories: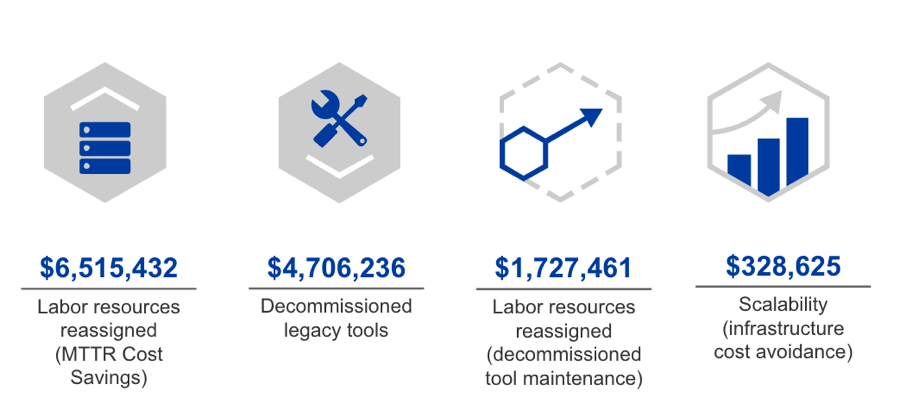 Let's take a closer look at each one.
First, before moving to New Relic, the organization relied on multiple IT teams to help resolve each incident. With the New Relic platform, the firm was able to cut MTTR by 30% and reduce critical situations ("crit sits") from 1,200 to 800 per year. The organization realized those savings by identifying problem areas more easily and involving only essential personnel in their remediation. According to the Forrester report, those savings add up to more than $6.5 million over three years.
Second, decommissioning legacy tools saved the organization another $4.7 million. Before using the New Relic platform, the firm employed separate tools for synthetics, basic server monitoring, and disk monitoring metrics. With New Relic, the organization was able to decommission old tools within two years, and it was then able to reallocate those license and operating expenses.
Third, the $1.7 million in "labor resources reassigned" away from decommissioned tool maintenance reflects the fact that after rolling out New Relic, the company no longer needed to care for high-maintenance tools. That enabled the IT organization to reallocate the time of five workers during the first year, and an additional 10 staffers in each of years 2-3
Finally, the $328,625 in scalability savings comes from no longer having to plan, purchase, or maintain on-premise infrastructure for its DevOps monitoring tools.
Beyond the numbers
In spite of the impressive size of these figures, however, they don't tell the whole story. For one thing, these are conservative numbers that Forrester lowered to incorporate its risk estimates. Perhaps more important, the unquantifiable benefits cited in the Forrester TEI report are arguably even more compelling.
Leveraging the New Relic platform, for example, helped the institution make better, more data-driven business decisions; contributed to less frustration and greater job satisfaction among members of the IT team; and, ultimately, created a better customer experience though shorter lead times for new features. And who doesn't want happier customers?
Going forward, Forrester says that it expects the New Relic platform to help drive the organization's future initiatives around cloud migration and digital customer experience enhancements—both of which are likely to deliver additional benefits.
What does New Relic's TEI study mean to you?
New Relic is dedicated to providing the tools and data required to get you on the road to realizing the transformational benefits of adopting a DevOps approach. The right data is essential to healthy collaboration within and across teams, faster troubleshooting, and recognizing the business value of what you deliver.
The Forrester study includes input from the firm's research analysts to ensure that the selected case was not an anomaly. But a word of caution is still in order: The TEI is not a pricing or scoping guide, nor is it a prediction of any other company's ROI. Other New Relic customers could enjoy higher or lower benefits, depending on many factors, including what their previous environment looked like and how fast they move up the monitoring maturity curve.
So—while we hope that the stunning, but hardly unique, results of this TEI study can help other New Relic customers "see themselves" in the data, please remember: Your mileage may vary.
For more details, including the TEI study's methodology, risk factors, and other information, download the PDF or check out the complete report online.
The views expressed on this blog are those of the author and do not necessarily reflect the views of New Relic. Any solutions offered by the author are environment-specific and not part of the commercial solutions or support offered by New Relic. Please join us exclusively at the Explorers Hub (discuss.newrelic.com) for questions and support related to this blog post. This blog may contain links to content on third-party sites. By providing such links, New Relic does not adopt, guarantee, approve or endorse the information, views or products available on such sites.