Reducing costs, achieving a rapid return on investment (ROI), and speeding application deployment for better customer outcomes are likely just a few of the business goals that your organization aspires to achieve. And, over the last few years, as cloud migration has exploded in popularity, your organization has probably been evaluating its promise for business transformation.
Quantifying the business benefits of migrating to the cloud is certainly part of the journey, which is why we commissioned a Forrester Consulting study: The Total Economic Impact™ (TEI) of the New Relic Platform for Cloud Migration and Optimization.
And the good news is that the Forrester study reveals significant benefits, from reducing the cost of moving applications to the cloud by 95% to deploying applications to the public cloud 90% faster. This study, published December 2019, provides you with a framework for evaluating the potential financial impact of cloud migration and optimization on your organization.
Forrester's TEI process
For this study, Forrester interviewed four U.S.-based New Relic customers and partners with experience using New Relic to migrate and operate applications in the public cloud. "We develop software, but if we cannot monitor the software and really see, understand, experience the value we are providing, we are flying blind," said a healthcare technology VP. "New Relic is integral to the whole application development, deployment, and ownership."
Based on the extensive interviews, Forrester constructed a composite organization, a U.S. company with 5,000 employees and $10 billion in annual revenue, to analyze the benefits, costs, and risks associated with implementing New Relic and quantify its total economic impact.
Cloud migration benefits
Here are a few New Relic-related outcomes Forrester highlighted in its study:
191% ROI, with a three-month break even on investment.
Migrated 25X - 30X more applications to the cloud, and teams using New Relic reported a 50% productivity improvement, on average.
The cost and speed of cloud migration improved at least 90%.
Frequency of deployments accelerated from weeks to days.
Halved cloud infrastructure costs within a few months post-deployment.
Enabled teams to write better code 30% faster.
Enabled teams to debug cloud applications in minutes instead of days or weeks.
According to a development operations director at a medical device manufacturer, "The debugging effort takes days and weeks down to minutes now. The time savings is massive, and that equates to a lot of cost savings in terms of developer hours. Because now, instead of debugging the system, they can focus on upcoming features."
Check out this infographic highlighting key benefits, and read on for more details: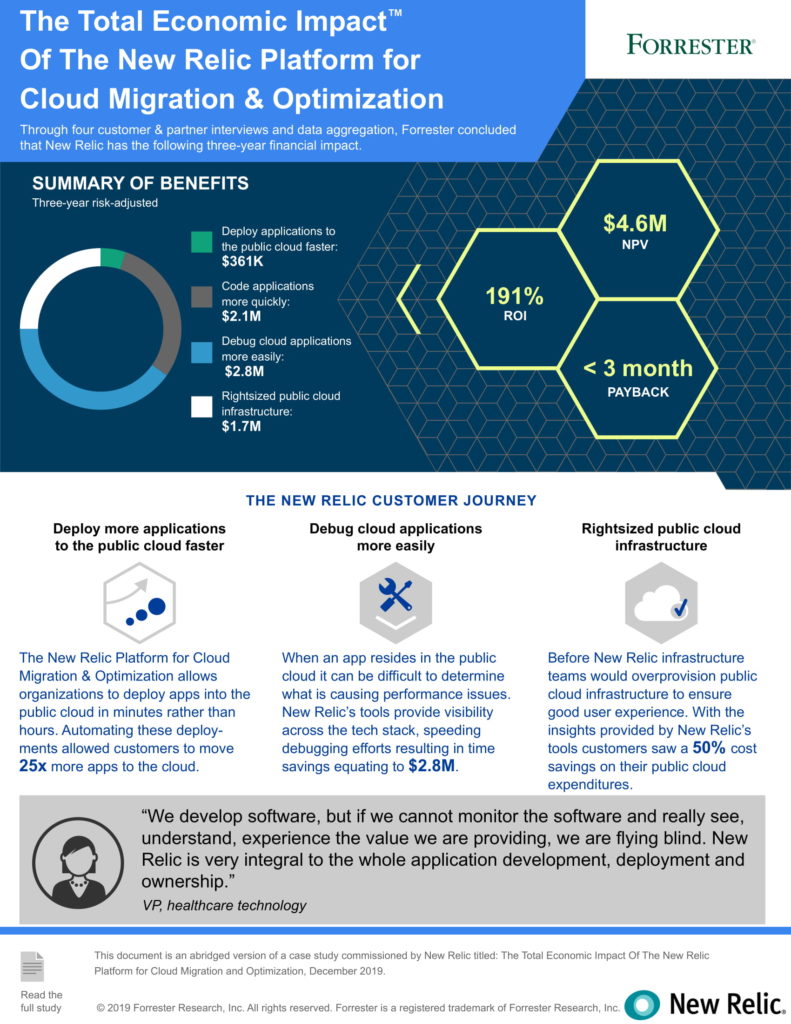 Public cloud migration challenges
Forrester expects global spending on public cloud infrastructure to triple between 2018 and 2022, as companies move more applications into the public cloud. But, not all applications are suited equally for cloud migration, so an understanding and assessment of the application portfolio are critical to support a successful cloud migration.
Prior to adopting New Relic, the customers interviewed for the TEI faced multiple challenges as they migrated applications to the public cloud from on-premises data centers:
Customers found it risky and time-consuming to deploy applications into the public cloud, so deployments only occurred on a monthly basis.
Cloud migration teams had limited visibility into how applications would perform in the cloud, risking the end-user experience.
Application developers lacked visibility across the entire stack, so it was difficult for them to identify and troubleshoot issues.
Infrastructure teams found it difficult to plan for and estimate application load sizing in the public cloud, resulting in over-provisioning of public cloud infrastructure resources.
Solution requirements
Customers involved in the TEI study required a solution to empower developers and infrastructure teams to troubleshoot and resolve cloud application performance issues quickly and easily. They also needed to ensure the underlying public cloud infrastructure was appropriately provisioned, and avoid overpaying for excess public cloud capacity.
Three month investment payback and 191% ROI
The study concludes that the organizations that used New Relic for cloud application migration and optimization achieved an overall 191% ROI over three years, with investment payback in less than three months. Additional benefits include simplification of the tech stack performance management, with robust dashboards and analytics capabilities providing visibility and context into the health of their operations.
Forrester makes no assumptions as to the potential ROI that other organizations will receive, and advises readers to use their own estimates within the framework provided in the report to determine the appropriateness of an investment in New Relic.
We are proud to help our customers gain the most value out of their public cloud environments, and the TEI study further confirms New Relic's impact. "The New Relic insights, not just real-time but also historical, have been very helpful for us to do planning for our public cloud," said a healthcare technology VP. If your organization needs a framework for cloud migration and optimization, check out the full TEI study here.
The views expressed on this blog are those of the author and do not necessarily reflect the views of New Relic. Any solutions offered by the author are environment-specific and not part of the commercial solutions or support offered by New Relic. Please join us exclusively at the Explorers Hub (discuss.newrelic.com) for questions and support related to this blog post. This blog may contain links to content on third-party sites. By providing such links, New Relic does not adopt, guarantee, approve or endorse the information, views or products available on such sites.