This time last year we brought you the results of our first ever survey on the state of data culture in software development. Well, it's that time of year again and our new survey has unearthed some telling data that shows how far companies have come on their journey toward adopting a data culture. The full report is coming soon, but to whet your appetite, we wanted to give you a sneak peek at one of the highlights: a faster than expected increase in software deployment frequency.
That was then: Monthly releases were the norm
In our inaugural survey we were curious to see how the agile development and DevOps movements were impacting the speed of product and feature delivery. Last year, we found that a plurality of companies (nearly 25%) in our survey released code to production on a monthly basis. The next most common responses were quarterly and then weekly deployments. A surprising 13% of respondents in our survey said they didn't release any code to production in 2014!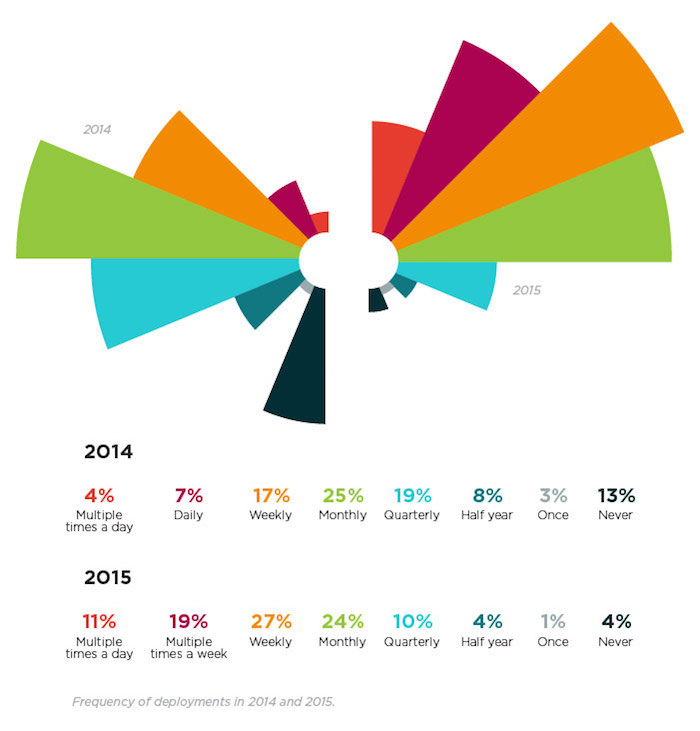 The 2014 survey also asked respondents about their planned release frequency for 2015. Many respondents expected to speed their deployment schedules, 41% said they expected to deploy weekly or more frequently in 2015, which would be a 17% increase compared to 2014. So how did that go, we wondered?
This is now: Companies are rocking weekly (and more frequent) releases
This year's survey respondents not only meet the goal set in last year's survey for increased deployment frequency, they significantly surpassed it. In 2015, more than half of the respondents (57%!) said they released code into production either weekly, multiple times per week, or multiple times per day. One-quarter of respondents reported releasing code monthly, with 10% releasing code quarterly.
And, once again, respondents said they expected to improve their release velocity in 2016, with 66% expecting to deploy weekly or more frequently, an increase of 10 percentage points compared to 2015.
Gaining first-mover advantage
It's no surprise that IT organizations in nearly all industries feel pressure to deliver value faster, get to market ahead of the competition, and continuously improve the customer experience. After all, market and customer expectations dictate constant innovation. The market leaders are the ones who get it and have aligned their organizations to deliver on innovation again and again.
For instance, Puppet Labs reported in its 2015 State of DevOps Report that high-performing IT organizations deploy 30 times more frequently with 200 times shorter lead times. According to an article in TechBeacon, Etsy deploys to its production servers 50 times a day with fewer disruptions than when the company used a waterfall approach. After moving to its own cloud, Amazon engineers deploy code every 11.7 seconds, on average—reducing both the number and duration of outages at the same time. Netflix engineers deploy code thousands of times per day.
How about your team? Where does it rank compared to others in terms of deployment velocity?
If you thought this was good food for thought, be sure to check out our upcoming full report for more surprises and affirmations from the journey to a data-driven culture.
The views expressed on this blog are those of the author and do not necessarily reflect the views of New Relic. Any solutions offered by the author are environment-specific and not part of the commercial solutions or support offered by New Relic. Please join us exclusively at the Explorers Hub (discuss.newrelic.com) for questions and support related to this blog post. This blog may contain links to content on third-party sites. By providing such links, New Relic does not adopt, guarantee, approve or endorse the information, views or products available on such sites.