My first few months at New Relic have been an incredible ride, working alongside amazing people who are doing big things to make a difference for our customers: building great products, driving the business, and inspiring our people. New Relic is truly a special place to work.
As Chief People Officer, one of the areas that I'm most invested in is Diversity and Inclusion ("D&I"). Our success requires a creative, talented, and agile workforce, and study after study shows that a diverse population drives better results. It also makes work a whole lot more fun!
First, diversity: We want our employees and leaders to represent different cultures, backgrounds, perspectives, and expertise. We have a lot of hard work to do at New Relic, but job No. 1 for us is making sure we are getting talent in the door that reflects our broader population.
Next, inclusion: To enable our diverse talent to flourish, we have to create a workplace where we can all be comfortable being ourselves. Of the five core values we live each day at New Relic, one is "Authentic." We encourage and empower people to share their differences and support each other. We believe that people can only do their best work if they feel safe bringing their full self to work.
It's easy to get behind D&I as a priority because of the business results. As a diverse team, we can solve problems, innovate, and seize opportunity on a scale that would be impossible to do as individuals. But it's also the right thing to do—it makes a good place to work a great place to work.
Our D&I journey
Last year, New Relic formed a Diversity Council, which has spent several months examining our cultural, racial, gender, and minority demographic trends in hiring, salary comparisons, promotions, and retention. Armed with facts and feedback from many employee discussion sessions, this team had many conversations about problems and/or gaps, and what programs and policies we need to develop to tackle these issues.
The Council's initial goals, as described in this post, were:
Increasing employee diversity through talent acquisition;
Ensuring a level playing field by implementing unconscious bias training and ensuring pay equity;
Creating an inclusive environment for a diverse population through implementing Affinity Groups and reinforcing our "Authentic" core value; and
Sharing efforts and impact (internally and externally)
Where we are today
Diversity numbers tell only part of the overall Diversity and Inclusion story, but they are helpful indicators of how we are doing over time. We are actively tracking these numbers and will publish them each year, with the goal of continuous improvement.
So, how are we doing on our diversity numbers at New Relic?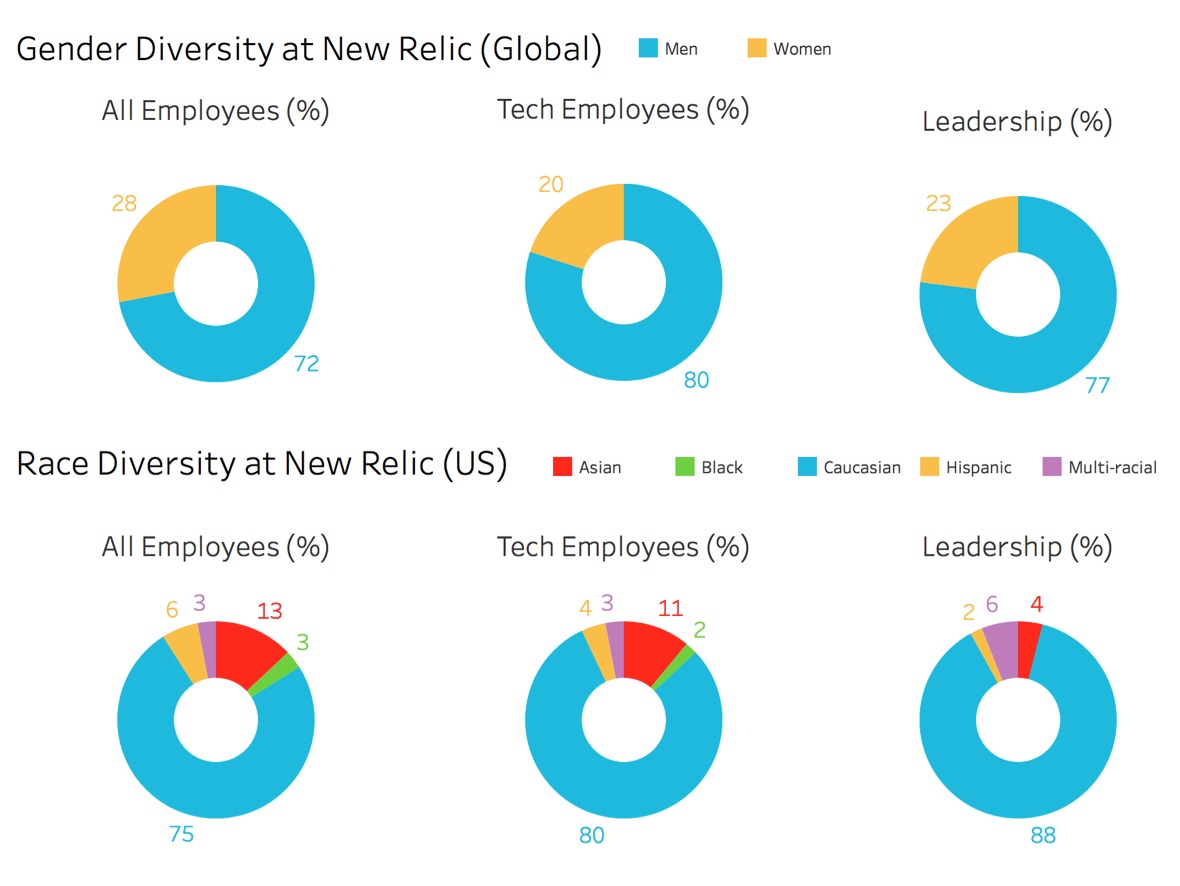 Year over year, our total number of women at New Relic has stayed around 28%, with women in technical roles growing from 19 to 20%. Also, our black population has grown from 2 to 3%. Overall, however, there is a lot of room for growth.
While these numbers aren't unusual in the tech industry, we are obviously far from satisfied. We believe that we can make an impact as we continue to roll out significant programs such as D&I-driven recruiter and hiring-manager trainings; sponsorship programs; and broader unconscious bias training. Achieving better representation requires a culture change, which takes time and sustained effort from all of us.
We are all responsible for diversity and creating a culture of inclusion
While I do believe Diversity and Inclusion starts at the top, I also believe that we all need to take the time to discuss and share the value of the various cultures that make up our teams. It is up to each of us to applaud and highlight how our differences help the team. Each of us can make an effort to look inward and be honest about the biases and blind spots we have. Our goal this year is to embed diversity metrics into everything that we do and make progress a part of everyone's responsibility.
My personal strategy for Diversity and Inclusion at New Relic is simple: I'm going to measure it, and I'm going to keep talking about it. I want to weave the D&I mindset into every critical process and "moment of truth" I have with leaders and employees at New Relic. I will keep pushing our team to think about how D&I fits into our management approach, career progression, team projects, hiring, and day-to-day life at the company. Talk and metrics may seem basic, but they are essential to keeping these important issues top of mind across the business, and to changing behaviors in the long run.
Our year of action ahead
New Relic has a big year of action planned for Diversity and Inclusion efforts, including sponsorship programs, inclusion trainings, divisional D&I plans, affinity group events, and further building of our internal educational materials and resources. This is going to be an action-packed year and I couldn't be more excited.
I'll close with this: while we have a long way to go, I'm proud to be living in a time where Diversity and Inclusion is on the agenda of business leaders, and working at a company that values it so highly. My goal is ongoing improvement so that New Relic continues to be a place where diversity and a culture of inclusion are sources of strength.
I'm excited to be part of this journey.
本ブログに掲載されている見解は著者に所属するものであり、必ずしも New Relic 株式会社の公式見解であるわけではありません。また、本ブログには、外部サイトにアクセスするリンクが含まれる場合があります。それらリンク先の内容について、New Relic がいかなる保証も提供することはありません。