Today's "Life at New Relic" blog spotlights Deepti Bhutani, an Atlanta-based Senior Solution Engineer, who has been working in the performance engineering space for more than 20 years. Deepti pioneered a focus on APM and frontend performance monitoring in her previous roles at Cox Automotive and GE Energy.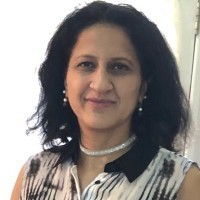 New Relic: What does a day in your role at New Relic look like? How do you approach your day?
Deepti Bhutani: My role at New Relic involves supporting the Enterprise Sales team's technical pursuits from opportunity qualification to strategic adoption of New Relic technologies. I try to plan my day well ahead so I can carve out enough time to prepare for my customer calls.
New Relic: What has it been like growing your career here?
Deepti: I started my career at New Relic as a Solution Engineer within the Commercial segment. Although I had a tremendous experience in the APM space, I wanted to test the waters in sales to see how I would do. It has been a great ride so far. I made a lot of great strides in that role and, with leadership's support, was promoted to a Senior Solution Engineer role within the Enterprise segment. I leverage my industry experience to partner with our customers through their journey and focus a lot more on managing post-sales and technical relationships.
New Relic: What made you want to join our company?
Deepti: I was a practitioner and had used New Relic in my previous role. I loved the solution and also had great respect for our CEO, Lew Cirne.
New Relic: What do you like most about working with our team?
Deepti: I like the inclusive and collaborative work environment. New Relic walks the talk on diversity and work/life balance. The focus and support that New Relic provides through Employee Resource Groups (ERGs) make it stand out.
New Relic: What are some things that you think makes this a great place to work?
Deepti: New Relic's culture makes it a great place to work, especially our open-door policy. In my initial months at New Relic, I still recall a brief discussion with a senior executive in sales leadership, where I shared my background and experience. We crossed paths in few months again, and that leader still recalled our conversation and helped me tremendously to achieve my goals. This example speaks volumes about our great culture and people who want to make a difference in other people's lives.
New Relic: What company value do you identify with the most?
Deepti: One of the New Relic values that I relate with the most is "Accountable." We stick to our commitments and follow through on our promises. I practice this day in and day out, which is very relevant in my customer-facing role. Suppose a customer needs some feature or functionality that is of significant value to them. In that case, I work closely with the product team to make sure we can make that happen, and if it is a bit of a stretch goal, I share the product roadmaps and limitations openly with my customers to ensure I remain accountable.
"We stick to our commitments and follow through on our promises."
New Relic: Can you share more about your involvement with our ERGs?
Deepti: I was excited to see that New Relic puts a lot of focus on ERGs. I am part of our Women at New Relic and Relics of Color ERGs. I have been passionate about helping drive the Women at New Relic ERG, currently leading our Atlanta chapter. It has been an amazing experience.
New Relic: What is one thing that stands out to you the most about New Relic's culture and why?
Deepti: One thing that really stands out for me at New Relic is that authenticity is a key part of our culture and day-to-day interactions. The culture helps me to enjoy what I am doing.
New Relic: What's a project you're particularly proud of?
Deepti: This is a tough one, as I think every project or deal that I have worked on while at New Relic is special. I am very proud to help customers solve their problems and show them how to eradicate their issues with ease by using our New Relic One observability platform.
One experience that particularly stands out to me is my first demo with a customer walking through our Full-Stack Observability (including APM and Infrastructure Monitoring) platform. Following the demo, I received a positive note from the Head of DevOps saying, "It was the most genuine demo they had ever seen." This feedback was extra special for me.
New Relic: What three tips would you give to someone interested in joining New Relic?
Deepti: New Relic is a great place to work and grow your career as it encourages team players. We have an open-door policy and it is very easy for you to talk to C-level execs, and they listen and try to make a difference. People are open and willing to help and support you.
We are at an exciting time in the company and currently hiring across various geographies and departments. Check out our opportunities.
本ブログに掲載されている見解は著者に所属するものであり、必ずしも New Relic 株式会社の公式見解であるわけではありません。また、本ブログには、外部サイトにアクセスするリンクが含まれる場合があります。それらリンク先の内容について、New Relic がいかなる保証も提供することはありません。