In honor of Lesbian, Gay, Bisexual, and Transgender Pride Month (LGBT Pride Month) this past June, the Rainbow Relics, New Relic's LGBTQ+ affinity group, hosted several special events in our global offices, including teams of Relics marching in the pride parades of many cities. Another big highlight of Pride Month was our speaker series featuring New Relic employees from all across the company as well as outside speakers who visited to share their stories with us. The diverse talks covered a number of themes: the challenges of queer parenting, coming out stories, attraction as a spectrum, the struggles of LGBT activism in the Middle East and North Africa, and even a lively presentation on the "hidden" queer history of superhero comics.
All Relics were welcomed to join these events in person or remotely; the turnout was large and the reception enthusiastically supportive. I was struck by the bravery of the speakers who got on stage to share their most personal stories with their colleagues. One of our cherished values here at New Relic is that we strive to be "authentic" with one another, and this value was on clear display as person after person opened up and spoke with honesty and vulnerability about the challenges they have faced in their lives.
There were so many great moments in the different talks that it would be impossible to include them all in a single post. But I wanted to share some quotes that I found particularly powerful:
"We try to have a lot of books around that identify family as a group of people that love each other and care for each other. I have my New Relic family—I'm not blood related to them, but I enjoy talking to them and confiding in them. My son's family has him and his two moms. Every family is different; some families look alike, and some families look like their dog. We are going to try to let him know that 'it takes a village' and that there is a wide range of families."
—Infrastructure and Operations Security Engineer Kristen Ortega on how she and her wife plan to talk to their young son about being a queer family.
Kristen Ortega (left) and Kerry Haider sharing their stories during the queer parenting panel.
"For years, I was terrified of telling my father. One day, I was dressing in clothes that you wouldn't expect a young man to wear … my dad walks right in and I started crying on the spot, I was so worried about what he would say or what he would do. But my dad's response was, "What's wrong?" And at this point I was so choked up with tears that I couldn't really relate anything to him, except to say, "I want to be a woman." My dad let out a sigh and then looked at me and said, "The only thing that I have ever wanted, really the only thing that any parent should ever want for their children, is for them to be happy." At that point I started crying even more and he started crying, too. That was the first time I really started to respect my father. That moment of openly sharing myself and received nothing but acceptance was the most powerful thing that I have ever experienced from my family."
—New Relic Senior Software Engineer Lauren Voswinkel on the moment she came out to her father as a transgender woman
"Much of our activism and organizational work interacts with the political authority [of Egypt]. But the problem is not only the state; the state is encouraged by the people, and the people need to see queer bodies as human who deserve respect and safety."
—Egyptian LGBT activist Dalia Al-Farghal on the need for compelling, positive stories and messaging that will help change popular opinion about homosexuality in North Africa
"Sitting up here and talking about our lives is just a little strange because I don't see it as any different or anything, and I also fail to see how what anybody does below their belly buttons matters to anybody else."
—New Relic Senior Product Manager Kerry Haider on the topic of queer parenting
"Sexuality can sometimes be conflated with pure sexual attraction. A lot of language around sexuality is about whom you are attracted to, but that doesn't seem like that's all of it. Sexuality is built upon romantic and sexual attraction and their own spectrums … but people don't all experience them in the same way. Sometimes your sexual attractions to people might be in a different place than your romantic attractions."
—Technical Support Engineer Caitlin White, discussing the complexities of human sexuality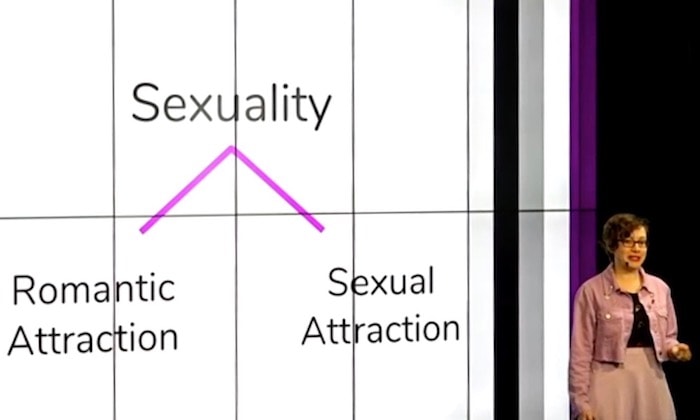 Caitlin White presenting her talk "Attraction as a Spectrum: Queer Identity and the Ace Experience"
"Growing up gay, you never get to be your true self, especially in elementary school and high school—I thought that was very stifling and constricting. Not only do you have this secret life, but you end up hiding all the things that you really love about yourself and the things that you love to do. I have fond memories of hiding in my room with headphones, listening to Britney Spears after a long day at school pretending to be someone else. That was my happy moment—it was this very private, secret moment in my room, dancing in silence, saying, "I can finally be me, I can finally be happy and do the things I love to do.'"
—New Relic Senior Trainer Jason Aulicino on the experience of being in the closet as a young gay man
"The only reason that I'm up here is because I went through the interview process for quite a while and this is literally the only company out of 30 or 40 that I talked to where I was like, 'Oh right, this is what it's like to be treated like a human being: people look you in the eye, people expect the best out of you and they expect the best for you."
—New Relic Site Reliability Engineer Alison Warner on her experience being on the job market as a transgender woman
"Every issue of the X-Men was both an extended meditation on the fact that people are different from one another, and that this reality requires each and every person to forge substantial, meaningful, intelligent responses to those differences. So if the expanded scale of superhero comics in the post-war period captured the worldly scope of cross-cultural encounter, the reinvention of superpowers captures the fact of human heterogeneity, understood not merely as the fact that many different kinds of people exist … but as what those people do in relationship to their differences. This investment in heterogeneity as a 'lived practice' would be embraced by a new generation of comic book readers who would encourage the transformation of the superhero into a democratic agent of cosmopolitan encounter."
—Comic book scholar and queer theorist Ramzi Fawaz, Ph.D., on how characters such as the X-Men and The Fantastic Four became a way to creatively model the problem of human difference.
Ramzi Fawaz, Ph.D., presenting "The New Mutants: Superheroes and the Radical Imagination of American Comics"
While there is certainly a lot more progress to be made for LGBTQ+ visibility and representation, both in our industry and in the country as a whole, we here at New Relic feel fortunate to work at a company that is committed to diversity, equality, and inclusion, including supporting events such as our June speaker series.
DON'T MISS: Programming Pride: 10 LGBT Pioneers of Computer Science
本ブログに掲載されている見解は著者に所属するものであり、必ずしも New Relic 株式会社の公式見解であるわけではありません。また、本ブログには、外部サイトにアクセスするリンクが含まれる場合があります。それらリンク先の内容について、New Relic がいかなる保証も提供することはありません。