I remember, as a child, looking forward to my birthday. I'd imagine the day—the cake, presents, anticipation of connecting with my friends. Fast forward many years, and it's AfroTech time. And like that kid of many years ago, I'm excited in anticipation.
AfroTech World—which describes itself as "the definitive conference that brings leaders in technology and business together to exchange ideas and build a strong Black tech community"—is one of the largest multicultural tech gatherings in the United States, attracting worldwide attendees.
This year, AfroTech World takes place on November 9-14, 2020. Like so many conferences in 2020, it has been held in person previously, but this year's version will be fully virtual.
Before I dive into the specifics of New Relic's participation at this year's AfroTech, I need to share that I've never personally attended an AfroTech event. So I interviewed Spencer Taylor, a software engineer on the New Relic Logs team, about his previous experience attending AfroTech, which helped fuel my excitement.
In Spencer's own words: "As I walked into the conference room, I was blown away by all the people who looked like me. It was a sense of coming home. I could talk about things like how I had a problem with my frontend development, with people who looked like me!"
Spencer also shared with me that New Relic had a large recruiting presence at AfroTech World 2019 and participated in community give-back activities, including sponsorship of a Hack the Hood event held at our San Francisco office before the start of the 2019 conference.
Showing up in 2020
Let's have a look at how New Relic is showing up for AfroTech in 2020. I'll touch on New Relic's objectives for engagement at AfroTech, and then go into what we're doing to achieve those goals.
Inclusion for Black Relics
I'm proud to work at a company that cares and recognizes the importance of ensuring that Black and POC Relics feel valued. At New Relic, all Black Relics who are interested in attending AfroTech can take time away from work to attend. In my past work experiences, it has been tough to ask for time away to attend an event or conference that had a diversity or inclusion theme, even if the conference had relevant sessions that could help me be more effective in my job. For Black Relics, the value of attending a conference like AfroTech can take many forms—from Spencer's experience discussing frontend development issues with Black engineers at other companies to my own opportunities to share my experience as a Partner Marketing leader and to learn from others in my field.
Recruitment
We are committed to attracting and recruiting Black employees. We're showing up at AfroTech intending to recruit the best talent and have successfully hired employees through our engagement at AfroTech in the past. Jemiah Sius, a Developer Advocate on the New Relic One team, shared an experience with me: "After attending New Relic's dinner at AfroTech 2018, I left feeling that the company saw me. Not because of the recruiters or Relics saying amazing things about their company culture. But, I spent most of the night speaking to an engineer who seemed passionate about his job, showed general interest in my work, and the conversation was authentic. A few months later, as luck would have it, I saw a position that aligns with my work and decided to apply. During the interview process, I was greeted with the same feeling of being seen by engineers who were passionate about their work and cared about my work and goals. Now, as a Relic, I know I am seen, my contributions are valued, and I enjoy working with outstanding engineers passionately working to create more perfect software."
Showcase Success
Ahead of AfroTech's virtual conference, we have been leveraging opportunities afforded by AfroTech to showcase Black talent at New Relic, including our very own Jemiah. In August, Jemiah led a New Relic-sponsored panel, "Data & Engineering: From Startup to a Modern DevOps Organization," sharing what he's learned in applying DevOps throughout his career.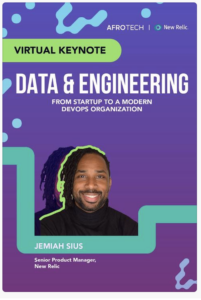 During this year's AfroTech, we will have a virtual booth highlighting our Black Relics and showcasing our successes at New Relic, through videos and one-on-one engagements with those who visit.
I'm excited about our participation in AfroTech. During these trying times and as a Black professional, I can sincerely say that I feel lucky and privileged to be a Relic.
If you're attending AfroTech World, join us at our virtual booth, we'd love to have a conversation with you. If you haven't registered yet, consider doing so. We'd love to meet you.
本ブログに掲載されている見解は著者に所属するものであり、必ずしも New Relic 株式会社の公式見解であるわけではありません。また、本ブログには、外部サイトにアクセスするリンクが含まれる場合があります。それらリンク先の内容について、New Relic がいかなる保証も提供することはありません。