The rise of microservices, containers, and DevOps practices are changing the way you build and run modern applications. Troubleshooting applications is now more complex than ever. At the same time, businesses are putting more pressure on software teams to move fast, so when application issues do occur, you need to have the right tools to find and resolve the problem quickly.
New Relic APM, powered by the New Relic Digital Intelligence Platform, makes it easy for IT operations and development teams to troubleshoot both application and infrastructure issues no matter how complex your environment. With detailed performance metrics and deep root-cause analysis, you can quickly identify the source of a problem and shift your monitoring approach from reactive firefighting to proactive optimization.
Key Benefits
When an issue occurs, New Relic helps you get to the bottom of it fast.
Know what to tackle first. Visibility into application abnormalities and errors will help you prioritize what to troubleshoot first.
Reduce MTTR. Find it, fix it—so you can shift out of reactive chaos and get back to normal (or back to sleep).
Isolate root causes faster. You can discern exactly what instagated the problem, which means you can work to prevent it from happening again.
Why New Relic?
From the browser to the backend. From mobile apps to cloud servers. Eye-opening insights for every part of your business.
SaaS-powered APM. Zero setup time. No on-prem systems to maintain. Unlimited user access for improved collaboration.
Real-time analytics. View your data in new ways and make better business decisions in real time.
Support for the languages you love. The only APM vendor to support Java, .NET, PHP, Node.js, Ruby, Python and Go, and most major frameworks for each.
Your Performance in One Clear Picture
Know where to look next
Get a detailed overview of the real-time and historical state of an application, including throughput metrics, error rates, and end- user response time. Know where time is being spent in your app, and drill down for more visibility when troubleshooting.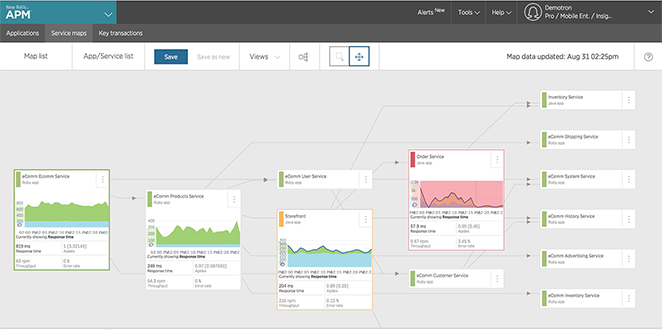 Prevent problems from happening again
Visualize errors by frequency, host, or transaction, and pivot on error data to group, sort, and analyze errors in the context of your application. With powerful analytics capabilities into errors, you can understand the root cause of issues and prevent the same issue from happening again.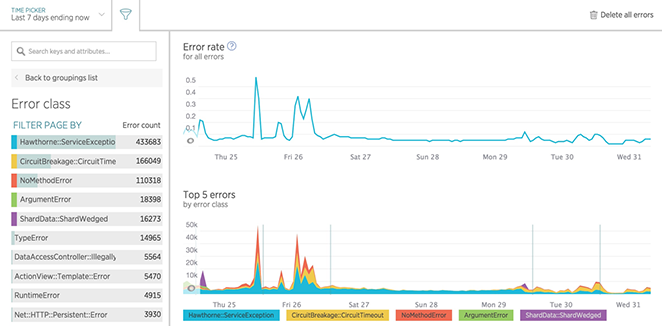 Understand the impact of change
Mark deployments on charts to understand the impact of human-initiated change, including deployments that cause problems and the associated fixes. Compare performance data before-and-after a deployment to validate the performance impact of change.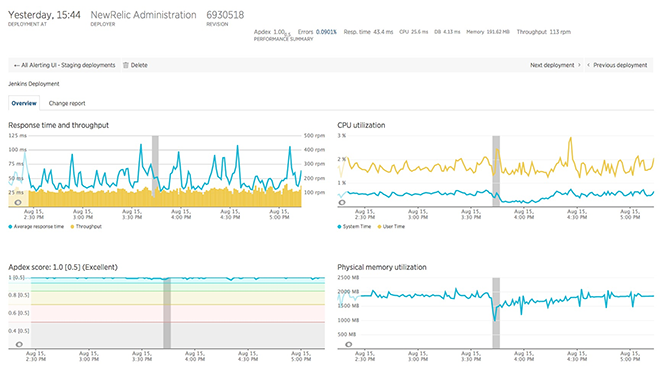 "New Relic helps us troubleshoot issues so quickly, it's like an additional member of the Ops team. It frees up a lot of time for us to focus on bigger and better things." — Chris Sessions, Director of Operations, Trulia