Overview
Surfline has founded in 1985 to revolutionize the way surfers find waves. We started by providing surfers with surf forecasts through our 1-800-SURF premium telephone line. Then in the 1990s, we launched our website, becoming the first company to live stream beach and surf conditions. We've now built the largest streaming coastal HD camera network, with 200+ cameras carrying live streams on different surf spots across the globe. We also have websites for boaters, sailors, anglers, and divers.
We're not all surfers but certainly all share a passion for the ocean, technology, science and metrology. It's this diversity and work/life balance that makes working at Surfline great.
Gokul Kumar Kolandavel
DIRECTOR OF SOFTWARE ENGINEERING
Huntington Beach, California
HEADQUARTERS
"New Relic is an awesome tool and it's been a huge win for us because it allows us to be far more proactive"
Gaining visibility into a black box
With an average of nearly 2 million unique visitors each month to our online properties, our biggest challenge was not being able to find out what was going on and why systems were failing. It was like a black box to us even though we had at least 10 different monitoring systems.
There wasn't one single place we could go that would tell us what went wrong, what caused the problem, and how to fix it. That made our culture and actions far more reactive. That's why when I came on board I knew we needed New Relic.
From reactive to proactive
New Relic saves us a ton of time, but really the biggest advantage we get is that it allows us to be in a proactive mode versus reactive. We're using New Relic to monitor both our web applications and the API layer databases and servers, particularly those with memory issues or high CPU usage.
We've added alerting to all different areas, with a warning threshold and a critical threshold. We can act on those alerts to prevent the site from going down or providing degraded experience for customers.
Getting a handle on customer alerts
New Relic also helps us understand the alerts we generate for our customers, which are email alerts or SMSs about weather conditions. For instance, a surfer can come to our website and set up an alert to his or her phone that notifies them when there are certain conditions like when the waves are two to five feet on Huntington Beach on Mondays or Wednesdays.
Before New Relic, we could not see whether we were sending alerts correctly or how many alerts we sent. With New Relic Insights, we have real time visibility into how many weather conditions we are checking across the globe every minute and how many SMSs or emails we are sending.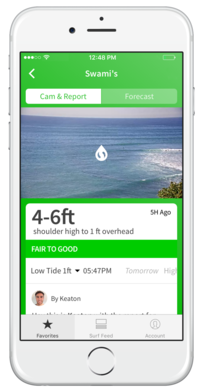 Creating transparency across the company
New Relic helps us communicate our system status across the company to marketing, leadership, and editorial, as well as to the forecasters who update weather information 24/7 on our site across the globe. We also have many monitors showing New Relic dashboards located throughout the office. That way, everybody can see in real time what's going on, so the communication is transparent.
Our next step is to be more proactive with our cam monitoring. For instance, right now, we have cams in Portugal. We have cams in Brazil. But we don't have visibility into whether they are down or up. Going forward, we want to continue expanding the real-time visibility our developers have to help them increase productivity, quality, and the trust our customers have in us.