Marketing success takes more than clever copy and a compelling offer. You need digital experiences that live up to your company's brand promise. This means no website crashes, no broken forms, and no slow pages—you don't want to frustrate your customers, or sink your conversion rates and marketing KPIs.
The New Relic platform complements the marketing performance data you have, with the technology performance of how your webpages are running. Understand the quality of your digital experiences—for every single customer, every single time—and give your engineering teams the context they need to find and fix issues faster.
NEW RELIC FOR ADOBE EXPERIENCE MANAGER
Deliver a superior digital customer experience
No more broken form fills, outages during campaigns, or slow pages causing premature bounces. Use New Relic's digital intelligence reporting to know that your Adobe Experience Manager (AEM) instance and the Site and Mobile experiences you've built are performing at their best and delivering the marketing outcomes you expect.
Accelerate AEM deployments and releases
To keep up with changing customer needs and market opportunities, you need to evolve your AEM implementation seamlessly, with no hiccups. With New Relic, you and your engineering teams have full visibility into your technology stack as well as your AEM content publishers to make sure everything works as planned as you move fast.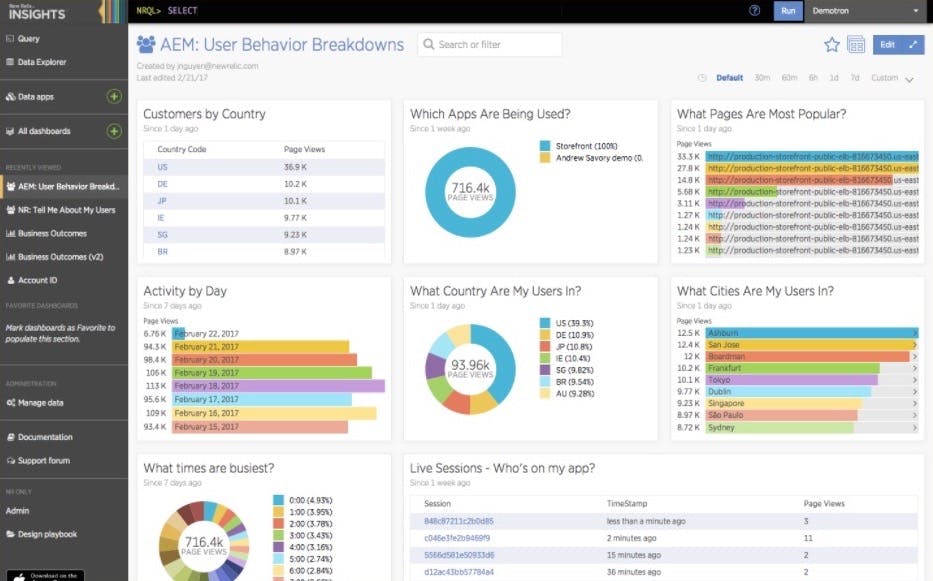 NEW RELIC FOR ADOBE ANALYTICS
Track the technology performance data you've been missing
Content and messaging aren't the only things that affect your conversion rates. Before you blame your taglines or keywords, find out if pages are down, broken, or too slow. Any of these problems can easily derail your campaign performance. New Relic can help you correlate slowness or errors with conversion rates and discover whether problems in your digital channels are causing your metrics to fall during key moments-of-truth.
Monitor your martech integrations
With so much data flowing from third-party integrations—live chat, A/B testing, tracking, advertising, and more—across your marketing technology (martech) stack, anything that goes wrong can impact your marketing results or create issues in your Adobe Analytics data collection. With New Relic, you can see if your integrations are all up and running, and make sure they aren't impacting customer experience or your conversion rates.
Key benefits
Deliver reliable and seamless digital experiences without any outages, errors, or slowness for your customers.
Improve marketing results with actionable insight into the technology performance of your digital channels.
Accelerate launch and release cycles with streamlined troubleshooting of website and mobile performance issues.
Discover hidden problems with third-party services within your martech stack.
How it works
When you deploy New Relic with Adobe Experience Cloud, you get deep visibility and insight into what's happening with your website, mobile, tablet, set-top box, Internet of Things, and more. New Relic uses small JavaScript snippets and agents throughout your technology stack to collect information about the health of your digital channels, and surface this non-aggregated event data through real-time dashboards, intelligent alerting, and powerful reporting.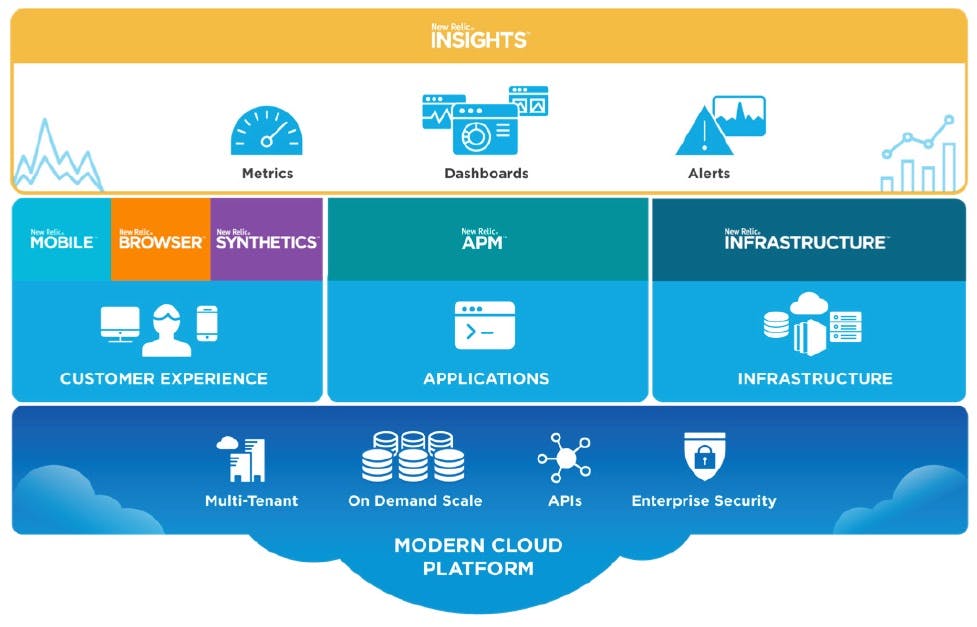 Why New Relic
SaaS-powered platform: Zero platform setup time. No on-premise systems to maintain. Ease of use for faster time to value and collaboration.
Analytics for everyone: We empower marketers, developers, ops, and product owners to make better decisions and be more data-driven.
Proven performance: New Relic (NYSE: NEWR) is the leading digital intelligence company with more than 17,000 paid accounts, including American Eagle, Constant Contact, H&R Block, Ocado, REI, Ryanair, and Trek Bikes.
"New Relic helps us save time and make informed decisions, which impacts our ability to deliver a better online experience for our customers. I wouldn't want to move forward without it."

—Joe Adamo, VP of Digital Technology, Tribune Publishing