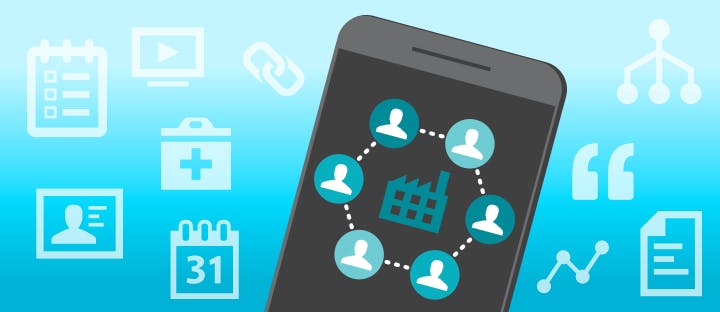 With mobile now pervasive in most companies, there's growing popularity and interest around using business-to-employee (B2E) apps to attract and retain well-qualified staff. According to a survey conducted by MGI Research, 53% of enterprises are planning development of between one and five B2E applications. If you're in that camp, just remember that even though your app isn't customer facing, there's no reason it shouldn't deliver at the same quality and performance of those available in the App Store and Google Play.
Here are some tips to consider during the mobile app creation process.
Strategy: To get where you are going, you have to know where you are and where you want to be. Make sure you create the following three deliverables to ensure you're on the right track: high-level goals, problem and solution statement from the audience's point of view, and audience definition. With BYOD being such a huge trend in enterprises, you should also take a look at which devices are most popular at your organization and strategize accordingly.
Design: When starting to design your app, the most important point is to focus on the user experience—i.e., the interface, functions, and application performance that your users will have in the palm of their hands. You'll need to know which devices and platforms your employees are using, and how best to optimize the experience for everyone.
Development: Deciding which development environment to use has the greatest impact on your users, so choose wisely. It might be smart to leverage internal app stores (like Apple's iOS Developer Enterprise Program), which allow users to privately develop, and securely host and distribute in-house apps to their employees.
Marketing: Once your app is up and running, you're now ready to spread the word and get employees to start using it. Send out emails, post How-To docs on your intranet, or host an in-person demo. Whichever tactics you use, make the adoption process as easy as possible for your users.
Post-launch management: Keep your employees happy and engaged by finding and fixing issues fast with mobile application performance management. Communicate with users about what you're doing and why, and maintain a healthy sense of paranoia about app performance to ensure employees are sold on the app's value.
Learn More
Find more information about building successful B2E apps by visiting the Resources section.
Learn how Unwired Revolution creates successful internal mobile apps for its customers.