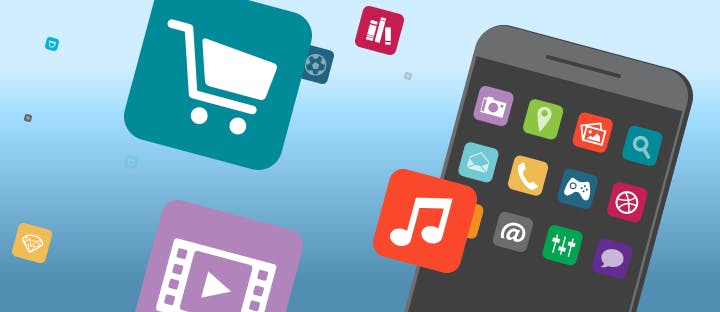 The top 10 grossing apps of 2013 were all built for consumers. Whether you're focused on health and fitness, financial services, or entertainment, there's a reason you're building an app for consumers, and that's because they offer endless opportunity. But competition is fierce in the consumer app space with roughly 2 million apps available in the Apple App Store and Google Play combined. If something were to go wrong with your app, the results could be immediate and hard to recover from—especially considering that 80-90% of mobile apps are deleted after one use. That just makes it all the more important to set high standards for execution and originality in order to break through.
To create a successful consumer app, consider the following key phases of mobile app creation.
Strategy: Are you building an app to generate revenue for your company? Drive brand awareness? Or simply give users something fun to do? Whatever your goal, make sure you have a clear and singular purpose for your app—this will determine and streamline the best features and functionality for your offering.
Design: With a strategy in place, you can now focus on designing the app. What should the interface look like, and what will be the best way to provide the required functionality for your users? To avoid any misunderstandings with your design team, show them the exact functionality you're looking for with examples of apps from the App Store.
Development: This is when you have to make some concrete decisions around which mobile platform(s) you're going to develop for and which set of tools you're going to use. Just be sure to take into consideration the entire mobile app ecosystem—from the device level to the backend services that support your app—and how your development team will implement and support this.
Marketing: With millions of consumer apps on the market, you're going to have to make marketing a top priority if you want to stand out from the crowd. Whether it's billboards, blogs or social media, make sure that potential users know that the app exists, like it, and share it with friends. You may also want to consider investing in App Store Optimization (ASO) to improve your app's chances of gaining more visibility.
Post-launch management: Ongoing app management is key to continued success. Keeping users engaged through push messages, for example, is one aspect of it. But once your app is out in the wild, you also need to keep a close watch on its performance. Is it performing optimally? Is it encountering too many errors? Is there anything you can do to improve the code? To get people to continue to use your app, you're going to need mobile application performance management.
Learn More
For more information on building a crowd-pleasing B2C app, check out the Resources section.
Learn how RunKeeper, Mirego, and FiftyThree each built a successful mobile app for consumers.