You think you're ready. You've doubled your cloud infrastructure. You've redesigned web pages and launched new mobile apps and OTT channels. Then that big event happens or a story goes viral. With all eyes on your website, what will your fans see? Ads and great content? Or errors and buffering?
From your CMS to the CDN, from the webpage to the media player, New Relic provides end-to-end monitoring and analytics that enable you to connect your authors to your audience with bufferless video and audio performance. The New Relic Software Analytics Cloud helps you quickly identify, isolate, and fix problems whether they reside in backend code, external services or scripts, a third-party mobile app, or an ad provider.
KEY BENEFITS
● Innovate in the cloud. Go beyond cloud adoption. Optimize your applications to make use of dynamic cloud infrastructure while at the same time maintaining visibility and control.
● Improve customer experience. Optimize page and template performance to improve page load time, recirculation, and shares.
● Increase ad and subscription revenue. Boost ad revenue and reduce costs by increasing efficiency. Turn trials into subscriptions by delivering stellar user experiences across all channels.
WHY NEW RELIC?
SaaS-powered platform. Zero platform setup time. No on-premise systems to maintain. Ease of use for faster time to value and collaboration.
Future-proof language and framework support. The only APM vendor supporting seven languages, including industry-best support for the languages most commonly used in media and entertainment, such as PHP and Node.js. Framework-agnostic support for single-page applications.
App, Audience, and Outcome-based Analytics. Cross-team and cross-brand analytics help create a performance culture based on data-driven decisions. Data helps drive event and product-based innovation and collaboration.
BOOST AGILITY AND INNOVATION
Prepare for traffic spikes
A hot viral story can cause your media-site traffic to spike at a moment's notice. But latency issues and buffering videos could result in those page views (and their ad revenue!) going to a competitor instead. Using key transactions, browser-side analysis, and service maps in New Relic, you can prepare for traffic spikes and understand the potential customer experience implications in advance.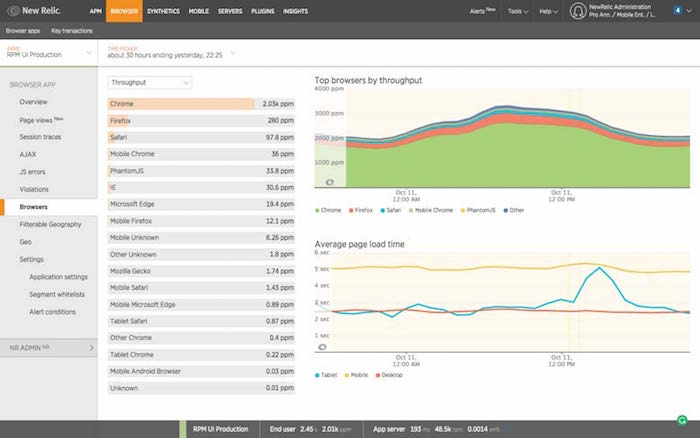 Consolidate with ease
When your digital content is distributed across multiple systems and devices, it's hard to move quickly. Consolidation is the answer, but going through that process can be cumbersome. New Relic eases the pain, offering visibility into content-delivery performance pre-, during, and post-consolidation. With real-time visibility into what's working and what's not, New Relic helps shorten the time it takes to consolidate systems, which saves you money.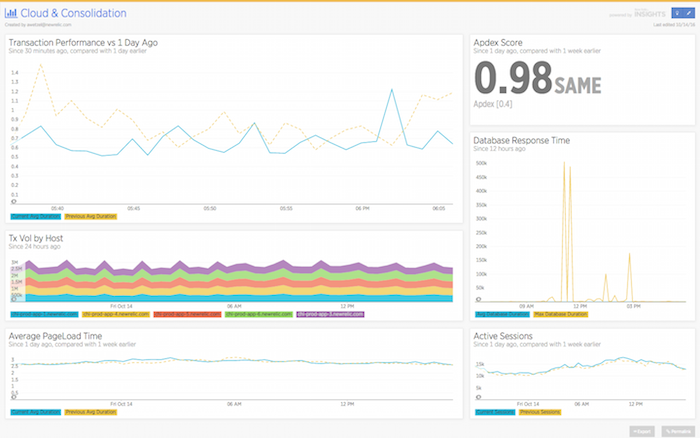 Improve video and audio performance
Whether it's apps on mobile devices, streaming content via cable, OTT and digital media players, or downloaded content via browsers, consumers now have more options than ever to consume content when they want it, how they want it, and where they want it. New Relic helps you meet their expectations by helping your team understand and improve the omnichannel end-user experience it's delivering.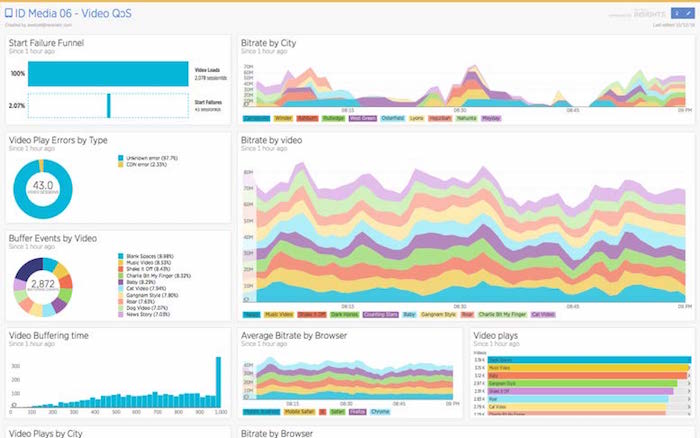 "New Relic is easily the most straightforward and all-encompassing monitoring tool I have ever used. It not only provides insights into how the application is performing, but shows exactly where in the code, database, or caching layer a potential bottleneck could be."

—Jim Mortko, Vice President of Engineering, Hearst Corporation