Just as the urgency for digital businesses to move faster has grown, interest in and experimentation with DevOps has exploded. Yet challenges persist, as many companies realize that the seemingly simple DevOps concepts of collaboration and transparency are actually quite hard in practice. So what does successful DevOps look like? How do you maintain reliability and increase quality without sacrificing velocity?
At New Relic, we've found one unifying force for successful DevOps initiatives: data. With data-driven DevOps powered by our Digital Intelligence Platform, you get visibility and detailed metrics for every aspect of your digital business—application, infrastructure, and customer experience—so you can keep everyone on the same page and better manage your organizational transformation.
Why New Relic
New Relic's Digital Intelligence Platform gives you data across your application stack to let you change with confidence and show measurable results.
See every change. Full-stack visibility to measure real-time impact of changes in every layer of your app.
Make digital a team sport. Unified dashboards keep diverse teams in sync and focused on the right issues.
Move fast with confidence. Real-time performance insight from deployments and config changes.
Identify problems before your customers do
Help your teams spend more time building features instead of fighting fires by proactively identifying potential issues.
Simulate and monitor essential business transactions and user interactions with New Relic Synthetics.
See the performance impact and causality of code deployments with Deployment Markers in New Relic APM and real-time infrastructure changes with New Relic Infrastructure.
Resolve issues faster and with less noise before they turn into a fire drill with full-stack alerting.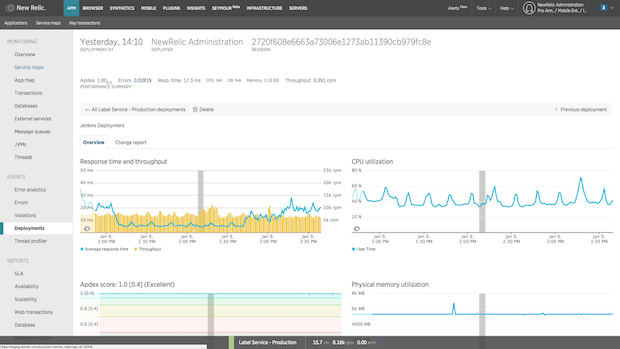 Visualize complex systems
Whether you need to see the entire application architecture or a smaller-scale application-specific view, New Relic gives you full-stack visibility into the data that matters most to your DevOps team.
See how apps and services communicate, including upstream and downstream dependencies, using Service Maps in New Relic APM.
Get a precise picture of your dynamically changing systems with real-time events and native integrations with leading cloud providers.
Identify operational issues and impact with real-time visibility into browser and mobile performance using New Relic Browser and New Relic Mobile.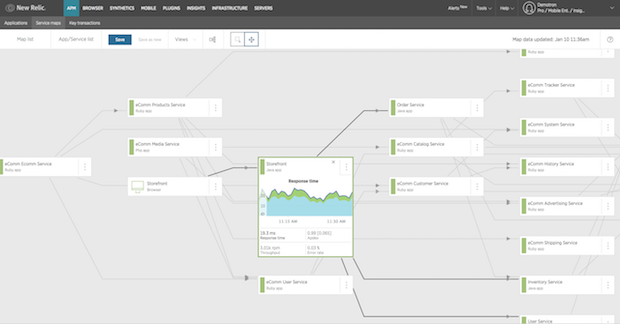 Make an impact on the business
Prove your DevOps success by linking your DevOps initiatives back to business goals so that the entire company is part of a shared journey.
Create custom metrics and dashboards using New Relic Insights to measure key performance indicators.
Set up key transactions to track critical business events such as signups or purchase confirmations.
Understand how software performance impacts business goals such as conversion rate, churn rate or revenue growth.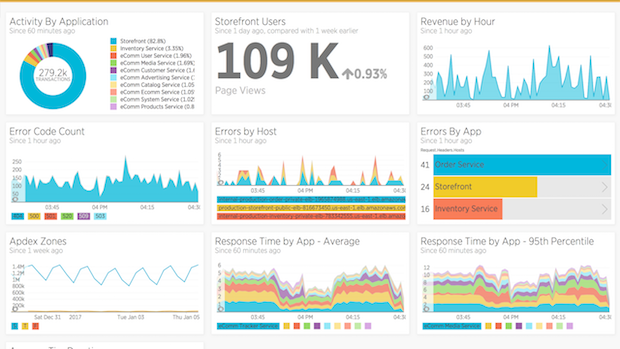 "New Relic has dramatically impacted our culture, giving us the ability to be extremely data-driven in everything we do. When it comes to DevOps, Wix is leading the pack and New Relic is a big part of helping us achieve that."

—Aviran Mordo, Head of Engineering, Wix.com
Do DevOps right
See how New Relic can help you measure what matters and innovate faster. Give the New Relic Digital Intelligence Platform a try.
Learn more