3. Maximizing the benefits of cloud migration
Once you've successfully moved your apps to the cloud, how do you make sure you see the benefits you expected? To start with, going to the cloud enables agility, and agility often means DevOps. DevOps requires collaboration and the ability to maintain performance and availability even as the pace of change and releases increase. New Relic's powerful Deployment Tracking, Notes, plugins, and Insights tools help consolidate as much monitoring as possible into a single dashboard that takes on particular importance after migration.
Deployment Tracking in New Relic APM (see Figure 12) provides the ability to clearly understand when a release was implemented and to compare performance before and after the deployment. This ability to quickly assess the performance impacts of every release is critical to agile development, DevOps, and continuous integration. In the image below, the gray bar shows the moment of deployment, so you can quickly see if the latest push has introduced performance problems (or, more optimistically, fixed an existing problem).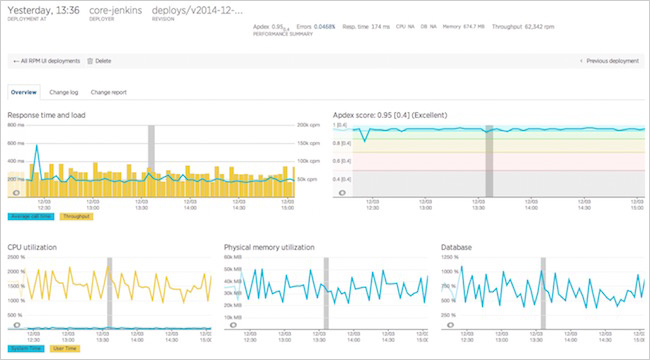 The Notes function is another powerful collaboration tool available in New Relic APM (see Figure 13). You can add public or private notes to charts and maps on any page in the New Relic user interface, which facilitates communication among teams, organizations, and geographies. It's also easy to create a snapshot or send a link to a live graph.

New Relic Plugins are free extensions that add a variety of functionality, including letting you monitor your entire app environment in a single interface. You can choose from more than 100 easy-to-deploy existing plugins, or build on your own. (You can keep your custom plugins in-house, but we encourage you to share them with the New Relic community.) Plugins can save your teams significant time compared with sifting through multiple datasets in disparate interfaces.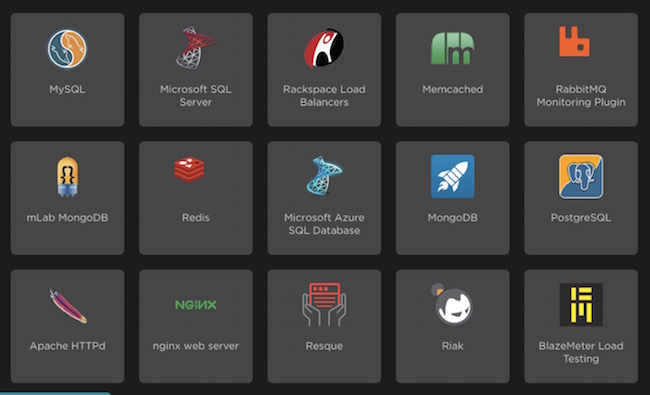 New Relic Insights (see Figure 14) collects, organizes, and visualizes data from multiple New Relic products in real time. It provides the ability to create role-specific dashboards that track global, business-centric KPIs as well as function-specific technical KPIs, facilitating the creation of a performance culture based on data-driven decisions. This can help improve collaboration among product, development, and operations teams.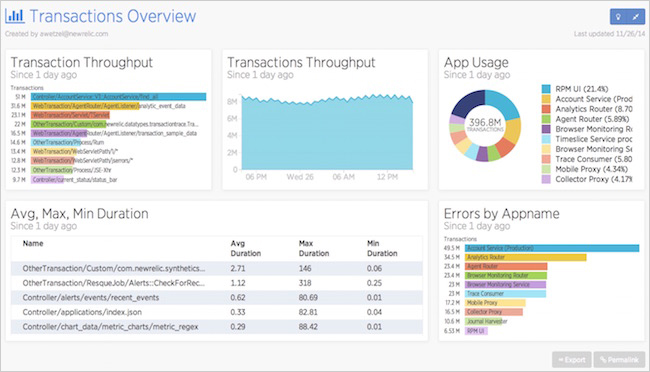 Application modernization (re-architecture) and microservices
After migration, it's a good idea to consider re-architecting your applications to take better advantage of the cloud. More fine-grained and less monolithic apps are usually more suitable for DevOps, agile development, and so on. Microservice architectures are an increasingly popular option, but replacing one monolithic service with numerous microservices may make it harder to visualize your application and keep track of all the services involved. New Relic Service Maps (see Figure 15) are visual, customizable representations of your application architecture. They automatically show you your app's connections and dependencies, including databases and external services. Health indicators and performance metrics show you the current operational status for every part of your architecture.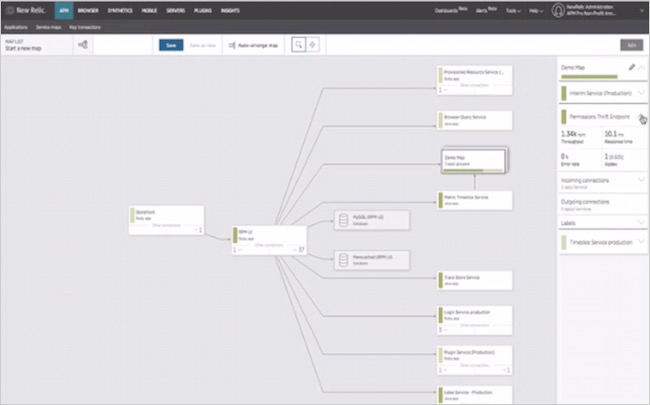 Another thing to keep in mind with microservices is that they increase the amount of performance data an application generates. Traditional methods of analyzing performance data (such as OLAP) may no longer function properly at the new data volumes. New Relic's Software Analytics Cloud is highly scalable and designed to handle the volume of data generated.
When re-architecting (or planning to do so), it is important to choose a monitoring solution that is future-proof regardless of what approach you take.
Browser and mobile app performance
A move to the cloud most directly involves server-side components, but can also affect the performance of your applications in the browser or on mobile devices. For browser-based applications, typically 70% or more of the end-user response time is due to code rendering in the browser itself. If a login transaction spends only 500 milliseconds in the application (i.e., on the server) but takes the browser 7 seconds to load the page and 14 seconds to get to first interaction, all the work you've done to move the application to the cloud will not significantly improve customer experience.
Tracking performance on the client or mobile device requires sophisticated monitoring diagnostics at the end-user processing tier. Use New Relic Browser and New Relic Mobile (see Figure 16) to monitor performance, diagnose problems, and optimize code running in the end-user processing tiers in order to ensure the best possible customer experience across all digital channels.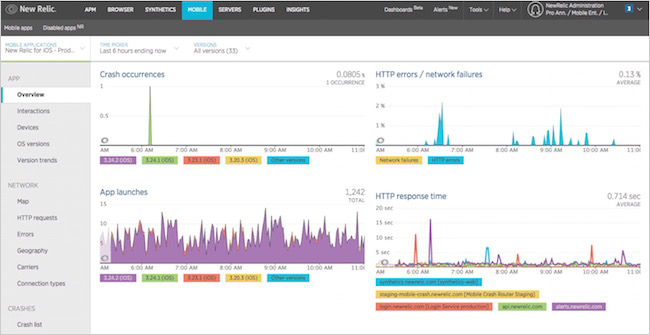 Summary
Migrating apps to the cloud offers many benefits, from improved performance to increased agility, but it can also be challenging. New Relic's Software Analytics Cloud can help ensure successful planning and migration, operation, and optimization of hybrid and 100% cloud applications. Our platform is secure, multi-tenant, and highly scalable. We at New Relic look forward to working with you to successfully migrate your applications to the cloud and manage them once the migration is complete.
Speak to a cloud specialist: https://newrelic.com/contact-cloud-specialist.