On a spring day in May 1984, Jane Snowball, a 72-year-old grandmother living in Gateshead, England, went about her typical weekly errands, buying groceries from her local Tesco supermarket. Unlike the rest of the world, however, Mrs. Snowball didn't travel to the store and make the purchase in person; she did it from home using a modified domestic television connected by a phone line to the Tesco store. This experiment—conducted in partnership between the city's Social Services department, Tesco, and Redi!usion Computers—was the first recorded online shopping transaction, and it led the way for companies like Amazon and eBay that spearheaded the industry a decade later.
Fast-forward to today, and you'll find an estimated hundreds of thousands of e-commerce companies selling goods online every day. In the second quarter of 2014 alone, U.S. retail e-commerce sales are estimated to have hit $75 billion.1 E-commerce websites today make up 10-12 percent of the Internet, with 110,000 e-commerce websites generating revenue of meaningful scale on the Internet.2
With numbers like these, it's safe to say the e-commerce industry is alive and flourishing. But that's not to say the business doesn't come with its challenges. Performance bottlenecks, unplanned outages, and massive tra"c spikes can all cause downtime, not to mention the additional fallout that ensues: lengthy and expensive maintenance, faulty checkouts, poor user experiences, time lost working on strategic objectives. And it's not just the smaller companies that are su!ering; these issues are impacting the e-commerce giants as well.
In fact, a summer 2014 report found that only 14 percent of the top 100 retail pages delivered an optimal sub-3-second user experience. To make matters worse, the median e-commerce page takes 49 percent longer to load than it did in 2013.3 To make matters worse, the three most widely used browsers—Firefox, Chrome, and Internet Explorer—all showed slower load times as well. Yet in the face of all this, users are becoming increasingly impatient, with research suggesting that the average Internet user has a wait time threshold of three seconds or less.
In an industry where the name of the game is speed, the way you manage and monitor your e-commerce site can potentially make or break you. Some of the most common application management and monitoring challenges that e-commerce teams are facing include:
Lack of deep visibility. Many e-commerce teams may feel they have sufficient visibility, but without a deep-rooted view into the health of their applications, they never reach their potential in terms of speed and responsiveness. This also means they lack valuable insights that can help remove performance bottlenecks and improve user experiences.
Disparate and disconnected tools. You may have one tool that tells you the network is down. Another tool that tells you the site is slow. And yet another tool that tells you how your servers are doing. Having to manage and monitor all these separate tools can make performance monitoring much more time-consuming and inefficient than it needs to be.
Lack of foresight. It's common for e-commerce teams to be stuck in constant reactive mode—often learning about an outage or problem through customers— as opposed to proactively fixing problems before they happen. This is because they're not getting a true understanding of site performance in real time, which in turn, limits their predictive analysis.
Limited deployment time. This is likely true across all IT functions, and it makes it all the more difficult to purchase traditional on-premise solutions, which not only carry a hefty price tag, but are also prohibitive when it comes to staffing. Add to that the complexity and set-up time of traditional tools, and you've got an e-commerce team desperately looking for an alternative solution.
The good news is that you don't need to have the budget of an Amazon or eBay to solve these common challenges. Software-as-a-service (SaaS)-based web application performance tools make it possible for a company of any size—and with any budget—to improve application performance, and in turn, customer satisfaction. These tools make it possible to monitor every detail of your e-commerce application—from the end user experience, through servers, down to the line of code— all through a single user interface. And because SaaS-based application performance management (APM) provides added freedom, flexibility and control, you don't have to worry about the excessive costs and obstacles of traditional on-premise options.
Thousands of companies are using SaaS-based APM (a category of software analytics) every day, from Ticketfly and Skullcandy to CanvasPop and Nordstromrack.com | HauteLook. That's because these solutions give them:
Accelerated problem resolution
Anytime, anywhere app management
Enhanced user satisfaction
Reduced infrastructure and maintenance costs
In this eBook, you'll learn how e-commerce companies of all shapes and sizes are tackling application performance challenges and staying ahead of the competition. Read on to explore four unique stories of e-commerce success that all came from one simple purchase: SaaS-based APM.
The Beauty of a Single Pane of Glass
When business is good, it can be a double-edged sword: On the one hand, you see revenues skyrocket; yet at the same time, massive spikes in demand leave the engineering team scrambling to keep pace. This is especially true when you're a monitoring-centric company like Ticketfly, which pursues a continuous deployment strategy to move swiftly and release software quickly. Understanding the importance of constant monitoring, Ticketfly deployed New Relic to combine metrics from many technologies into a single platform, and simplify its overall testing process.
How Ticketfly Slashed Error Rates and Improved Customer Satisfaction
Founded in 2008, Ticketfly is a data-driven ticketing and marketing platform for professional event promoters and venues in the United States and Canada, from general admission clubs to festival grounds and theaters with reserved seating. The company works with some of the most respected venues and promoters in North America, including Brooklyn Bowl, Austin City Limits Live, the Independent in San Francisco, the Troubadour in Los Angeles, the Virgin Mobile FreeFest in Washington, D.C., and the Pitchfork Music Festival in Chicago.
Year over year, Ticketfly has been making triple-digit revenue gains. But of course, with that growth, also comes its own share of challenges. "As we gear up for another summer concert season, we know that our system will undergo an immense amount of stress," says Matthew Baird, VP of Engineering at Ticketfly. "To prepare for that, we need to achieve a 10x increase in site performance."
For Ticketfly, site performance is far from a vague ideal—it's a business imperative. Event attendees are looking to spend their discretionary time on a first-rate experience, and they have zero tolerance for slow or unresponsive systems in any part of the process. So when Baird joined the company in January 2013, he was glad to see that it already had a SaaS-based APM solution in place. "I was familiar with New Relic from my time at a previous company," he says. "It's been tested through millions of hours of use, and it's easily the most mature solution of its kind."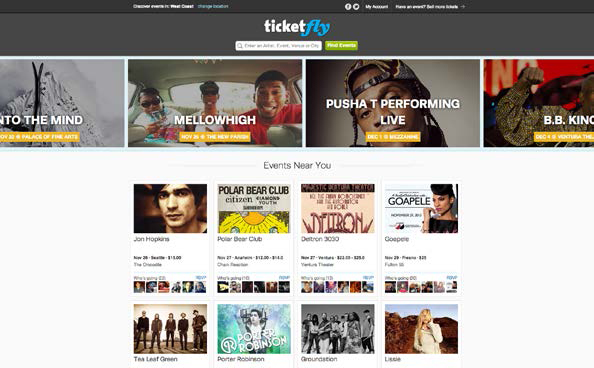 New Relic is the main tool that Baird uses on a day-to-day basis, helping him keep a close eye on the frontend ticket-purchasing application and the backend event-management application. By instrumenting Ticketfly's revenue data through the New Relic dashboard, Baird is able to generate up-to-the-minute reports on sales performance. He can easily break out how many tickets the company sold, along with the latest sales trends on Ticketfly's mobile, desktop, and social channels.
Ticketfly also uses New Relic to supplement data from other applications. For example, Baird and his team rely on BlazeMeter to determine rate-limiting reactions in large tests—a practice that initially forced them to keep multiple windows open throughout the testing process. But now, with the New Relic Platform, that process is greatly simplified.
The New Relic Platform stores all of Ticketfly's favorite metrics in a single view, helping the company achieve instant visibility into an increasingly complex environment. Baird and his team can choose from a number of plugins already created by an open community of developers, or they can create their own plugins to solve unique problems.
By using an open SaaS-based platform, Ticketfly isn't just saving time; the company is achieving a deeper understanding of a broader range of data. "It's like having an MRI of our applications, showing us a slice of data across all systems and making it easier for us to draw correlations," says Baird.
One platform to monitor everything
For Ticketfly, having access to an open platform is simply a must. As Matthew Baird, Ticketfly's VP of Engineering puts it:
"New Relic Platform empowers developers. You can easily build your own plugins to address almost any issue. And if you want to monetize or build another channel, you can use this platform for marketing and promotion. The possibilities are truly endless."
With this level of visibility, Ticketfly achieved stunning reductions in error rates. In just one 12-week period, errors in the WordPress stack dropped by 98 percent. The ticket-purchasing application dropped to a 0 percent error rate. Average response time dropped from 800 milliseconds to 250 milliseconds. And the company achieved all of those improvements during a time of remarkable growth: during that same 12-week period, requests made a massive jump—from 3.27 million to 10.2 million.
"We can see real issues now, and increase performance by 10x through dispatching alone," says Baird. Perhaps most important of all, these improvements help Ticketfly serve customers even better. The 12-week period of error reduction corresponded, not coincidentally, with a significant increase in client satisfaction levels.
Fixing Problems Before They Happen
Whether it's budget constraints, a growing priorities list, or the fact that you're operating as a lean and mean IT team, there are a number of reasons why e-commerce companies can get stuck in a constant reactive frame of mind. Looking to shift towards more proactive operations, CanvasPop decided to overhaul its entire web programming system, and in the process, realized how critical a role SaaS-based APM plays in helping improve overall site performance.
How CanvasPop Cut Application Response Time to Microseconds
Since 2009, CanvasPop has delivered more than 280,000 high-quality, custom-made canvas photo prints to 100,000+ customers across North America. Like any online retail business, CanvasPop experiences major spikes in tra"c—some more predictable than others. Most of the site's tra"c appears during the fourth-quarter holiday season, when average page views rise from about 250,000 per day to as many as 700,000 per day. At other times of the year, heavy media coverage may cause similar jumps in demand. "We love the exposure," says Paul Brohman, Lead Software Developer at CanvasPop. "But the exposure won't do us any good if our site can't handle those unexpected visitors."
In late 2011, customer demand was threatening to exceed the scale of the CanvasPop infrastructure. That's when the IT team determined that unless they performed a major site overhaul, the customer experience would su!er. In order to build a more scalable infrastructure and keep a closer eye on system performance, CanvasPop decided to migrate their entire system from ASP to PHP.
After a six-month process of building and testing, CanvasPop went live with its new PHP-based system on August 1, 2012. The New Relic PHP client was with them every step of the way. "Deploying New Relic was a five-minute job at most," says Brohman. "And it started giving us actionable information within minutes."
It wasn't long before the CanvasPop IT team realized that they could use SaaS-based APM to monitor not just the new PHP system, but legacy systems as well. Today, New Relic plays a crucial role in CanvasPop's continuous deployment strategy, providing the real-time data necessary for engineers to deploy changes to production an average of three to four times every day.
A better way to view Transaction Traces
Although Google Analytics can be a helpful tool for viewing transaction traces, the CanvasPop IT team considers it "more of a marketing dashboard." The web transactions in New Relic, however, are more engineering-focused, allowing them to see the slow points in terms of database memcache or rendering.
"This is a single, unified solution that gives us the same interface and reports whether we're in dev, test, or prod," says Patrick Leckey, Senior Developer and Lead Systems Architect at CanvasPop. "And that helps anticipate many production issues that otherwise wouldn't show up in testing." Whether monitoring the dot-com frontend or the manufacturing backend, New Relic gives CanvasPop the tools and features necessary to keep all systems on track.
With SaaS-based APM, CanvasPop's application performance isn't just faster—it's more consistent, too. New Relic proved especially valuable when Amazon Web Services experienced a major outage on the East Coast of the United States in October 2012. "New Relic alerted us to the Amazon outage before Amazon did," says Leckey.
In addition to providing up-to-the-minute metrics for proactive problem solving, having SaaS-based APM also helped CanvasPop IT address longstanding issues that had simply gone unnoticed. With faster, easier access to performance metrics—and with all metrics generated by a single solution—New Relic contributes to a major boost in productivity, not to mention, knowledge-sharing across the organization. "Broader awareness means better alignment across all CanvasPop teams," says Leckey. "And I credit New Relic with giving us the most accurate, most current data we've ever had for moving this business forward."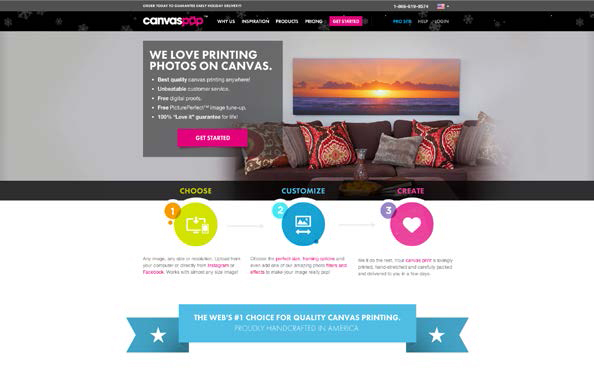 Up and Running in No Time
By now, most e-commerce companies have likely benefitted in one way or another from using a SaaS-based solution. These products are a!ordable and they're quick to deploy, making them perfect for e-commerce environments that need APM—especially when they need the service up and running immediately. Skullcandy saw the time and cost savings that would come from using SaaS-based APM compared to a traditional on-premise solution. And thanks to its decision to go with SaaS, the e-commerce team is seeing measurable improvements.
How Skullcandy Successfully Launched a Brand New e-Commerce Site
Skullcandy became one of the world's most distinct audio brands by bringing color, character, and performance to an otherwise monochromatic space and helped revolutionize the audio arena by introducing headphones, earbuds, and other audio and wireless lifestyle products that possess unmistakable style and exceptional performance.
When the company launched its e-commerce site in 2008, it took o! immediately. Built on the Magento e-commerce platform with PHP and Linux, the online channel's sales growth has challenged the interactive team to keep up with accelerating demands. And eventually, the site's growing pains got worse with a number of performance issues.
Unplanned outages were on the rise, usually occurring more than once a week and often for significant duration. Since outages equate to lost revenue, and potentially, even to lost customers, Skullcandy's interactive team immediately sought to identify the solution and fix it. Although a new script fixed a memory leak that was causing the problem, Skullcandy still lacked proactive real-time performance monitoring and management tools, which made it di"cult to see what was going on in real time. Based on a recommendation, the Skullcandy team decided to give New Relic a try. They were immediately delighted by the ease of implementation. And even more delighted with how fast they had actionable data and information. Andrew Spencer, Skullcandy's Director of Interactive Technology, attributes much of that success to the fact that New Relic is a SaaS-based solution.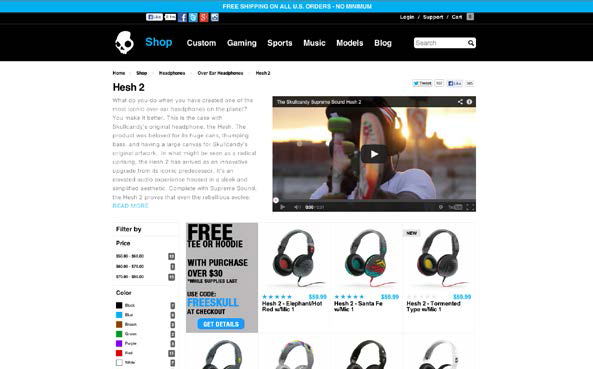 "It only takes about five minutes to install the agent," he says. "And once we added it to our provisioning, all our servers get New Relic automatically with no additional configuration required. Compared to that, the enterprise products I've used in the past took at least 30 days to configure before you'd have any data that was usable. With New Relic, we get everything we need from a single service—alerts, error monitoring, transaction traces, application statistics, etc., and best of all, we got immediate results and insights that we just had not seen before."
Skullcandy has achieved some notable results using New Relic, including a mean time to resolution improvement of 300 percent. It's also made sta!'s lives easier by reducing the number of emergencies and fire drills that would otherwise make them frazzled.
When the company released its new e-commerce site, Skullcandy 2.0, in 2011, having SaaS-based APM especially came in handy. To get ready for the launch, the team used New Relic to monitor the application, which helped boost their confidence level significantly. "Once we started using New Relic, we had immediate insight into the application, how it was performing, where issues were," says Spencer. "We had the confidence we needed to move forward even knowing that late in the year is not the best time to launch a new online site."
The second the site launched, Spencer and his team saw a significant performance problem that was not revealed by prior tests. But within minutes, New Relic pinpointed the problem, highlighting both slow queries and the database level as well as specific PHP bottlenecks. It took less than 30 minutes to see and fully diagnose the problem. The team had fixes in place just 15 minutes later. The whole process took less than an hour, and after that, the site just hummed.
Navigating the App Map
An Application Topology map (App Map) illustrates your app and its related services as an architectural map. It also shows performance problems in your app's end-user experience, your app itself, and any of the internal or external services backing your app. Skullcandy's use of the App Map feature is interesting. The team wrote their own internal services to replace parts of Magneto's system, as well as Magneto extension. The first was the coupon system that they rewrote as an external service. When the system makes an HTTP call to the external service, New Relic monitors that performance via the App Map. This new process helped the e-commerce site's performance improve by 25 percent.
Says Spencer, "Had we not been able to discover, identify, fix, release, and monitor those issues that quickly, we would have had to roll back and wait until Q1 of the next year to implement the new site. Thanks to New Relic, Skullcandy 2.0 went live on time. Our internal customers were pleased and so were we."
With Visibility Comes Insight
For many e-commerce companies, the problem isn't a lack of data. The problem is gaining maximum value from the information sitting idly in massive warehouses across the enterprise. If a company wants to improve the online experience for an increasingly demanding user base, how can it make meaningful improvements if customer data can't be collected and analyzed on demand? For the IT team at Nordstromrack.com | HauteLook, maintaining a competitive edge required a smarter, faster approach to big data analytics—and deeper visibility than ever before.
How Nordstromrack.com | HauteLook Reduced Downtime by 80 percent
HauteLook is a premier online destination o!ering limited-time flash sales events at prices up to 75 percent o!. Every morning, the members-only site hosts new sales featuring popular items in women's and men's fashion and accessories, beauty, kids' apparel and toys, and home décor.
In 2011, HauteLook was acquired by Nordstrom and together, in February 2014, they launched Nordstromrack.com, the company's o!-price e-commerce site o!ering customers on-trend fashion at 30-70 percent o! every day. Although Nordstromrack.com and HauteLook are two individual stores on a combined platform, they each o!er customers a di!erent experience, sharing many features such as a shared shopping bag and checkout that greatly improve the customer experience.
"Our flash sales drive huge amounts of tra"c to our site, with several hundred thousand customers checking out the special deals for that day," says Roger Ho!mann, Vice President of Technology Operations at Nordstromrack.com | HauteLook. "We try hard to o!er our customers an easy-to-use and reliable experience, so it's important for us to know what's going on in the system, especially considering the service-level agreement (SLA) we need to maintain." That SLA: ship all orders on the same day the orders are received.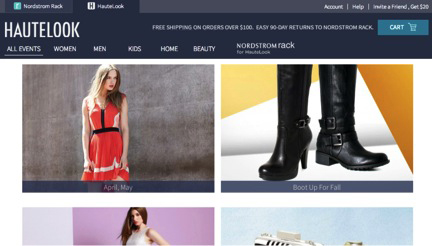 As the volume of orders continued to grow, it became apparent that a software analytics tool was necessary. "We were having a di"cult time ascertaining where in our stack a particular performance or availability issue might lie, so we'd end up spending a lot of time diving into separate tools and processes trying to figure things out," says Ho!mann. "We knew that we needed a more data-centric approach to troubleshooting."
To address those issues, the company first installed New Relic APM, New Relic Servers, and New Relic Platform, all of which proved extremely useful in providing up-to-the-minute performance data—and cutting downtime by 80 percent within a single five-week period. But HauteLook also wanted to leverage the data it was collecting to improve the customer experience and gain valuable insights that would help grow the business.
"We had a tremendous amount of data captured from our warehouse management and warehouse control systems and it was all just sitting there, waiting to be used," says Rajaraaman Muralimanoharan, manager of ERP development at Nordstromrack.com | HauteLook. "But building out a data warehouse system to get the insights out of it was too far away in our feature roadmap timeline. So we were really torn on how to move forward."
It was during this time that New Relic announced the beta release of its real-time analytics platform, New Relic Insights. "We were really impressed by how easy it was to get started with Insights," says Ho!mann. "The interface is very intuitive, and the NRQL query language is similar to SQL so you can hit the ground running."
One of the company's initial goals was to reduce packaging costs by 50 percent. "The only way to do that was to look at trends in empirical data," says Ho!mann. "We relied on New Relic to identify where the various cost centers were, then analyze and implement changes to boost e"ciency and help meet our cost-saving goals."
Delivering value across the organization
SaaS-based APM and software analytics tools like New Relic Insights have drastically changed the way both technical and non-technical teams work. HauteLook's warehouse operations team, for example, uses New Relic to identify decreases in productivity and correlate that dip with any other issues, be it training, system, or mechanical related, and reverse the trend.
By utilizing New Relic, from its APM to real-time analytics, Nordstromrack.com | HauteLook has changed the way that internal teams communicate with each other. For the first time, both technical and non-technical team members have access to the same data to enable more informed conversations with their customers, vendors, and employees. "New Relic delivers the data points we need to improve our e-commerce and warehouse operations," says CTO Kevin Diamond. "That will greatly improve the outcome for our customers and ultimately grow our business."
In today's highly competitive e-commerce landscape, the success of your company directly correlates with how quickly you're able to pinpoint and solve performance issues. After all, poor website performance translates into lost revenue, brand damage and additional support costs for your company. And when it's peak shopping season, the pressure can be especially overwhelming.
To ensure a positive shopping experience for customers, e-commerce companies just like yours are turning to SaaS-based APM to improve performance and ease application management and monitoring. With these cloud-driven capabilities, you'll be in the perfect position to increase revenue and drive business growth.
APM Assessment
If you're having doubts about your current APM solution, answer the questions below to see if it's time to find an alternative.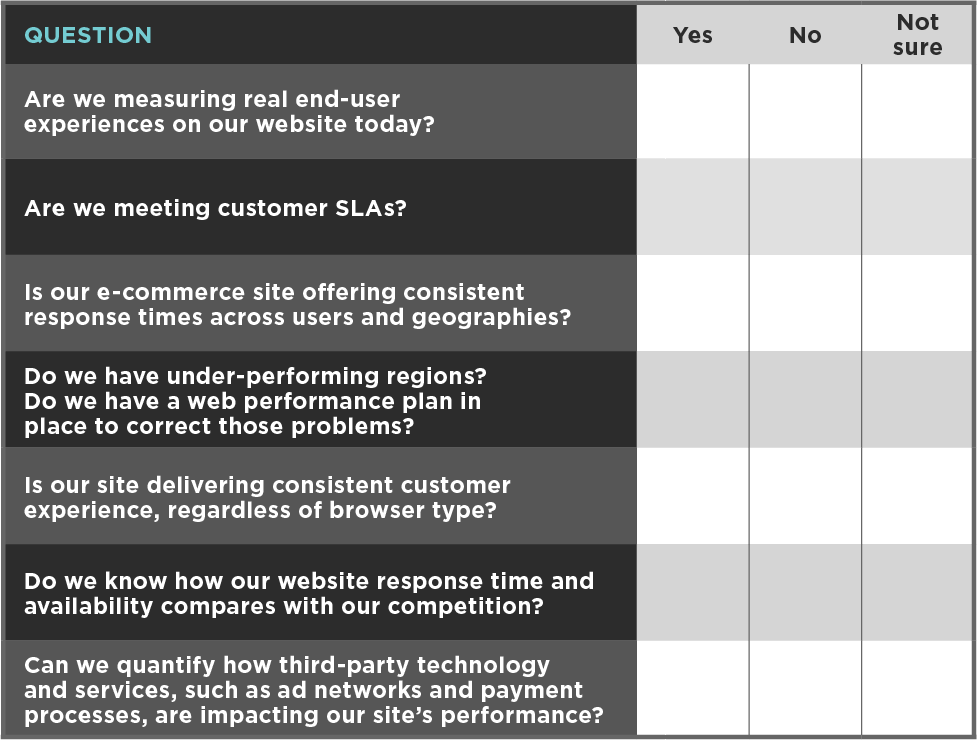 If you answered "No" or "Not Sure" to any of these questions above, it may be time for you to consider an APM alternative. To learn how you can improve your e-commerce site's performance and boost user satisfaction, visit: newrelic.com.